Right At The Fault Line: Wonders Of Nature At Thingvellir National Park
The sun shines bright on Silfra as it pokes its head through the clouds, speckles of silver light dancing on the surface of the water like forgotten jewels. Far to our right, the big rift of Almannagjá that is synonymous with Þingvellir National Park stands tall, tourists in bright jackets gathering tightly at the view point.
I turn my head back, to the line of individuals wearing black from head to toes standing by the metal staircase on the side of the rift, its last steps dipped in water. Like well-behaved ducklings, each and every snorkeler dips into the fissure, a cloud of apprehension befalling over their face as the water laps at their legs and finally embraces them. Slowly, bottoms up and faces down, the groups swims away from the rift, floating placidly onto the water.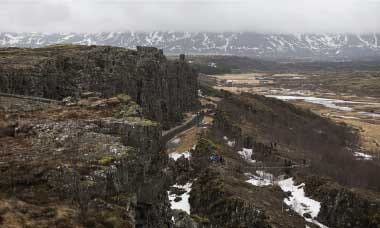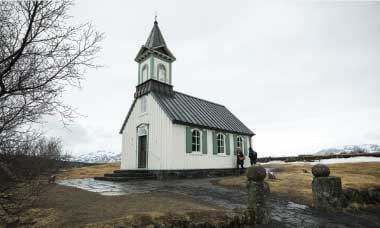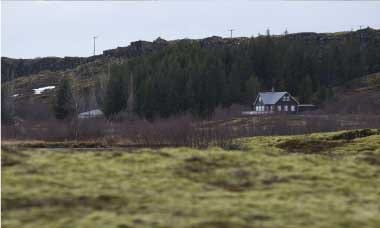 This is only one of the many snorkelling and diving groups that pour into Silfra every single day. Winter or summer, people come from all corners of the world to see this gem of Icelandic nature, eager to dive into one of the many rifts that punctuate the tectonic plates. "We get up to 220 people a day in March," local park ranger Jakob Axel Axelsson says.
Jakob has been working for the National Park for about two years now, but he's only been taking care of Silfra for a couple of months. According to him, the most common mistake that people make is to think that when one dives in Silfra, one is able to touch both tectonic plates. "Most of the park is on the fault line itself, and that's between 4 and 7 Km wide according to where you stand so there is no actual place where you can touch both sides," he explains. "When two tectonic plates are breaking apart it's not as if you're breaking up a cookie. It's more like tearing apart wool, or you can imagine the fissures in the area like stretch marks on a person."
In short, one could say one is diving between tectonic plates as we are right at the fault line. But being the gap between plates around 7 Km wide in the Þingvellir area, Silfra is far from being the bridge that connects the two underwater. Rather, it's only one of hundreds of fissures that are found in the fault line.
Jakob points to our right to Almannagjá, the first stop for visitors to the National Park and the rift that marks the end of the North American tectonic plate. Then he points to our left, to another rift that marks the beginning of an intermediate plate adjacent to the Eurasian plate itself. We are right in the middle, at the shores of majestic lake Þingvallavatn.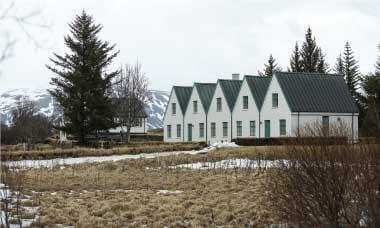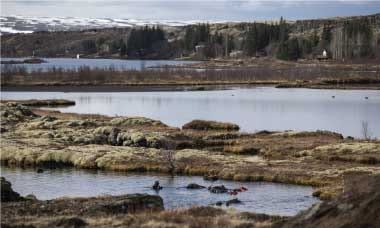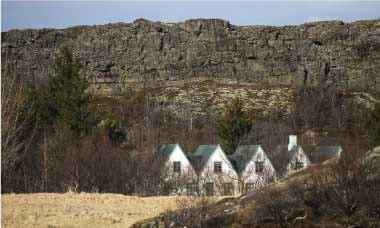 The aquatic life in Lake Þingvallavatn is quite rich, but there isn't that much fish hiding around the corners of Silfra. The occasional arctic char swims sometimes to the mouth of the fissure, but it's the games of light across the geological formations underwater that make Silfra so magical. The fissure is more than 40 meters deep, and it's by far the most beautiful one along the entire fault line, making it the perfect spot for both divers and snorkelers to explore it to the fullest.
For divers in particular, Silfra is the gate to an extremely rare experience, and that's mostly due to the visibility underwater. "When you're floating around and the water is so clear that you're looking 42 meters down and you see every detail so perfectly, it can be daunting," Jakob says. "It's like flying, so oftentimes people who are afraid of heights have to get out quickly."
The clarity of the water is mainly due to a clever system of filtering mechanisms that are completely natural. "The lava fields work a little bit like an aquarium filter," Jakob adds, drawing a little diagram. "When the water leaves glacier Langjökull, the fields filter out most particles leaving the water crystal clear here on the other side, between 20 and 40 years later. In addition, the lava fields also work as isolating material, which means that the temperature stays at 2 to 3 degrees all year around."
As Jakob folds away his diagram, a group of snorkelers walks out from behind the corner, a look of happiness and wonder painted across their faces. They chat to each other eagerly, shivering slightly in the morning air but too focused on discussing the details of their experience to care. "It's that look on their faces," Jakob tells me when he notices I'm staring at them. "I see that every day. Doesn't it make you want to try?" Indeed it does, and I already can't wait to see all the brightly-lit wonders hiding in the depths of Silfra.
If you want to check out Þingvellir National Park during your stay in Iceland, Reykjavík Sight Seeing offers a variety of tours depending on your budget and schedule. Check out their website!
Let's hear it from you!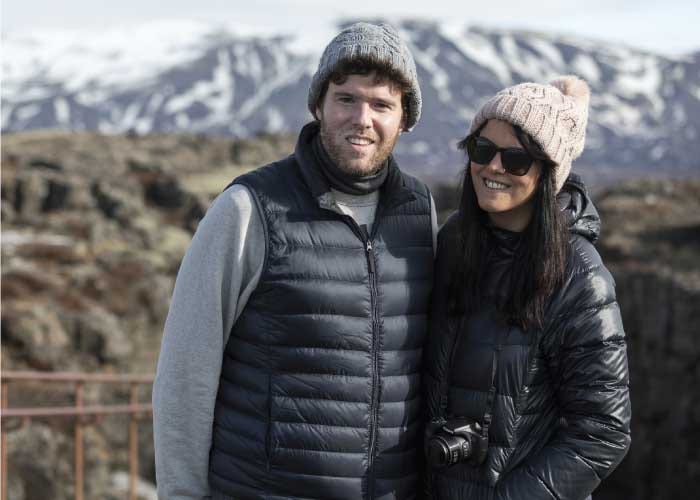 Names: "Hannah and Trevor."
From: "We're both from Seattle, Washington."
What brought you to Iceland? "We're on holiday, and it's our first time here."
What do you think of Iceland so far? "We just got here yesterday but it's been great so far," Trevor says. "Yes, it's really beautiful," Hannah echoes.
Why did you decide to come to Silfra today? "I think it was on Trevor's bucket list to dive between tectonic plates," Hannah explains.
"Yeah, I had heard about that, but we also heard that this would be a possible spot to see monsters come out from the inside of the earth," Trevor adds in all seriousness. "We are deep sea monster enthusiasts so we really wanted to be here to witness an event like this."
So was Silfra the part of the trip you were looking forward to the most? "Yes, it definitely was, but also the hot springs," Hannah says. "We really look forward to soaking in a hot spring afterwards!"
There are no monsters in the pool though—are you disappointed? "That's quite alright," Trevor says shaking his head. "But we still hope we can see some monsters today!"
---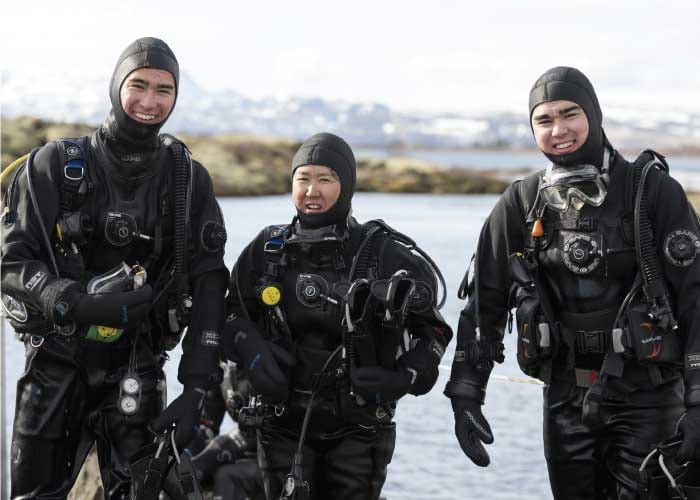 Names: "We're Isaac and Simon."
From: "We're from Sweden—from the South of Sweden actually—and we're brothers."
Have you been to Iceland before? "No, this is actually our first visit."
What brought you to Silfra today? "We dive quite a lot in our free time, although usually in warmer water," Simon says with a laugh. "Then our mother asked us if we wanted to come here to Iceland, so we looked the place up online and it just looked amazing. We instantly thought 'we have to go there!'"
Was it as good as you had expected? "It was better! Much better," Isaac exclaims enthusiastically.
"You can see images on the internet but they look photoshopped, you know," Simon echoes. "They look like they are fake."
"So we kind of had high expectation for this experience but it still ended up being the coolest dive I've ever done," Isaac concludes.
What did you think was the best thing about it? "The visibility," Isaac says immediately. "It was like diving in a pool but much better of course."
"I'd say also just to know that you're diving between tectonic plates," Simon adds. "I think that is also quite cool."
---
Meet a local!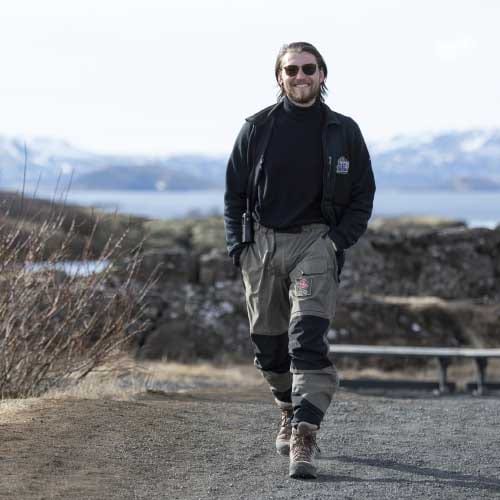 Name: Jakob Axel Axelsson.
Age: 23.
From: Mosfellsbær.
Occupation: "I'm a Park Ranger for Þingvellir National Park," Jakob says. "I started to work for the Park in 2016, but I was assigned specifically to Silfra only this year."
How many people do you get in Silfra every day? "On a normal day we can get easily up to 150 visitors," Jakob says. "But on weekends or holidays it goes up to 220, and in summer it's even more. Groups come in to dive or snorkel, they stay in for about 40 minutes and then go out happy. It's a very good flow."
What's your favourite thing about the job? "My favourite thing about my job has got to be the fact that I can spend so much time out in nature," Jakox explains. "I get to look around every day and enjoy the beautiful landscape around me, as well as to explore the area. I love spending time out in nature, hiking around the park and taking care of it as well as I can."
What do you think is the main reason why people come to see Silfra? "Silfra is extremely beautiful, and more so than other fissures. It's deeper than other ones, which leaves more space for activities like diving and snorkelling," Jakox says. "But it's the idea of the visibility that attracts most people I think. You can see up to 100 meters ahead, and even though there isn't much life to see (not with fish at least), it's really not about the wildlife. People are looking at the geological formations and at the clarity of the water, and all the colours the light creates when it hits the water. It's just a really special, unique experience."