Guided in 10 languages. Search for the rare and elusive northern lights (Aurora Borealis) in the skies around Reykjavík on this all time winter bestseller!
Northern Lights and Stargazing in Iceland Tour
COME SEARCH FOR THE NORTHERN LIGHTS WITH US!

You are about to embark on a mission to see the Northern Lights, which are undoubtedly one of the most beautiful celestial displays found in nature. But up there, many other cosmic wonders are waiting to be discovered. All you need to do is gaze skywards into the Arctic night canopy to explore the magic of countless stars and the moon itself.
The tour not only sets out to find the legendary Northern Lights, but we also use the opportunity to pinpoint some of the stars & constellations in the sky.
We depart from Reykjavík, where you will step on board our brand new bus fleet, equipped with computer tablets in each seat. The tablets provide us with an "In Bus Audio Guide'' on the tour, which is available in 10 languages. On board, you will find a USB charger and free WiFi. We will also offer useful tips on how best to capture the Northern Lights on camera.
There are a few factors that determine whether or not seeing the Aurora Borealis is possible, and we're experts in reckoning our chances of seeing them. This means we have a high success rate, and we do not go out unless we feel the odds are in our favor.
All our northern lights tours are guided by one of our specially trained northern lights guides, they are both knowledgeable and helpful and will even give you tips on how to take photos of the show. We highly recommend bringing a tripod, it is a must if you want to get a good picture!
To search for the Auroras you need to stand outside in the Icelandic winter - and you need to dress very warmly to fully enjoy this unique experience. Therefore we recommend putting on warm and comfy layers for the evening.
Highlights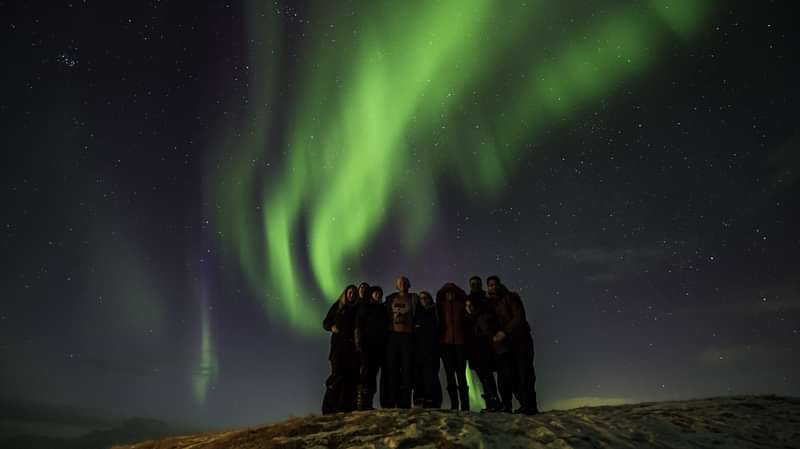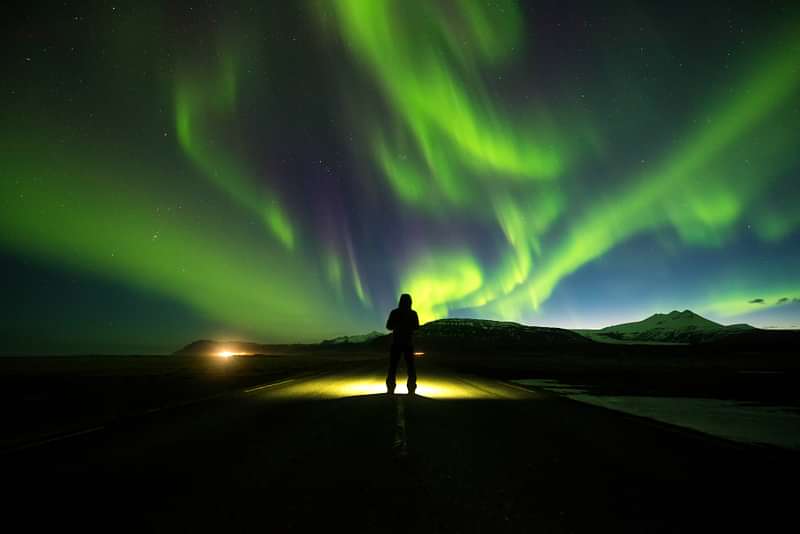 On a successful night of northern lights hunting, we will be able to visibly see the northern lights and capture photos of them.
Our guides will help you with your camera if you need any assistance finding the optimal settings for capturing aurora and the night sky.
Along the way, our guides will share stories, information, and interesting facts about the aurora to make sure you have a complete experience.
We will start off from Reykjavík Terminal at Skógarhlíð 10 and head outside the city to get as far from light pollution as possible. The location we go to varies from night to night since the weather forecast plays a big influence on choosing the location. We always try to get to the best possible sight with the best chances to view the northern lights. The location can be anywhere from 30-60 minutes from Reykjavik.
Important information
Please show up at our Reykjavik Terminal (located at Skógarhlíð 10) 15 minutes prior to the departure time. We kindly ask you to be ready at your pick-up point with your voucher, either in digital or printed form. 
If you have booked a hotel pickup with Smartbus™, please be at your chosen pickup location 30 minutes before the departure of the tour. Look for the Green Smartbus™ which will be outside your accommodation within 30 minutes of pickup.
You will be traveling in a coach that holds approximately 40-65 people but is very spacious and comfortable. The bus offers free wifi and USB charging ports.
Please note, it will not be possible to refund this tour in the event of an unsuccessful northern lights hunt. However, you may re-book the tour and continue coming back on subsequent tours until you have a night of successful northern lights.
Price & Availability: See the booking window on right. 
Teenagers 12-15 years: 50% Discount & children 0-11 years old free. 
Scheduled tours available: At 22.30 from August 15th - August 24th & April 15th to April 25th. At 21.30 from August 25th to October 15th & 15th of March to 14th of April. At 20.30 from October 16th - March 14th.
Departures are highly dependent on weather. 
Min: No minimum number of participants and no age limit. 
Bring with you: Dress according to the weather. In Iceland, it is always wise to dress in warm, waterproof clothes. Weather changes can be sudden so expect the unexpected. Bring a waterproof jacket and pants, headwear and gloves. Good outdoor shoes are recommended. You can also rent shoes and jackets when booking your tour online. 
In-Bus-Audio-Guide: We recommend that you bring your own headphones, simply because they will fit you best. It is also great for the environment. If you don't have your headphones, with you or forgot to bring them, no worries we sell earphones on board. 
Duration: Approximately 3 hours.
What's included
In bus audio guide with a choice of 10 languages (English, French, German, Dutch, Italian, Spanish, Chinese, Japanese, Korean, and Finnish)
Knowledgeable Northern Lights guide 
Free Wi-fi and usb charger in every seat
Instructions about how to set up your camera to capture northern lights and the night sky
Friendly cancellation & refund policy
Full refund if cancelled due to weather. Cancellation fee can be witheld if cancelled with short notice.
1 day notice: 100% charge
kr
7,590
3 Hours , Very easy