On this tour you will explore the world famous Golden Circle & get to know the unique Icelandic horse.
Golden Circle and Horse Tour
WATERFALLS, GEYSERS, LAVA CANYONS AND HORSES
The Golden Circle Classic is our bestselling day tour, audio guided in 10 languages! You will see the world-famous erupting geyser & hot springs, experience the magnificent Gullfoss Waterfall and follow in the footsteps of the Vikings of old as you walk down the lava canyon at Þingvellir. The day will end with horse-riding through meadows and lava fields.
The tour starts with a stop in Þingvellir National Park, a UNESCO World Heritage Site listing and the birthplace of the oldest existing parliament in the world. This is also where the gigantic tectonic plates of America and Eurasia have pulled apart and the resulting rift valley is right there before your eyes on the shores of Iceland's biggest lake.
The next stop is at Geysir Hot Springs, the home of the one-and-only original geyser and Iceland's most iconic natural attraction. Here the ground trembles and steaming hot water spouts spectacularly skywards from the famous Strokkur Geyser every few minutes.
Now for a leisurely walk down to Gullfoss Waterfall, which is an awesome sight to behold. Here a powerful glacial river cascades down 32 meters on two levels and into a narrow canyon with a thunderous roar.
The horse riding tour will take us through meadows, lava fields, and a small river. We will enjoy the picturesque scenery of volcanic mountains and farmland, passing several farms, giving us an idea of how Icelandic agriculture has developed in the last decades. The trails are good for horse riding, giving us an opportunity to experience the special gait of the Icelandic horse "tölt".
Highlights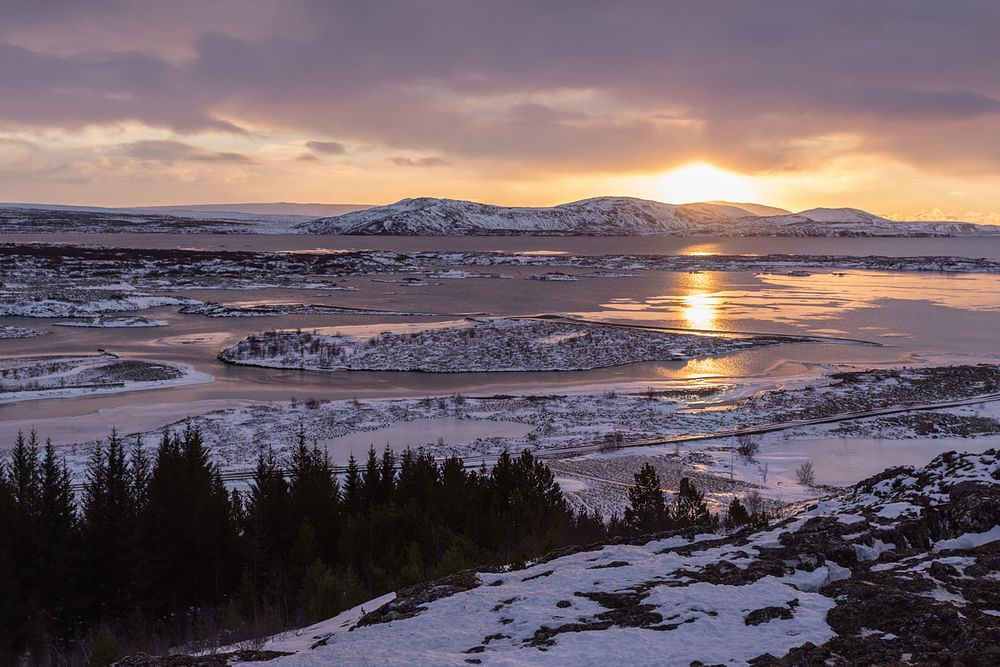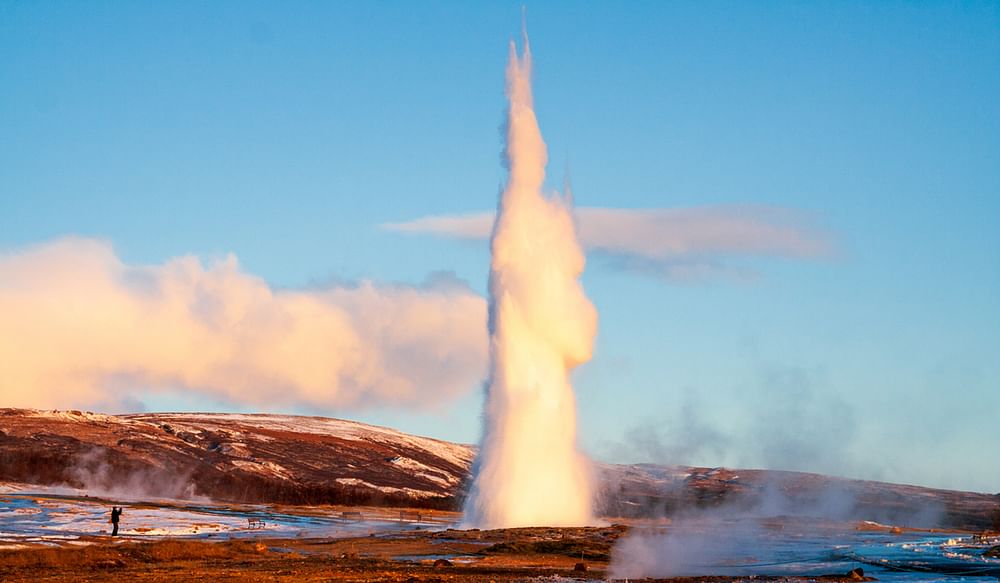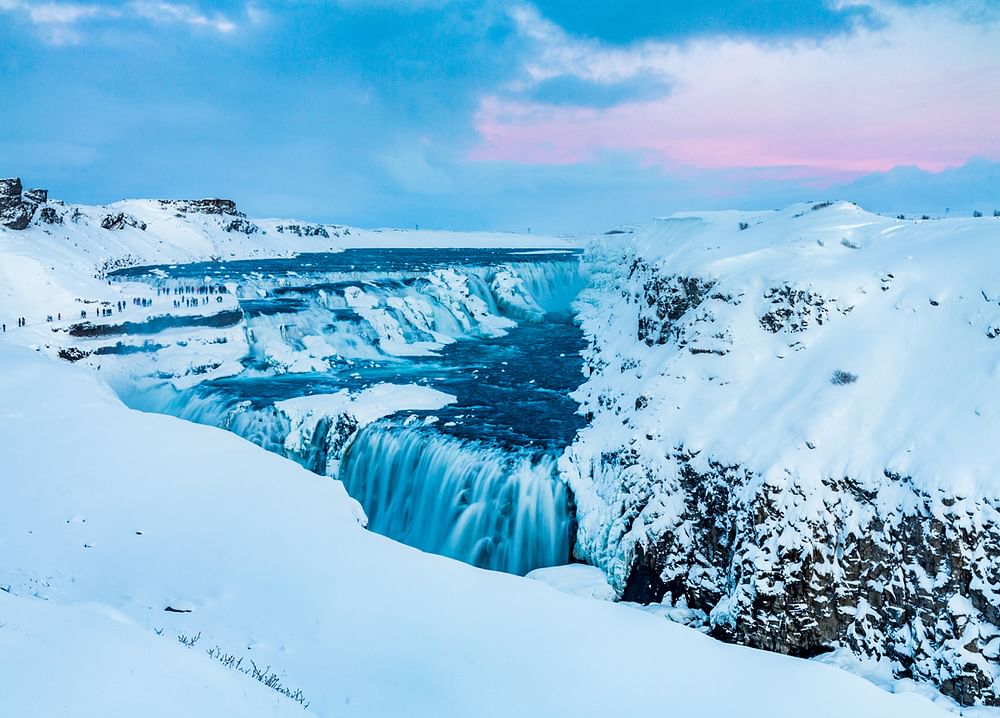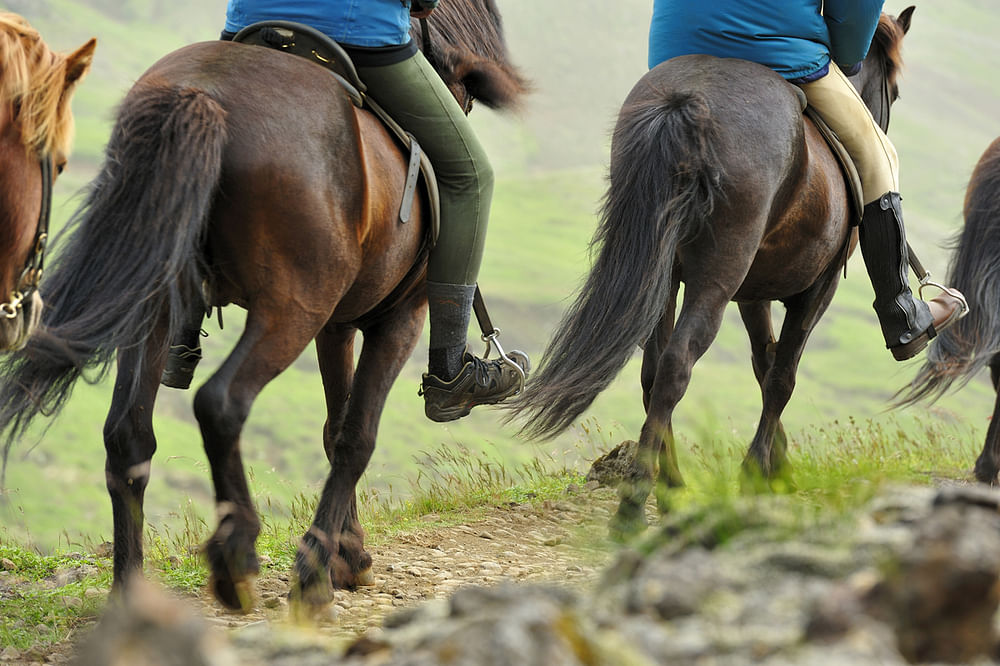 Þingvellir: the rift valley and the site of the oldest modern parliament.
Geysir: hot spring & geothermal area and home to Strokkur, the erupting geyser.
Gullfoss Waterfall: the powerful glacial waterfall known as the 'Golden Waterfall' in English.
Horse Riding tour in Icelandic scenic landscape 
GPS synced audio guide: will give you all the information you need for your journey.
Reykjavik Terminal
Tours depart from the Reykjavik Terminal located at Skógarhlíð 10. Please be sure to arrive 15 minutes prior to departure along with a printed or digital copy of your ticket/voucher.
If you have booked a hotel pickup with SmartBus™, please be at your chosen pickup location 30 minutes before the departure of the tour. Look for the Green SmartBus™ which will be outside your accommodation within 30 minutes of pickup. 
Þingvellir National Park
Located on the northern shores of Þingvallavatn (Iceland's largest lake), Þingvellir (anglicized as 'Thingvellir') is the national pride of Iceland and our first National Park. It is, for one, a key location in Icelandic history as the oldest existing parliament in the world was first assembled there in 930 AD. For this reason, Þingvellir has been designated a UNESCO World Heritage Site and is, therefore, a protected national park due to its unique geology and natural features. From the viewing area, the Almannagjá canyon between two tectonic plates can be seen, a visual representation of continental drift.
As the first stop along the tour, you will have an opportunity to walk through the park and use the restroom if needed.
Geysir Geothermal Springs
A favorite stop along the Golden Circle is the highly active Geysir Hot Spring Area with boiling mud pits and the lively Strokkur which spouts water 30 meters (100 ft) into the air every few minutes. The area became active more than 1000 years ago and comprises more than a dozen hot spring holes. Although one can only see steam emerging from the surface of Geysir these days, its name was adopted to represent spouting hot springs all over the world.
Along the tour, the newly opened Geysir Center offers guests and travelers a chance to use the restroom and to catch some refreshments as well as lunch.
Gullfoss Waterfall
As one of the most popular attractions in all of Iceland, Gullfoss is a waterfall located in the canyon of Hvítá river in the southwest of the country. The beautiful Hvítá river rushes southward in three steps into a narrow canyon with a breathtaking roar and grandeur. Furthermore, on clear days the magnificent Langjökull glacier, Iceland's second largest glacier, can be seen in the distance.
Guests and Travelers may use the restroom and purchase food and refreshments at this location as well.
Horseback Riding at Eldhestar
Eldhestar horseback riding center offers a variety of horses and is suitable for riders of all abilities.
The last stop along the tour will be at Eldhestar, where you will have the chance to get closer to these majestic animals. Along with getting acquainted with the Icelandic horse, you will also have a taste of the countryside around Hveragerði. Children can be led by staff at Eldhestar if needed. Enjoy the day with Iceland's famous and charming animal. After a 1 hr ride, you will be brought back to Reykjavik by the Eldhestar staff.
Important information
Please show up at our Reykjavik Terminal (located at Skógarhlíð 10) 15 minutes prior to the departure time. We kindly ask you to be ready at your pick-up point with your voucher, either in digital or printed form. 
If you have booked a hotel pickup with Smartbus™, please be at your chosen pickup location 30 minutes before the departure of the tour. Look for the Green Smartbus™ which will be outside your accommodation within 30 minutes of pickup. 
You will be traveling in a coach that holds approximately 40-65 people, but is very spacious and comfortable. The bus offers free wifi and USB charging ports.
Lunch is not included, In Geysir & Gullfoss there are shops where you can buy food and drinks.
Available all year round (depending on weather)
The age limit is 7 years
Prices: Children 7-14 years discount price 
Bring with you: Dress according to the weather. In Iceland, it is always wise to dress in warm, waterproof clothes. Weather changes can be sudden so expect the unexpected. Bring a waterproof jacket and pants, headwear and gloves. Good outdoor shoes are recommended.
In-Bus-Audio-Guide: Bring your own headphones. Otherwise, we sell earphones for ISK 1000.-
Duration: Approx. 11 hours including a minimum 30-minute stop at Geysir Hot Springs, Gullfoss Waterfall and Þingvellir National Park. In Geysir & Gullfoss there are shops where you can buy food and drinks.
Important information: You cannot be pregnant for the horse riding tour and if you weigh more than 110 kg, please contact us.
What's included
In bus audio guide with a choice of 10 languages (English, French, German, Dutch, Italian, Spanish, Chinese, Japanese, Korean and Finnish)
Knowledgeable local guide

Admission to the sights
Free Wi-Fi and usb charger for each seat
1 hour horse riding tour with a professional guide
Friendly cancellation & refund policy
Full refund if cancelled due to weather. Cancellation fee can be witheld if cancelled with short notice.
1 day notice: 100% charge
kr
23,490
11 Hours , Easy