Soaking Next to a Geysir: A Trip to the Secret Lagoon
While the Secret Lagoon may not be that secret anymore, it's still worth a visit. Located conveniently close to the Golden Circle in the southern town of Flúðir, Iceland's oldest pool is the perfect spot to relax in warm water and watch steam rise up around yourself. What makes the lagoon even more special is its unique ambience thanks to the surrounding geothermal area, which can be explored, including a little geysir that erupts every five minutes.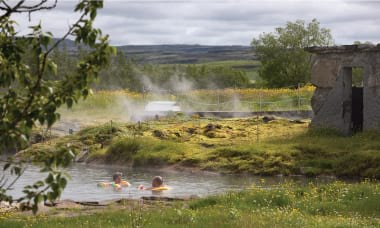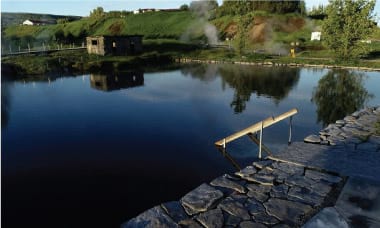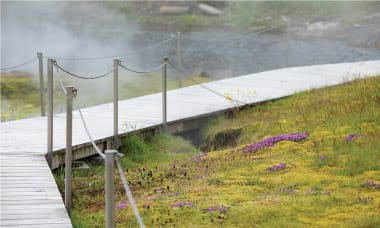 Let's hear it from you!
Name: Silja & Ingeborg
Age: Both 11
From: Denmark
Who are you travelling with? "Our girl-scout group from Aarhus," Ingeborg explains.
How long have you been here? "It will soon have been a week and we'll be heading back home tomorrow," Silja says.
What have you been doing so far? "We've been learning a lot about the culture here," Ingeborg says. Silja adds, "There are also many waterfalls and volcanoes which we don't have back home and it's very cold."
---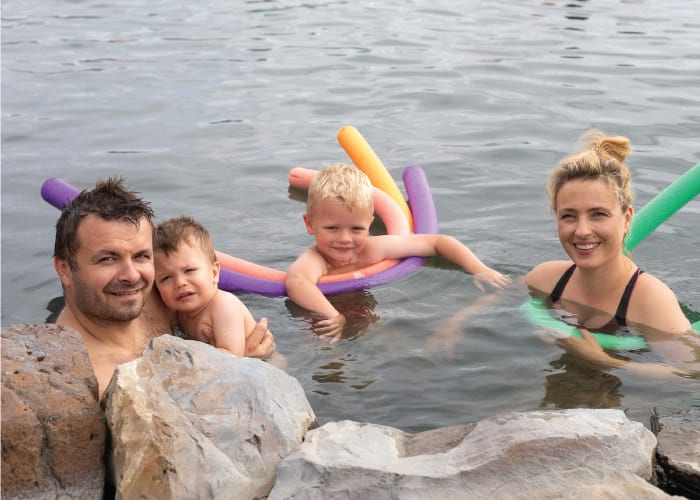 Name: Barbara & Tomaz
Age: 38 & 39
From: Poland
Why did you choose to visit the Secret Lagoon?: "We initially wanted to go to the Blue Lagoon, but their website states that they don't accept kids under 2 years old," Barbara says. "When we saw that it shouldn't be a problem at the Secret Lagoon, we decided to come here instead."
Why Iceland?: "We were curious to see the wild nature such as the waterfalls and geysers," Barbara says. "Also, our hometown just happened to open flights to Iceland, so we had to take the chance."
What has been your highlight so far?: "We really liked Seljalandsfoss because you can walk behind the waterfall. The black beach and the place with the old plane wreck were stunning as well, although we had to walk a long way to get there," Barbara says.
Will you be back?: "Yes!" Barbara exclaims. "When our boys will have grown up, we would want to come back to see the rest of Iceland. We're only doing the Golden Circle now because they are too small".
Don't you miss the sun?: "No, we thought it would be raining all the time but it is actually quite nice," Tomaz says laughing.
---
The Local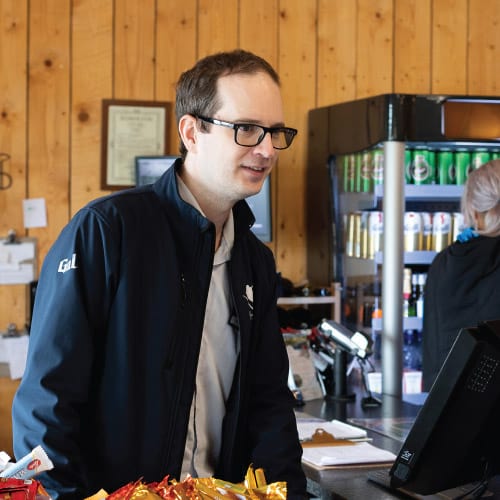 Name: Rajmund
Age: 40
From: Hungary
Occupation: Receptionist at the Secret Lagoon
How do you like working in the tourist sector?: "It's really nice since I'm meeting a lot of different people every day," Rajmund says. "This makes the job really interesting!"
When would you recommend visiting the lagoon?: "It's hard to say because it really differs between winter and summer," Rajmund says. "I'd say it's better to visit either before 14:30 or after 17:30 in the summer, as it tends to be less busy at these times. Weekends are usually busier as well, so you should drop by during the week, if possible. It's less hectic in winter, so you can basically show up whenever, although bigger groups should still make a reservation, just to make sure."
Do you ever soak in the lagoon yourself?: "Yes, I like going to the pool to relax when I have a day off. I usually go in the evening as it's calmer then," he explains.