Drive through the Geysir area in a custom made Super jeep. Take a rejuvenating bath in the oldest swimming pool in Iceland after a thrilling snowmobile ride on Europe's second largest glacier, Langjökull.
SUPER JEEP TOUR THAT TAKES YOU TO HOT AND COOL PLACES.
Driving through the Geysir hot spring area with it's boiling mud pits and spouting geyser we head straight towards Langjökull glacier for a snowmobile tour. Let the snowfields surrounding you take your breath away while enjoying the thrill of dashing across Europe's second largest glacier.
Then gather your appetite as we will take you to lunch at one of our favorite restaurants in South Iceland.
Our last stop is the Secret Lagoon, a mesmerizing swimming pool, hidden deeply in the small village of Flúðir. The Secret Lagoon is the oldest swimming pool in Iceland. The relaxing lagoon is surrounded by geothermal sights, making the experience of the bath even more unforgettable.
DETAILS ON THE TOUR
Price & Availability: See booking window on right.
Children (6-11) 50% Discount.
Min: No minimum number of participants
Age limit: 6 years
Pick up: Is operated by Mountaineers of Iceland and starts 30 minutes before departure time
Bring with you: Bathing suits, towel and dress according to weather. In Iceland it is always smart to dress in warm and waterproof clothes, weather changes are swift so expect the unexpected.
Duration: Approximately 9-10 hours
Please note: A valid driver's license is needed to operate a snowmobile.
We reserve the right to alter the itinerary according to weather and road conditions. Price is for two people per snowmobile.
WHAT'S INCLUDED:
Pick up from hotels/guesthouses in Reykjavik
Guided super truck tour
Access to the Secret Lagoon
Snowmobile tour
Appropriate equipment for the snowmobile ride
Itinerary
Reykjavík
We pick up passengers from various Bus Stops and accommodations in downtown Reykjavík an in the surrounding area around the capitol.
Note that pick-up starts 30 minutes prior to departure.
Langjökull
Langjökull (Icelandic for "long glacier") is the second-largest ice cap in Iceland (953 km2), after Vatnajökull. It is situated in the west of the Icelandic interior or Highlands of Iceland and can be seen clearly from Haukadalur. Its volume is 195 km³ and the ice is up to 580 m (1,900 ft) thick. The highest point of the ice cap (at Baldjökull at the northern end of Langjökull) is about 1,450 m (4,760 ft) above sea level.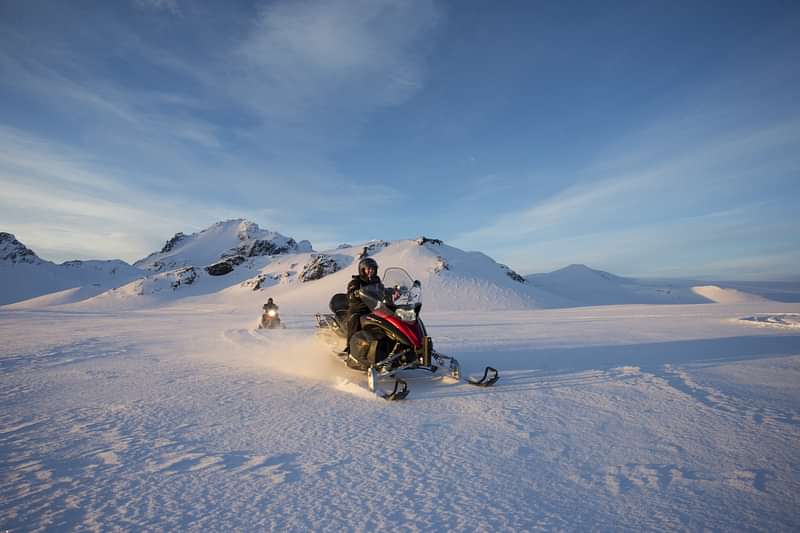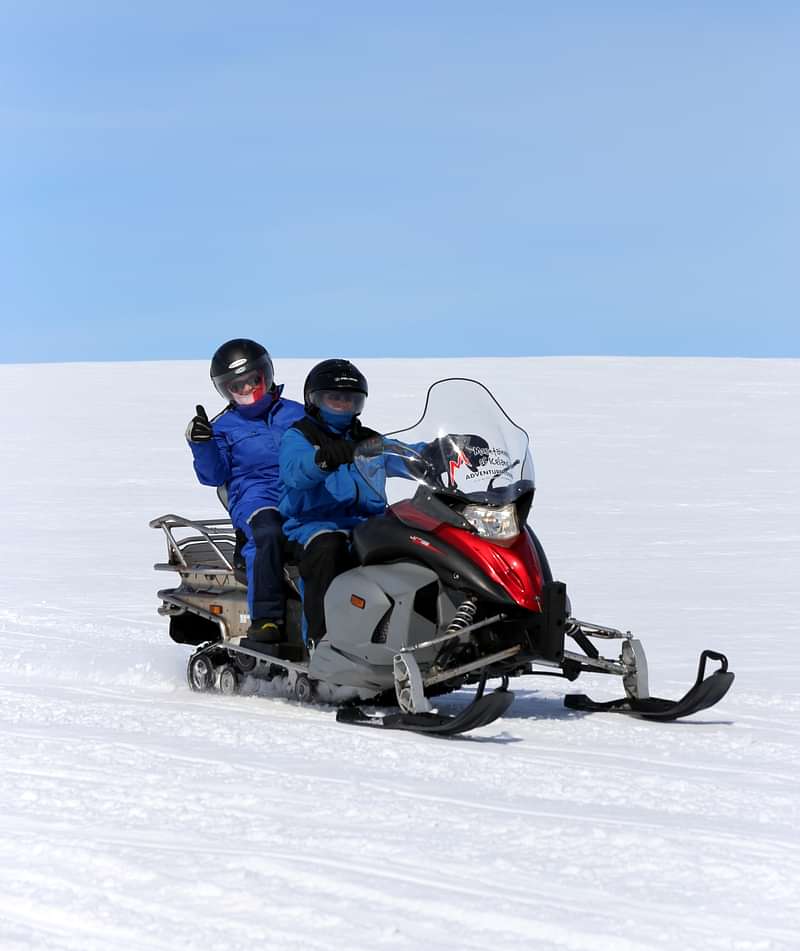 Secret Lagoon
Be prepared to soak in the Secret Lagoon. An amazing natural, geothermal pool located in Flúðir, South Iceland. Shh, don't tell anyone.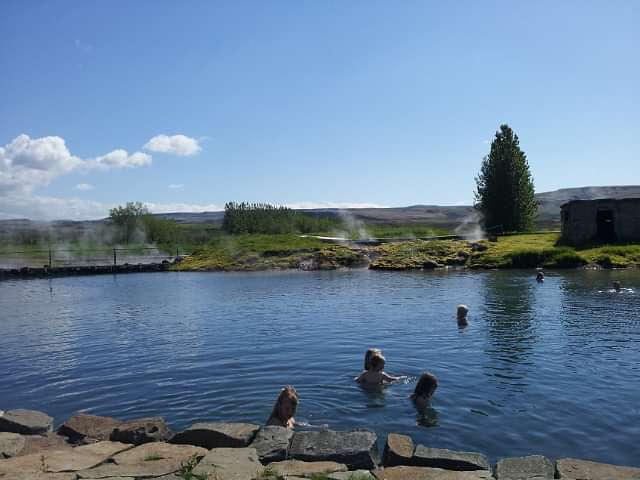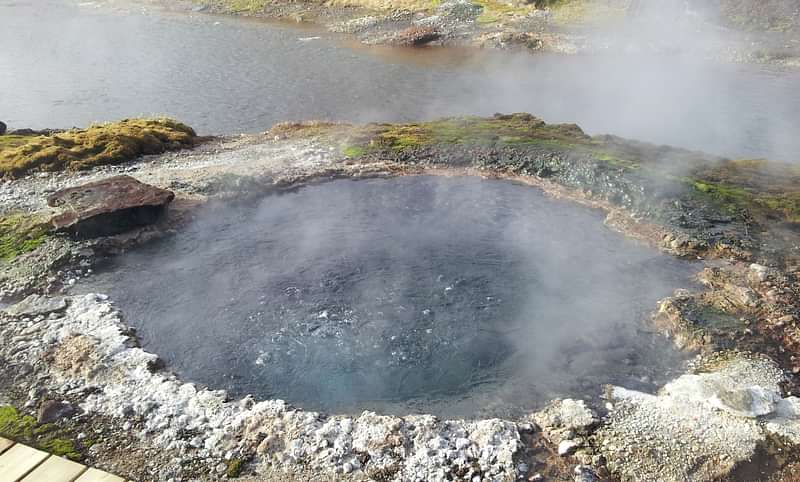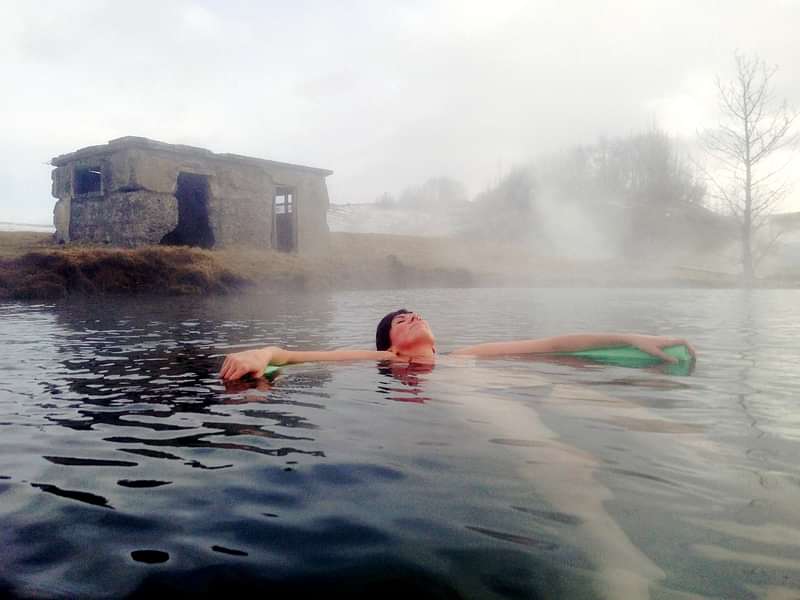 What's included
Pick up from hotels/guesthouses in Reykjavik or at a marked bus stations in down town Reykjavik.
Guided super jeep tour.
1 hour snowmobile tour.
Overalls, gloves, balaclavas and helmet during the snowmobile tour. 
Entrance to the Secret Lagoon.
What do I need to bring
We recommend that you bring warm & wind proof clothing, waterproof hiking boots and a camera.
Friendly cancellation & refund policy
Full refund if cancelled due to weather. Cancellation fee can be witheld if cancelled with short notice.
1 day notice: 100% charge