Under the Raindbow: A Walk Around Gullfoss
It's one of those typical window-weather days in Gullfoss. The sun shines happily above the gleaming water, and it would all seems peaceful if it weren't for the strong wind spritzing visitors with water as they approach the fences.
The view from the parking lot is enough to convince us to walk closer and closer, until we too step into the misty cloud of droplets rising up from the depth of Gullfoss. People who are well equipped with hats and raincoats don't seem to be bothered by the wind, but those who dared coming in flip flops seem a little confused as to why the weather has changed so much along the drive from the Þingvellir National Park. That's Icelandic weather for you!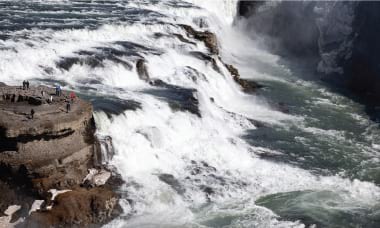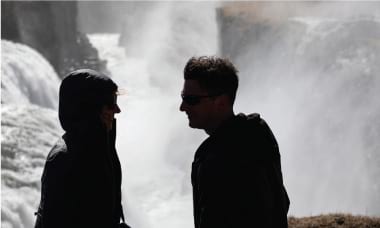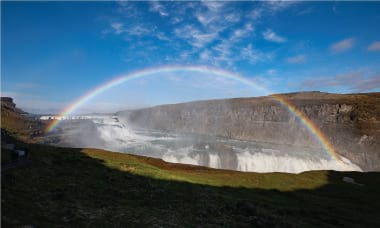 A wooden path runs along the curve of the canyon from the parking lot. "I think it might be less windy down there," my colleague Art says, so we don our woolen beanies and begin to walk closer to the waterfall. Some tourists stop along the way to take pictures, others simply to look down at the falls. We continue steady on, until we reach a small nature-made platform constituted of flat, wet rocks. We walk carefully, trying not to slip, intimidated by the strength of the water just in front of us.
Langjökull glacier glimmers brightly in the distance, its waters feeding the river Hvitá and sliding south towards the waterfall. As the waves approach the area of Gullfoss, they froth angrily at the peaking rocks, filling the large bed of the river before plunging 32 metres down into nothing.
The high waterfalls scattered along the south coast might be more famous, but Gullfoss is bigger and a majestic sight to behold. Witnessing its unfaltering strength is an almost mystical experience, surrounded as we are by powers that we can't control.
While I climb back up in the now comfortable breeze I look back once more. As if conjured by magic, a perfectly shaped rainbow rises above the blue waters and for a moment time stops. Everybody stands still in the fresh summer air, in awe of this iconic marvelof Icelandic nature.
If you want to check out Þingvellir National Park during your stay in Iceland, Reykjavík Sightseeing offers a variety of tours depending on your budget and schedule. Check out their website!
Let's hear it from you!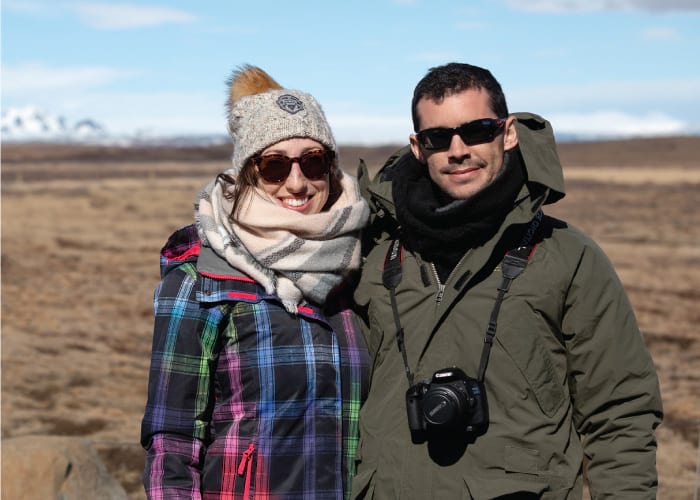 Name: Lionel and Gwendoline.
From: France.
Have you been here long? "We arrived about two days ago," Lionel says. "It's actually our first time in Iceland."
What have you been doing so far? "The first day we just walked around Reykjavík and visited the city," Lionel says. "Then today we decided to come here and to see the geysers as well on our way here."
Why did you decide to come to Iceland? "Because of how beautiful the pictures looked!" Lionel says with a laugh. "No, I'm joking," he adds. "A lot of people in France talk about this beautiful country and this was actually the first time we both wanted to see the same place so we decided to come and take a look at it!"
What's your plan for the rest of the trip? "We're seeing Gullfoss now, and then tomorrow morning we'll go do some snowmobiling," Lionel explains.
"Oh and we're also going to Hella, in the south," Gwendoline adds.
What were you looking forward to the most? "I love the snow so I wanted to see that, although there isn't much left now," Lionel says. "But I also I love waterfalls so I was really looking forward to seeing Gullfoss. I hope it's what I imagine it to be!"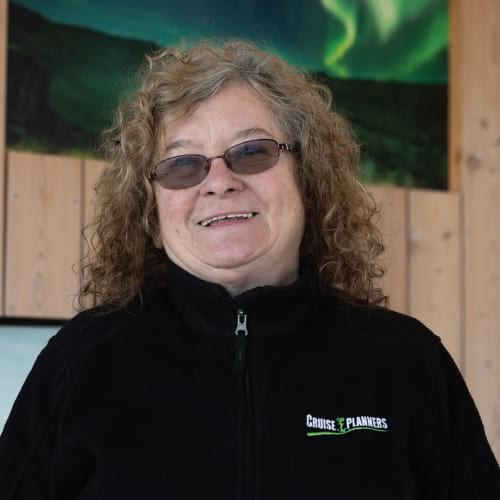 Name: Kathe Kraus.
From: Upstate New York.
Is it your first time in Iceland? "It is, but I own a travel agency called Dream Journeys so I'll be bringing many people back," Kathe says. "This time I brought six people with me and we're staying a total of five days and four nights."
So what have you done so far? "We've been out to Þingvellir National Park and to the geysers this morning," Kathe explains. "I did get sprayed by the geysers when I was there—me and about forty other people. The wind just changed direction so I got a little wet!"
What's on the agenda in the next few days? "Since today we are doing the Golden Circle perhaps we might do the South Coast tomorrow," Kathe says. "But we're staying in Reykjavík so we plan to see some of the museums there and of course, the beautiful Cathedral."
Did you know anything about Iceland before coming here? "I knew a bit about it, yes—mainly because I have a travel club back home and my granddaughter who is only ten years old helped me build a PowerPoint presentation about Iceland," Kathe chuckles. "So we knew about your special yoghurt, the skyr, and we also knew about the geysers, Þingvellir and Gullfoss."
What were you looking forward to the most, then? "Unfortunately we got here too late to see Northern Lights so I'd have to say Þingvellir," Kathe says. "We have many national parks in the United States so I was looking forward to seeing this one. Luckily we have a very good guide today. I didn't know about all the spirituality surrounding the park."
What did you think about Gullfoss today? "I loved it, it's beautiful," Kathe exclaims. "We have come on a wonderful day so we can see all the way to the glacier, but I haven't walked all the way down because I was being blown away by the wind. Nevertheless, it's just beautiful."
---
Meet a local!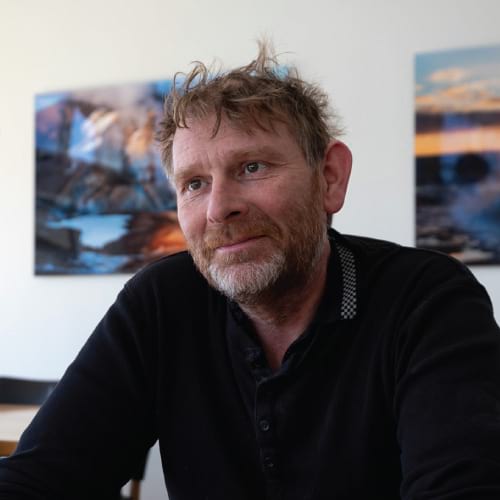 Name: Jón Harry Njarðarson
From: Brattholt, close to Gullfoss.
Age: 50.
Occupation: Owner and manager of Hótel Gullfoss.
How long have you been working in the tourism industry? "I've been working with tourists for more than thirty years now," Jón says. "My mom and dad began with a small guesthouse here in their own home in 1987 and I was already helping back then. Then I built Hótel Gullfoss in 2000 and I added twenty more rooms in 2016."
What's your favourite thing about living here? "I don't know anything else so I can't compare it to other environments," Jón laughs. "But to me, this is just the best place in the world!"
How has tourism changed around here since 1987? "Well, we only had tourists from mid-June to mid-August back then, and maybe some in September, but now it's a thousand times more," Jón says. "But the area hasn't changed much. There are more people and more houses around the area, of course."
Are people coming back to live in the countryside? "It's becoming much more of a trend now, yes," Jón says. "It wasn't that common in the last two decades, because it's a completely different lifestyle. Maybe not here in the South, but the farming industry has been disappearing in some parts of the country because it's not giving any money and people are looking for more. But here and close to the city—that's where the main tourist business is, so people are beginning to come back."
How has the area of Gullfoss evolved in these 30 years that you've worked here? "I'd say thirty years ago Gullfoss was in much worse condition than today," Jón says. "There was nothing there—no service, no toilets, no paths to walk on. But now that something has been done there I think it's much better for everybody."
Can we do things better? "Absolutely. We have a problem in this country where the political system has been in a coma for decades," Jón explains. "I'm sorry but when roads are being used this much, eventually they have to be fixed, and they should be fixed. The tourist business is giving good money and speeding up the economy also in the countryside, but politicians have yet to wake up and deal with the situation in a much better way."