Hike on a rugged glacier and explore the amazing cracks, visit two stunning and iconic waterfalls along with walking behind a 60 meter one.
WALK ON A GLACIER & GO BEHIND A WATERFALL!
Visit the south-coast of Iceland and go hiking on a glacier then visit the the incredible waterfalls of Skógar and Seljalandsfoss on one of the must-do day tours from Reykjavík. Step on board our all new bus fleet, equipped with computer tablets in each seat.
On the tablets you can use our GPS Sensitive In Bus Audio Guide, available in 10 languages. So, if you wish to know interesting facts about Iceland and the places you will visit on the tour in a language that you are likely to be comfortable with, that is very possible. Onboard you will also find a USB Charger and free WiFi. Should you have any questions during the tour or about our small country, you can ask the knowledgable host who will happily assist you.
First stop will be the rugged Sólheimajökull Glacier. Sólheimajökull is an outlet glacier that flows from main ice-cap of Mýrdalsjökull where the mighty Katla Volcano rests. You will walk on the glacier, wearing special crampons on your shoes and explore the amazing cracks, crevasses and ice expertly lead by a certified glacier guide. The experience is definitely one of those who are unique to Iceland as, you only need to hike 20 minutes, and suddenly you will find yourself standing on top of a few hundred meters of ice, but still only slightly above sea-level.
The next destination is the stunning Skógarfoss waterfall. Up close, you will be able to feel the water-spray on your face and you can also climb up the hill (all 527 steps) to see the majestic 60 meter high waterfall from above and witness the water plummet down on it's way to the Atlantic Ocean.
Last but not least, we will visit Seljalandsfoss waterfall that is one of Iceland's most famous attractions, to get a different perspective you can take a walk from behind and look through the wall of water.
In order to reach all of our incredible destination we will make our way through fertile farming lands and pass by small villages. The area is known for its Viking history and heritage guarded by the infamous Eyjafjallajökull & Hekla Volcano dwell with their all-powerful presence. On clear days you will also have a great view of the Westman Islands where the renowned volcanoes lie, that caused the islander's great troubles in the 1970's.
Highlights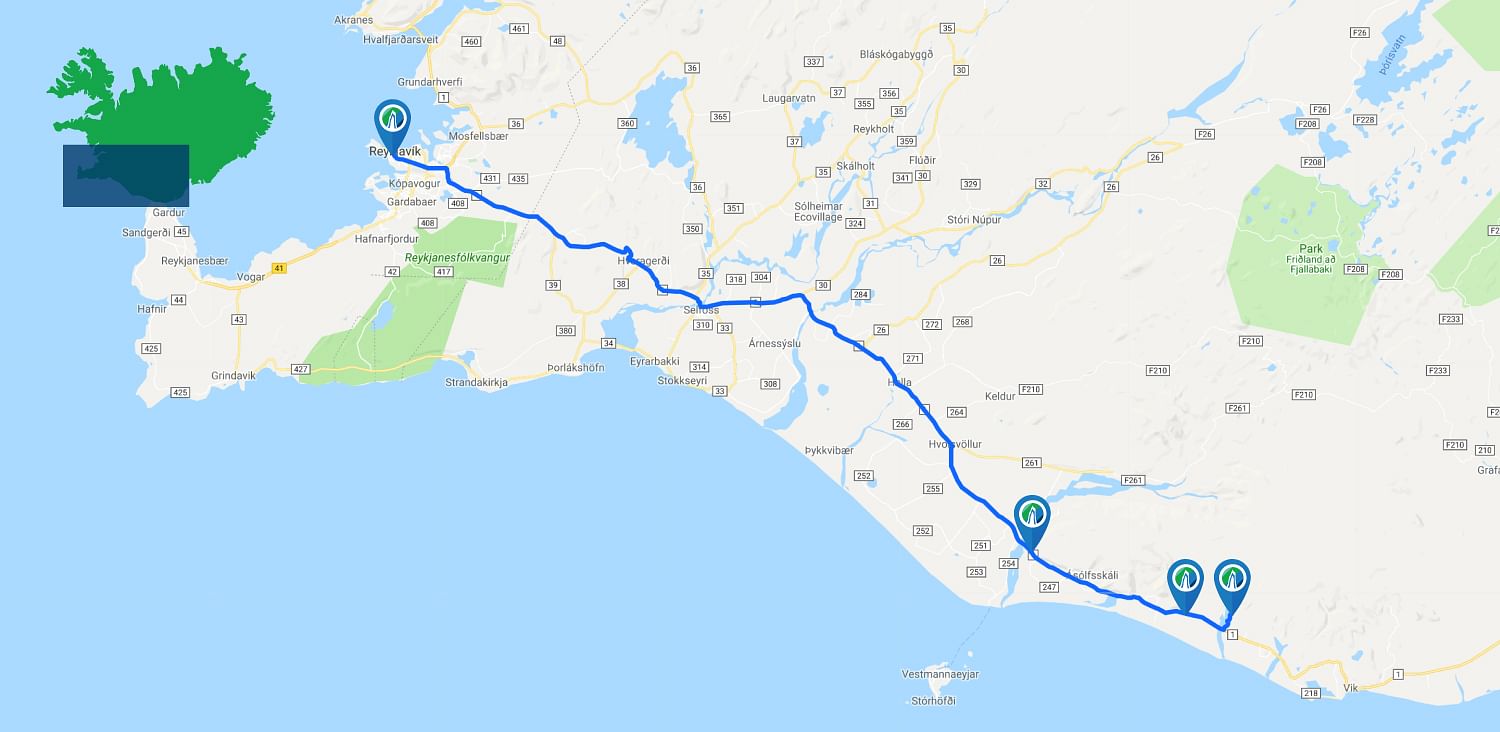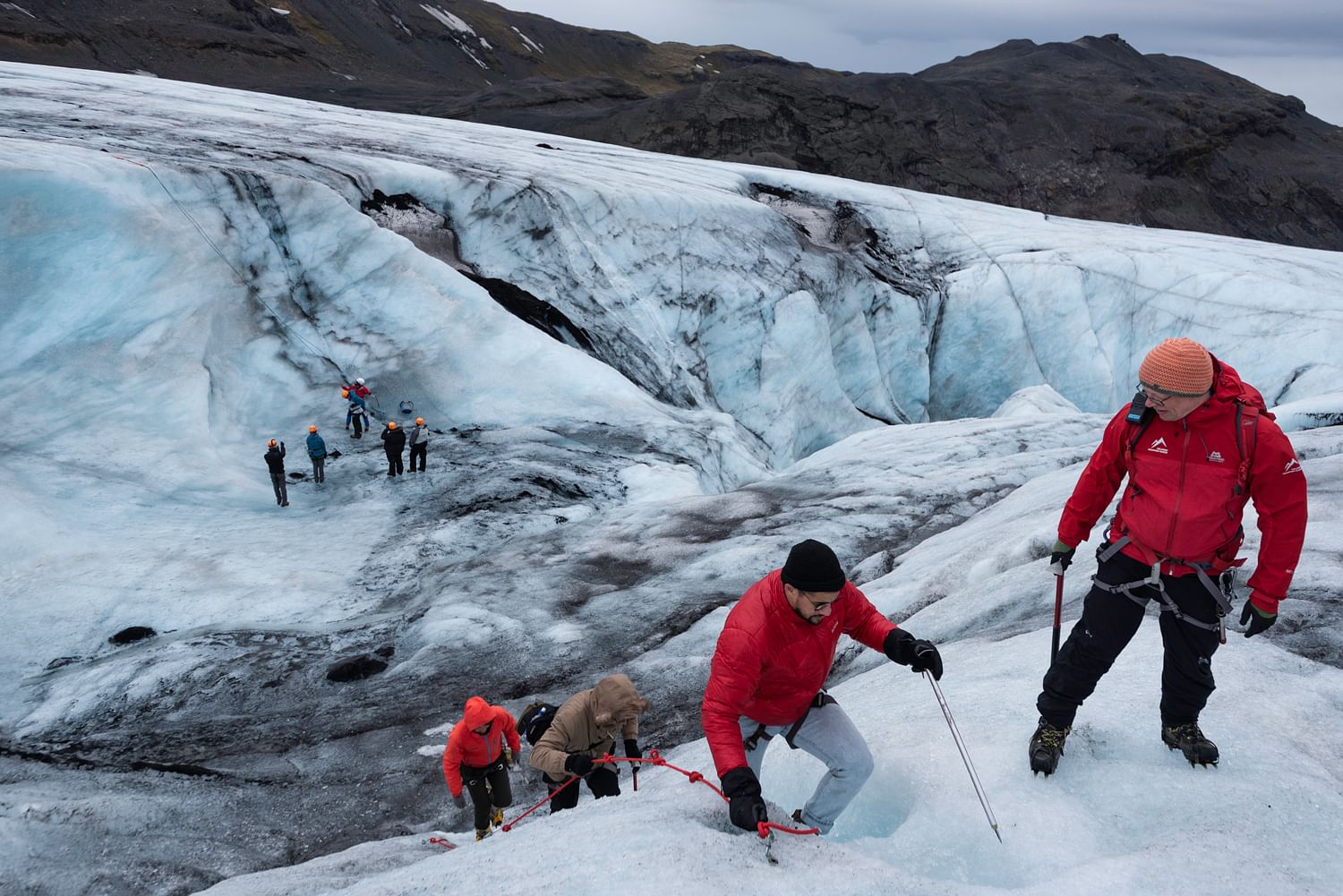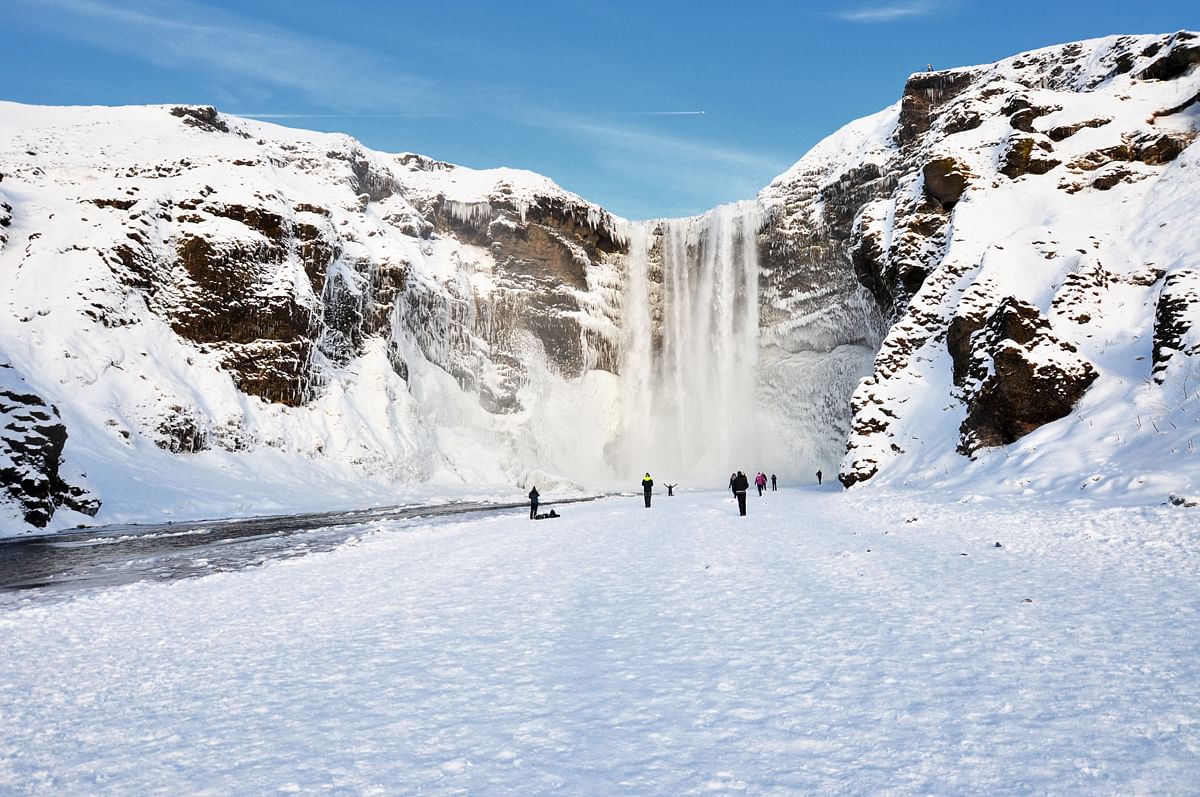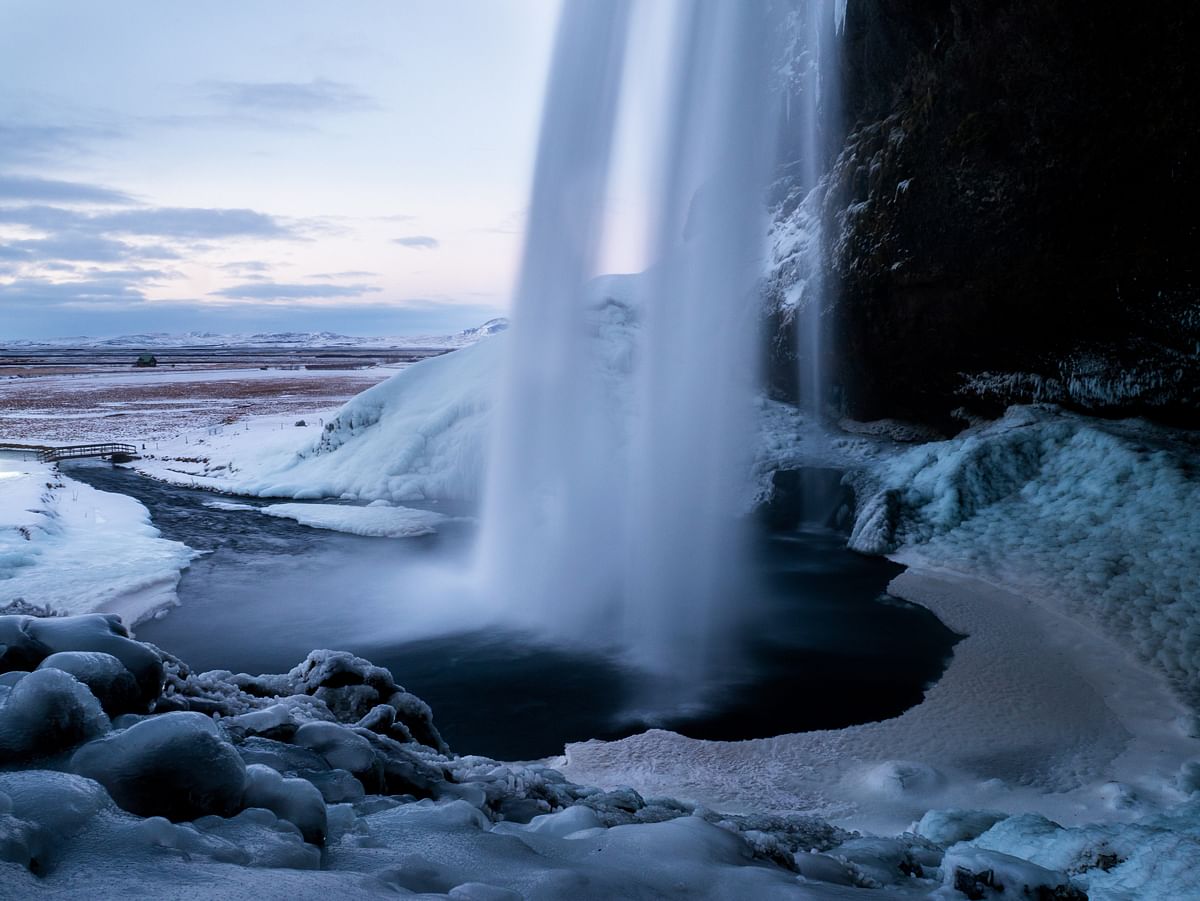 Sólheimajökull Glacier: a picturesque glacial tongue extending from the Myrdalsjökull glacier.
Skógafoss: The powerful glacial waterfall with stairs leading up to one of Iceland´s most scenic views of glaciers, volcanoes, black sand beaches and possible sheep.
Seljalandsfoss: The 60-meter-high waterfall, famous for the hidden pathway which leads next to and around to the other side.
Reykjavik Terminal
Tours depart from the Reykjavik Terminal located at Skógarhlíð 10. Please be sure to arrive 15 minutes prior to departure along with a printed or digital copy of your ticket/voucher.

If you have booked a hotel pickup with SmartBus™, please be at your chosen pickup location 30 minutes before the departure of the tour. Look for the Green SmartBus™ which will be outside your accommodation within 30 minutes of pickup.
Sólheimajökull Glacier
The Solheim Glacier is a magnificent and humbling site to behold. A ten-minute walk will lead you from the parking lot up the gravel path leading the face of this glacial tongue extending from Myrdalsjökull, you will witness the glacial bed upon which the Solheimajökull sat not more than 50 years ago. Here you can also see beautiful icebergs revealing deep blue colors that have broken away from the glacier and floated down the lagoon.
As you hike up to the glacier, you will get to explore the glacial formations and the spectacular colors of the ice. You will spend about 3 hours at the Solheimajökull glacier before returning down to base camp.
Skógafoss
Along the return trip to Reykjavik, we will stop at the powerful 65-meter-tall Skógafoss Waterfall where a short walk up a flight of steps will reveal one of Iceland´s most scenic views of glaciers, volcanoes and black sandy beaches. With viewpoints both above and directly next to the waterfall, photographers will have plenty of chances to capture that unique shot.
Seljalandsfoss
The Seljalandsfoss waterfall is for many guests the highlight of this trip, as you can walk along and behind this waterfall offering a completely unique perspective; just be sure to bring a rain jacket! During the short days of winter as you may be arriving in the evening, this waterfall is lit up to still give you a chance to capture the perfect regardless of the amount of sunlight. From here we will spend about 1.5hrs in the coach returning to Reykjavik.
Important information
Please show up at our Reykjavik Terminal (located at Skógarhlíð 10) 15 minutes prior to the departure time. Please be ready at your pick-up point with your voucher, either in digital or printed form. 
If you have booked a hotel pickup with Smartbus™, please be at your chosen pickup location 30 minutes before the departure of the tour. Look for the Green Smartbus™ which will be outside your accommodation within 30 minutes of pickup. 
You will be traveling in a coach that holds approximately 40-65 people, but is very spacious and comfortable. The bus offers free wifi and USB charging ports.
Lunch is not included, but in Hvolsvöllur there are shops where you can buy food and drinks.
Min: No minimum number of participants
Age Limit: For crampons, you need to have at least shoe size 35
Bring with you: Dress according to the weather. In Iceland it is always smart to dress in warm and waterproof clothes, weather changes are swift so prepare to expect the unexpected. Bring a waterproof jacket and pants, headwear and gloves. Good outdoor shoes are recommended.*
In-Bus-Audio-Guide: We recommend that you bring your own headphones, simply because they will fit you best. It is also great for the environment. If you don't have your headphones, with you or forgot to bring them, no worries we sell earphones on board.
Duration: Approximately 11 hours.
What's included
In-bus audio guide with a choice of 10 languages (English, French, German, Dutch, Italian, Spanish, Chinese, Japanese, Korean and Finnish)
Knowledgeable local guide
Experienced glacier guide
Equipment for glacier hiking (safety equipment, crampons, ice axe)
Admission to the sights
Free Wi-Fi and USB-charger for each seat
Friendly cancellation & refund policy
Full refund if cancelled due to weather. Cancellation fee can be witheld if cancelled with short notice.
1 day notice: 100% charge
kr
24,990
11 Hours , Easy