They say that seeing the Northern Lights dance and weave across the Arctic sky is a spiritual experience never to be forgotten. And what better way to view this beautiful heavenly show than by sailing out to sea well away from the city´s bright lights.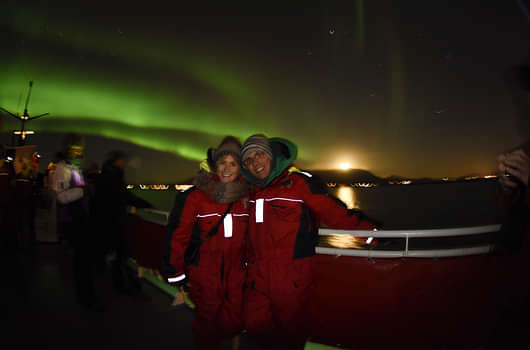 Northern Lights Cruise from Reykjavik
SET SAILS TO THE ATLANTIC TO HUNT FOR THE NORTHERN LIGHTS
There are few things more Icelandic than the Northern Lights dancing above the Arctic Ocean. Through the centuries our fishermen have needed to go out fishing all year round, even in the long, dark winters. Fortunately for them, when the winter sky is clear they have had the very welcome company of the Northern Lights that illuminate the sky, making it easier to fish.
We set sail from the Old Reykjavík harbor and begin our hunt out on the dark blue waters of Faxaflói Bay, leaving behind the bright city lights of Reykjavík. With our long experience in reading the Northern Lights forecast and a bit of luck, we will hopefully be successful in our search for the Auroras. We will experience firsthand how the lights constantly change in density, color, and movement with the gentle sway of the ocean beneath us. This is a thrilling and unique experience you will not soon forget.
Our open-top viewing decks provide the perfect platform for witnessing the dazzling spectacle while our heated indoor lounge is a great place to take a break from the Icelandic winter and warm up in between sightings.
We recommend you come wearing warm clothes, however, if you don't have any, we can also provide warm overalls.
DETAILS ON THE NORTHERN LIGHTS CRUISE
Price & Availability: See the booking window on the right.
Children 0-7 years free & 7-15 50% Discount.
Min: No minimum number of participants
Age Limit: No age limit
Pick up: Hotel pick-ups are not included in the price of the tour. We do offer a pickup service, operated by Elding. Feel free to make your way to our ticket and departure center, located at Ægisgarður 5 in Reykjavik's old harbor.
Bring with you: Dress according to the weather. In Iceland, it is always wise to dress in warm, waterproof clothes. Weather changes can be sudden so expect the unexpected. Bring a waterproof jacket and pants, headwear and gloves. Good outdoor shoes are recommended.*
Duration: Approximately 2 hours.
Tour Area: Our Northern Lights cruises usually take place on the southern part of Faxaflói Bay, just off Reykjavík. Each day we evaluate the weather reports to check the conditions for Northern Lights sightings.**
*If you don't have warm clothing we can supply you with a very warm overall and additional gear, as well as having some sweaters to lend.
**In the rare case where we are unsuccessful on our Northern Lights search we offer you the opportunity to join us on a different night free of charge.
WHAT'S INCLUDED:
Experienced captain & guide
Elding boat
Open-top viewing decks & heated indoor lounge
Warm overalls in case of cold weather
If we do not see the Northern Lights then you get another tour for free
Itinerary
Elding Ticket Center
Faxaflói Bay
What's included
Access to Visitor Centre
Multimedia show 
Use of warm overalls 

Excellent guidance 
Onboard WiFi
What do I need to bring
Sturdy footwear
Warm clothing (thermals, hat, scarf and gloves)
Tripod for better camera stability (if taking photographs)
Friendly cancellation & refund policy
Full refund if cancelled due to weather. Cancellation fee can be witheld if cancelled with short notice.
1 day notice: 100% charge
kr
12,990
2 Hours , Very easy