Enjoy a relaxing visit to the Blue lagoon and then head out into the night to search for Northern Lights.
The Blue Lagoon & Northern Lights
Start the day with a visit at one the wonders of the world, the Blue Lagoon. The mineral rich waters offer a unique and first-hand experience of Iceland's plentiful geothermal springs. The warm waters offer a perfect way to relax and reflect upon the natural beauty of this island and is a must see when traveling to Iceland.

There will be short time interval after your return transfer to Reykjavik and before the Northern Lights Tour starts. Therefore we highly recommend our customers to have dinner at the Blue Lagoon before heading out for a night of Northern Lights search.
The Northern Lights tour will start at:
August 15th - August 24th at 22:30

August 25th - October 15th at 21:30

October 16th - March 14th at 20:30

March 15th - April 14th at 21:30

April 15th - April 25th at 22:30
The Aurora are both wonderfully mysterious and magical, and once seen never forgotten. Simply put, nothing says "Icelandic Winter" like the idea of hunting for the Northern Lights. Our expert operational team has decades of experience analysing weather patterns. We carefully review on a daily basis the cloud forecast and the Northern Lights forecast. We never set off unless we think we have a good chance of spotting them, meaning we have a high success rate.
For an unforgettable experience, join our tour and step aboard one of our new buses, fully equipped with WiFi connected computer tablets for each guest. The tablets provide you with a continuous stream of relevant information along the journey with a GPS synced Audio Guide, available with a choice of 10 languages. Along the tour our local hosts will make your experience comfortable and are happy to answer any questions you might have about our peculiar country. In each seat you will also find a USB outlet to charge any of your devices.
Highlights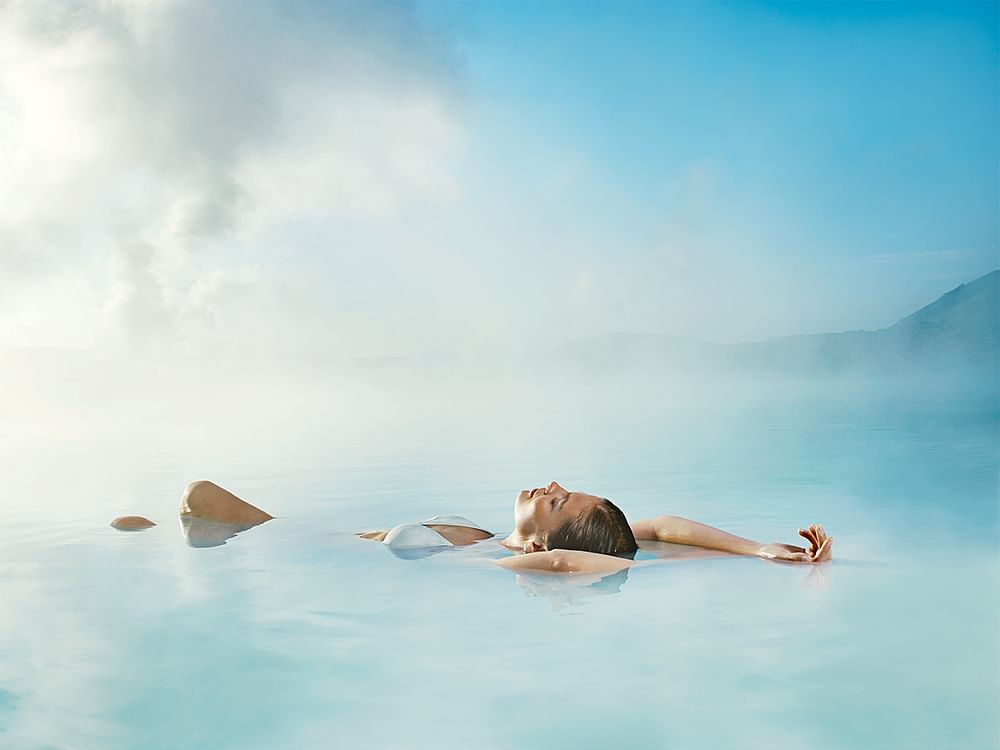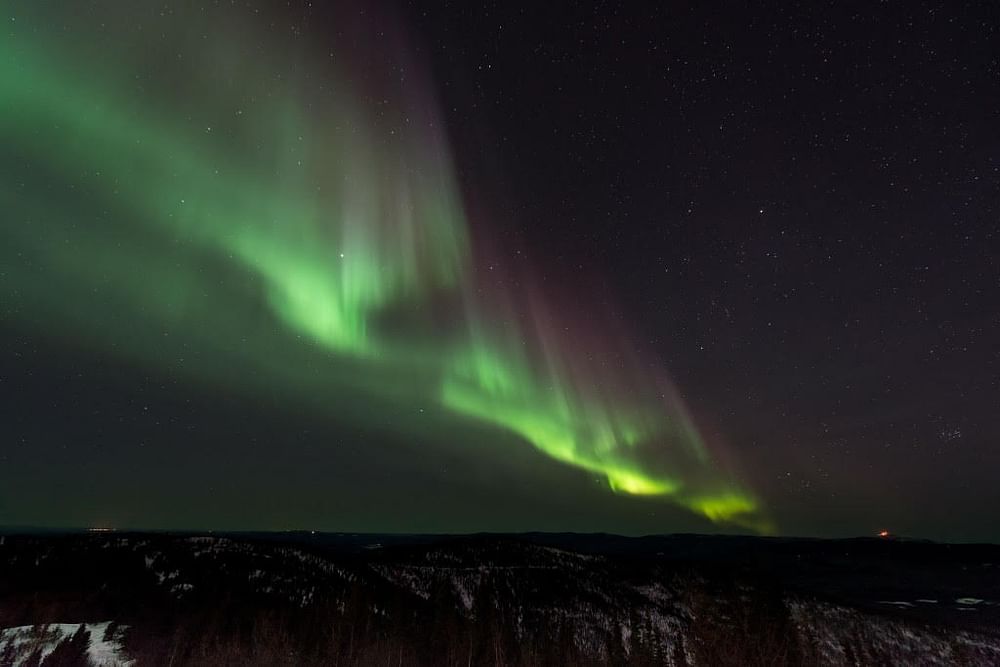 The Blue Lagoon: the world-famous and mineral-rich geothermal pool.
Northern Lights Hunt: In the evening we will head out to hunt for the northern lights.
Reykjavik Terminal
Tours depart from the Reykjavik Terminal located at Skógarhlíð 10. Please be sure to arrive 15 minutes prior to departure along with a printed or digital copy of your ticket/voucher.
If you have booked a hotel pickup with SmartBus™, please be at your chosen pickup location 30 minutes before the departure of the tour. Look for the Green SmartBus™ which will be outside your accommodation within 30 minutes of pickup.
The Blue Lagoon
After a day of touring around Iceland's iconic sites, the warm soothing waters of the Blue Lagoon will be awaiting your arrival. One of 25 wonders of the world, and a place where the powers of geothermal seawater create transformational spa journeys. This is the perfect way to reflect on Iceland's beauty as you relax in the warm mineral-rich and healing waters of the Blue Lagoon. You will have about 4 hours to enjoy this unique location.
Northern Lights Hunt
In the evening after returning to Reykjavik, you will head out into the night to look for the elusive aurora borealis.
After visiting the Blue Lagoon, you will go back to Reykjavik where you join us on a hunt for the northern lights. Our knowledgeable northern lights guides will be happy to share stories and information about this ever-elusive phenomenon.
Starting off from our Reykjavik terminal at Skógarhlíð 10 we will head outside the city to get as far from light pollution as possible. On a successful night of northern lights hunting, you will see the dancing display of the aurora borealis. The is a most elusive sight as it is such an unpredictable phenomenon and one that is truly magnificent when witnessed.
Important information
Please show up at our Reykjavik Terminal (located at Skógarhlíð 10) 15 minutes prior to the departure time. Please be ready at your pick-up point with your voucher, either in digital or printed form.
You will be traveling in a coach that holds approximately 40-65 people, but is very spacious and comfortable. There is no bathroom on the bus but there will be plenty of stops where facilities can be used. The bus offers free wifi and USB charging ports.
Between returning from the Blue Lagoon and the beginning of the Northern Lights Hunt, there will be a short break before the start of the northern lights tour. 
There is no minimum of participants
There is an age limit of 2 Years
Dress according to weather. In Iceland, it is always wise to dress in warm, waterproof clothes. Weather changes can be sudden so expect the unexpected. Bring a waterproof jacket and pants, headwear and gloves. Good outdoor shoes are recommended.
 In-Bus-Audio-Guide: We recommend that you bring your own headphones, simply because they will fit you best. It is also great for the environment. If you don't have your headphones, with you or forgot to bring them, no worries we sell earphones on board. 
For the Blue Lagoon: Bring a swimsuit.
We are working with Iceland's most talented Northern lights hunters to find the best places every night. It is never guaranteed that we will see the northern lights, however, we do our best to maximize our chances by picking the best locations. Since it is never guaranteed to see aurora, we will make sure you get the chance to see them. In the event of an unsuccessful hunt, we offer you the chance to re-book as many times as needed until you partake in a successful northern lights hunt. 
If the Northern Lights portion of this tour is canceled due to weather and you don't have an opportunity to participate in a subsequent tour, the northern lights portion of the tour will be refunded.

What's included
Blue Lagoon
Free Wi-Fi and USB-charger for each seat
Admission to the Blue lagoon
Silica mud mask
Use of towel
1st drink of your choice in the Blue Lagoon
Hotel pick up from your accommodation in Reykjavik
Northern Lights Hunt
Knowledgeable Northern Lights & Stars guide
Instructions about how to set up your camera to capture northern lights and the night sky
Northern Lights Guarantee – see the lights or come again for free!
Hotel drop off to your accommodation in Reykjavik.
Friendly cancellation & refund policy
Full refund if cancelled due to weather. Cancellation fee can be witheld if cancelled with short notice.
1 day notice: 100% charge
kr
26,990
10 Hours , Very easy