Fontana And The Hot Springs Of Laugarvatn
There is something deeply satisfying in soaking in a hot tub as the sun starts going down, and even more so if a marvelous landscape stretches quietly before your eyes.
It's cold outside, but I welcome the fresh breeze. As I rest my head on a smooth lava rock behind me, I imagine how majestic it would be to see the Northern Light from this hot tub and I smile unconsciously.
We are in the geothermal Fontana spa right on the shores of Lake Laugarvatn, about 70 Km away from Reykjavík. The establishment employs naturally heated water that comes straight from local natural springs—its beating heart sitting right below the saunas, often loud enough for you to hear the water bubbling as you sit in the steaming room.
The surrounding geothermal springs have been used by the inhabitants of Laugarvatn for decades, whether it's heating houses or cooking, and guests can still the process of baking bread with geothermal waters right here in Laugarvatn.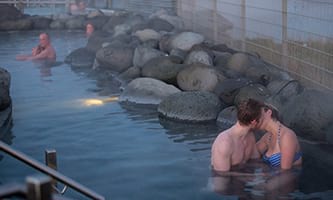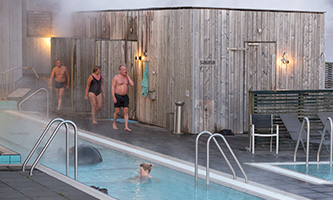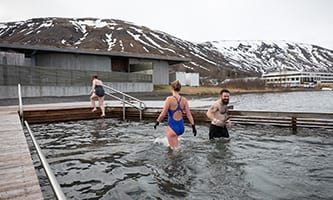 Markéta, our host for the day, is in charge of unveiling this mystery today. Armed with a shovel and a large pot wrapped in cellophane, we walk briskly to a hidden spot right behind the spa. A small mound of rocks marks the spot where another pot had been dug the day before. Soon enough Markéta begins to dig, uncovering a pot much like the one she is holding, hidden under the sand. At its base, bubbling mud sprouts from the earth, scorching hot. "It's crucial to place the pot right into the boiling mud, which is about 100 degrees," Markéta tells us, as she switches containers. "And then we close the door of the oven again! After 24 hours, the new bread will be ready."Children around her are in awe, as she covers the new pot again with the sand, but their eyes shine with wonder when she opens the pot. Sure enough, a perfectly formed loaf of sweet rye bread is lodged in its cavity, its fragrant scent filling my nostrils like a promise.
After a generous slice of rye bread, we're ready to relax. A series of hot tubs have been built around the wooden sauna, as well as a purely natural pool that has been tweaked for the comfort of the guests. The hottest pool, instead, has been built in a slightly more elevated position, with a better view over the surrounding lake.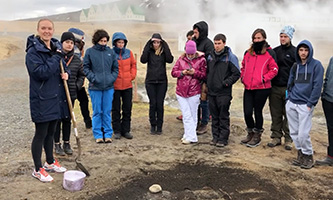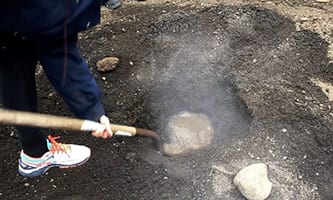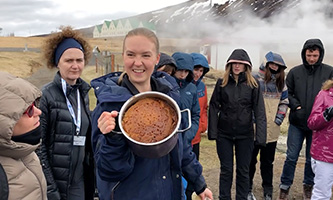 "Do you want to dive in the lake with me then?" Markéta asks all of a sudden, as my daydreams fade away. For a second I think she's joking, but she's already walking towards the wooden docks down at the beach as I look at her stunned. So I follow."To be honest, I thought I would never be able to try anything like this but then I realized maybe it's just in my head," Markéta tells me as she steps into a pair of protective slippers. "It turns out the feeling is just really nice! A lot of tourists are scared to do it, but when most of them try it they always say it's a lot of fun."
Sure enough, Markéta steps down the dock like she's made of steel and disappears into the water like a mermaid. The water isn't freezing today, but it's well below my standards. "Come in!" she says from the other side of the dock, and I jump in all at once.
Every single pore in my body is screaming, almost sizzling in what feels like icy cold water, but it soon dies down as my head clears out, reinvigorated. "I do this every single day on my break," Markéta tells me as we step back into the comforting water of the hot tub. "When you're at the public pool you see people who go to the sauna, who then they want to dive into a cold pool or take a cold shower afterward," she adds. "But instead of doing that, here you can just dive into something natural. It's just so lovely."
I can't help but agree with her. Scary as it was at first, something is energising about stepping into the depth of the Lake—a primordial feeling of connection that feels real in this deafening silence. A chain of mountains looks over us from a distance, benevolent in its peace, and as I half-close my eyes, I know there is nothing I'd rather do right now than enjoy this rare feeling. If you want to check out Fontana during your stay in Iceland, Reykjavík Sightseeing offers a variety of tours depending on your budget and schedule.
Let's hear it from you!
Name: Veronica
From: Spain
What brought you to Iceland? "I'm on a family vacation," she says, pointing at the group she is with. There are almost 40 of them. "There are about 35 of us, from children to adults," she confirms. "So we rented an entire bus and have been traveling Iceland like that."
How long have you been here? "About two weeks," Veronica explains. "We did the Geysir and the National Park today, and tomorrow we'll go either to the Blue Lagoon or the Black beach down South."
Are you enjoying yourself? "Oh yes!" Veronica laughs. "It's very different from Spain, and a lot more expensive, but it's also very beautiful. Everything we've seen we've loved, so we're quite sad that the trip is almost over. For me, this is a once-in-a-lifetime experience."
---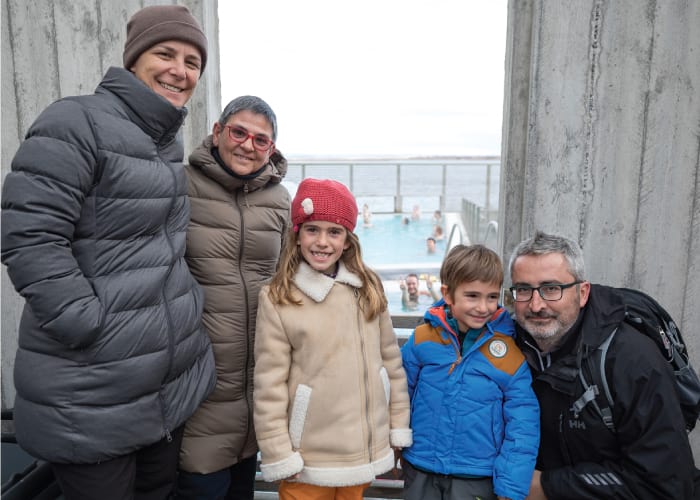 Name: Sarah and Olly.
From: "I live in London and have for fifteen years, but I'm actually from Canada," Sarah says. "And I also live in London, and I'm originally from there," Olly echoes.
Is it your first time traveling in Iceland? "It is our first time here, yes, and it's just amazing," Sarah says. "I really can't believe it," Olly adds. "We arrived yesterday night at eleven thirty and we started traveling today, so this is day one for us!"
So what have you done so far? "Let's see–we had ad coffee in Reykjavik and some amazing scones at a place called Emilie & The Cool Kids," Olly recounts. "Then we drove to the National Park and we walked past the Law Stone of Lögberg to the Öxarárfoss waterfall, and then we stopped on the way every time we saw something we liked."
What's next on the agenda? "The geysers, because we're staying around that area tonight," Sarah says pensively. "And then we're going to Vík tomorrow and finally Höfn, which will be our last stop," Olly concludes.
If you had to choose, what had been your favorite thing so far? "I think the fact that, when we were driving, every few minutes we just punched each other in the shoulder because there was something new to see," Olly explains, starstruck. "We just couldn't believe what we were seeing, this landscape just takes your breath away."
"For me, it must be sitting in the hot water looking at the view," Sarah says. "We've been here for the past two hours and it's wonderful, really relaxing, and just beautiful."
"Yes, I think she could just sit there and look at the mountains for hours and hours," Olly adds with a smile.
---
Meet a local!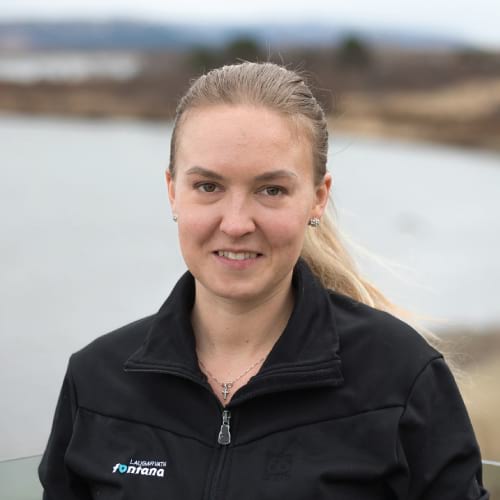 Name: Markéta Bílkivá.
From: Czech Republic.
Occupation: Receptionist at Laugarvatn Fontana.
How long have you been working here? "I have been working here since November," Markéta says. "I live here in Laugarvatn, renting an apartment with some other girls."
Does it get lonely, living in such a tiny village away from home? "Not, because we're in such a small community and everybody knows each other," Markéta explains with a smile. "I think I would feel more lonely in a city like Reykjavík where you have more people, but it's much harder to make friends."
What's your favorite thing about being here? "The surrounding nature," Markéta answers without hesitation. "That's the reason why I moved to Iceland in the first place. First I came here for a vacation, and I drove around Iceland with some friends. Then I came here for a hike, but I soon realized it just wasn't enough."
What about your job? "I try to use the pool every day during my break," she says. "Perhaps I have an hour to myself, so I just stay in the hot pool for a while, then dive into the lake and swim for some minutes, and then relax again in the hot water."
You do look relaxed. So what's so special about Fontana? "I think it's such a special experience for both locals and tourists, to bathe in front of beautiful scenery like this, because when you're in a hot pool somewhere else, so often you can't see outside," Markéta explains. "But here you're enjoying the hot water, with the benefit of a lovely view and access to the lake. I think that makes the experience truly unique."
When do you think is the best time to come to Fontana? "I think it's nice in the summer, but I think it's wonderful to enjoy the hot water during the winter," Markéta says. "I mean, you can soak in the pool no matter what the weather looks like—and you know how Iceland can be," she adds with a laugh.