On this Quad bike tour you will see all the highlights of the South, waterfalls, black sand beaches and the infamous DC3 plane wreck.
SOUTH COAST & BLACK BEACH RIDE
On this spectacular tour you combine sightseeing with an adventourus ride! You get to drive a powerful ATV across an vast black sand beach, step behind a thundering curtain of water at Seljalandsfoss waterfall and take in a breath-taking panoramic view over Iceland's coastal lowland from the top of Skógafoss waterfall.
ATV biking is a unique and super fun way to traverse the stark, black beaches of Iceland´s south coast. This adventure on wheels sets your pulse racing as you speed across the sands, traversing small rivers and streams issuing from the active subglacial volcano Katla as you go. You then arrive at the abandoned fuselage of a DC3 military plane wreck which crash-landed on the beach in 1973. No less a person than Justin Bieber recently chose the wreck as the backdrop to one of his popular musical videos. While others have to hike a long distance on foot to reach the wreckage we have the luxury of driving there on our ATVs.
Looking northwards and inland the Mýrdalsjökull glacier rises majestically, while to the south you can sense the raw power of the huge Atlantic waves crashing onto the shore. Here is scenery of epic proportions. Leaving our ATVs we continue on to visit two of Iceland´s most picturesque waterfalls, Skógafoss and Seljalandsfoss.
This amazing action-packed tour gives you the freedom and space to fully enjoy the unspoilt nature and astonishingly diverse landscape that Iceland is so famous for. So, step off the beaten track, lose yourself and unwind!
On board our modern fleet of buses we have an audio-guide in 10 languages, as well as wifi-connection. Also on board is a personal host ready to assist you in any way, share from his wealth of Iceland knowledge and ensure that you have the experience of a lifetime.
Highlights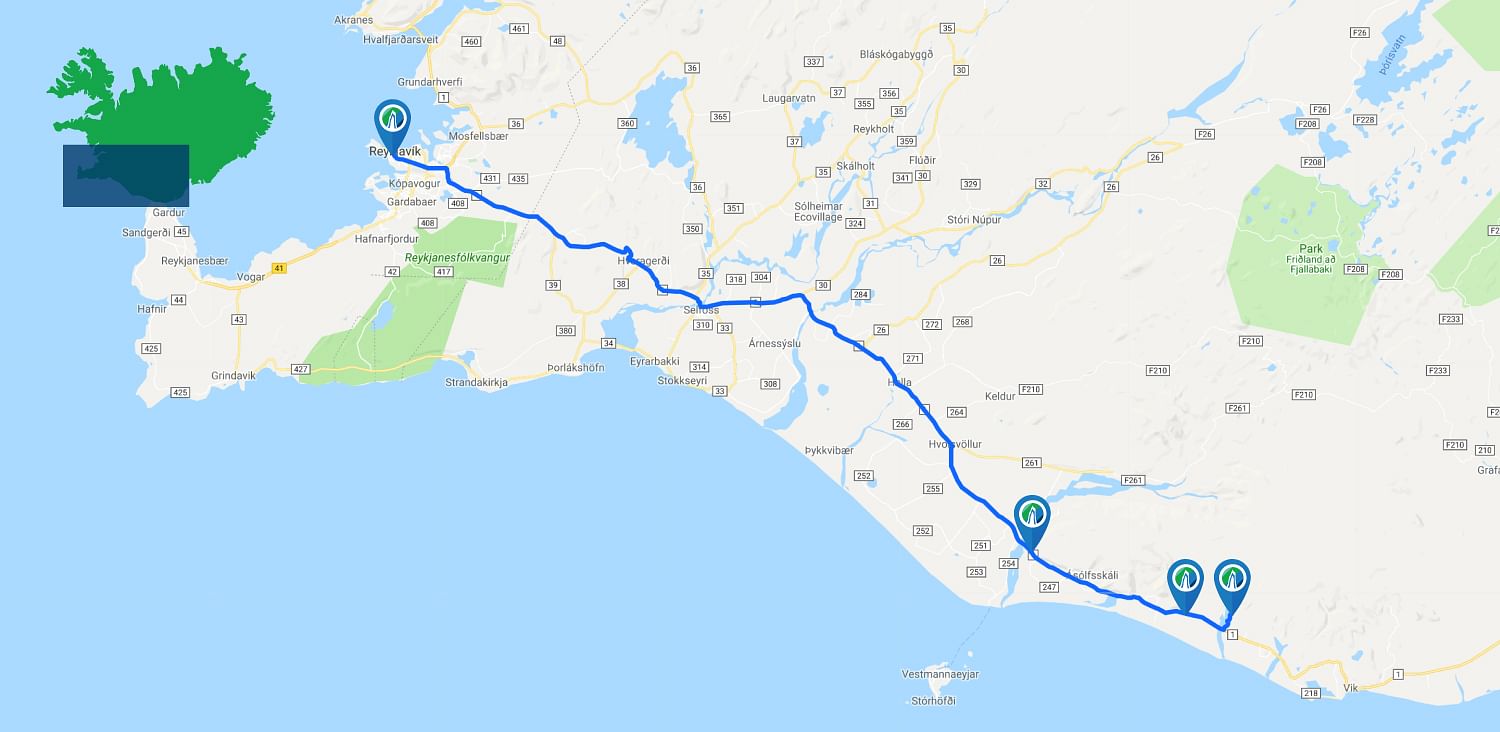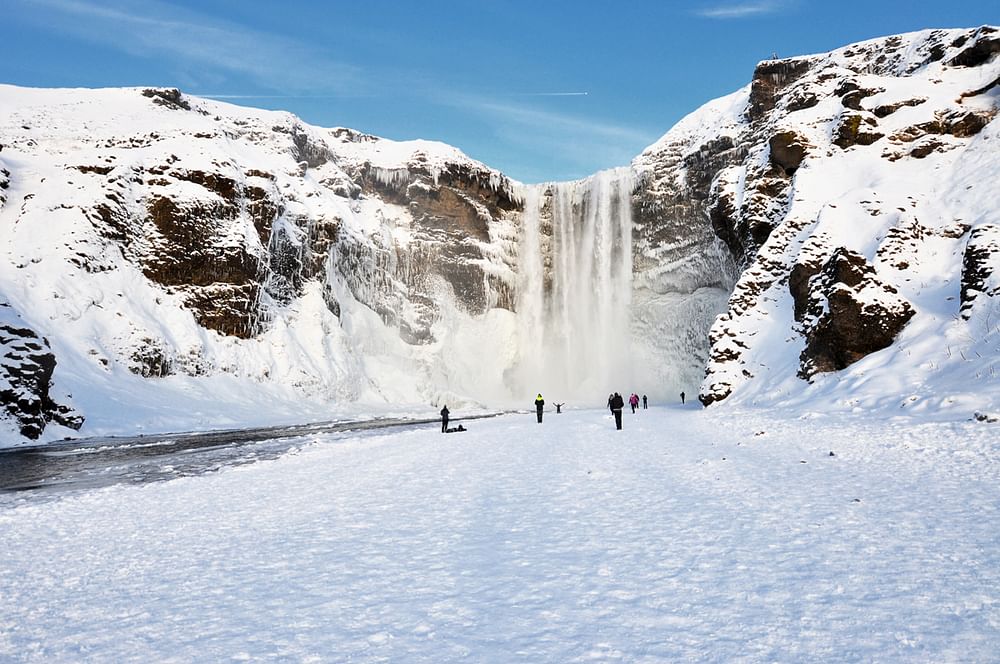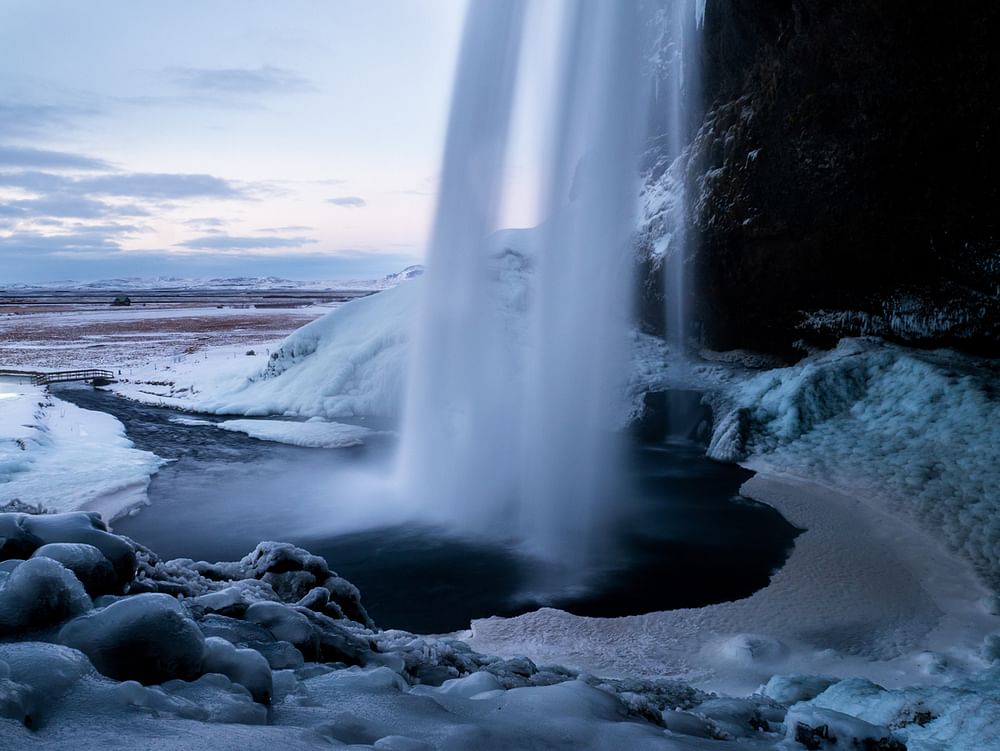 ATV Ride along the Black Sand Beach: a unique volcanic beach with beautiful views of the south coast.
Skógafoss: The powerful glacial waterfall with stairs leading up to one of Iceland´s most scenic views of glaciers, volcanoes, black sand beaches and possible sheep.
Seljalandsfoss: The 60-meter-high waterfall, famous for the hidden pathway which leads next to and around to the other side.
Reykjavik Terminal
Tours depart from the Reykjavik Terminal located at Skógarhlíð 10. Please be sure to arrive 15 minutes prior to departure along with a printed or digital copy of your ticket/voucher.
If you have booked a hotel pickup with SmartBus™, please be at your chosen pickup location 30 minutes before the departure of the tour. Look for the Green SmartBus™ which will be outside your accommodation within 30 minutes of pickup.
ATV Ride along the Black Sand Beach
Once you arrive at Solheimajökull the Arcanium Team will bring you to their base officer, where you will get all the necessary gear needed for ATV riding on the black sand beaches nearby. After a short briefing, you hop on the ATVs and head out to the beaches where you will have the chance to stop and enjoy the amazing views of the Mýrdalsjökull glacier. You will also continue on through rivers and streams as you head to see the famous DC-3 plane wreck. You will have plenty of opportunities to photograph and film scenery and the beautiful landscape. You will be spending about 3-3.5 hours with them, so it is important to bring a lunch with you.
Skógafoss

Along the return trip to Reykjavik, we will stop at the powerful 65-meter-tall Skógafoss Waterfall where a short walk up a flight of steps will reveal one of Iceland´s most scenic views of glaciers, volcanoes and black sandy beaches. With viewpoints both above and directly next to the waterfall, photographers will have plenty of chances to capture that unique shot.
Seljalandsfoss
The Seljalandsfoss waterfall is for many guests the highlight of this trip, as you can walk along and behind this waterfall offering a completely unique perspective; just be sure to bring a rain jacket! During the short days of winter as you may be arriving in the evening, this waterfall is lit up to still give you a chance to capture the perfect regardless of the amount of sunlight. From here we will spend about 1.5 hrs in the coach returning to Reykjavik.
This tour is 11 hours long including travel time and the time you spend at each location. You spend at least 45 minutes at the major stops giving you plenty of time to enjoy nature and to take some photos.
Important information
Please show up at our Reykjavik Terminal (located at Skógarhlíð 10) 15 minutes prior to the departure time. We kindly ask you to be ready at your pick-up point with your voucher, either in digital or printed form. 
If you have booked a hotel pickup with Smartbus™, please be at your chosen pickup location 30 minutes before the departure of the tour. Look for the Green Smartbus™ which will be outside your accommodation within 30 minutes of pickup. 
You will be traveling in a coach that holds approximately 40-65 people, but is very spacious and comfortable. The bus offers free wifi and USB charging ports.
Lunch is not included, but in Hvolsvöllur there are shops where you can buy food and drinks.
Available all year round (depending on weather)
Min: No minimum number of participants.
Please note: All drivers must be 17 years of age or older and have a full, valid driver's license. A learner's permit, tractor, or motorcycle license is not sufficient according to Icelandic law.
Two passengers share each ATV and single riders and groups with odd numbers are required to book a single ride extra.
Age limit: 5 years old.
Bring with you: Dress according to the weather. In Iceland, it is always wise to dress in warm, waterproof clothes. Weather changes can be sudden so expect the unexpected. Bring a waterproof jacket and pants, headwear and gloves. Good outdoor shoes are recommended.
In-Bus-Audio-Guide: We recommend that you bring your own headphones, simply because they will fit you best. It is also great for the environment. If you don't have your headphones, with you or forgot to bring them, no worries we sell earphones on board.
What's included
In bus audio guide with a choice of 10 languages (English, French, German, Dutch, Italian, Spanish, Chinese, Japanese, Korean and Finnish)
Professional driver & guide
Experienced ATV guide
Local knowledge
ATV equipment and approx 2 hour ATV ride
Visit to all the top sites on the South Coast (Seljalandsfoss, Sólheimajökull & Skógafoss)
Friendly cancellation & refund policy
Full refund if cancelled due to weather. Cancellation fee can be witheld if cancelled with short notice.
1 day notice: 100% charge
kr
32,949
11 Hours , Easy