DENTRO E SOPRA AL GHIACCIAIO
Un'avventura indimenticabile. Prima viaggerai motoslitta attraverso le infinite distese gelate di un ghiacciaio islandese. Poi esplorerai il mondo al di sotto della calotta di ghiaccio, addentrandoti in una profonda grotta artificiale.
DURATION 11 Hours
Moderate
Electronic voucher
Pickup available
Book online and get instant reservation confirmation
Description
VIAGGIA SU UN GHIACCIAIO IN MOTOSLITTA, QUINDI ESPLORA LA GROTTA DI GHIACCIO!
Lasceremo Reykjavík per recarci a Húsafell nella regione del Borgarfjörður. Da qui inizieremo la salita per la calotta glaciale del Langjökull. Inizieremo il nostro viaggio in motoslitta dal campo base di Jaki, sul lato ovest del ghiacciaio. Dopo aver indossato gli abiti necessari e gli elmetti, ascolteremo la nostra guida per alcune raccomandazioni sulla sicurezza. Dopo di che saremo pronti per partire alla scoperta della distesa di ghiaccio, e lasciarci sorprendere dai dintorni mozzafiato.  
Dopo il viaggio in motoslitta, ci addentreremo in una grotta di ghiaccio artificiale, al di sotto della calotta di ghiaccio. Una guida esperta ti accompagnerà in questo strabiliante viaggio sotterraneo nel cuore del ghiacciaio.
Fino a tempi recenti, ciò che si nascondeva sotto alla superfice del ghiacciaio Langjökull era un mistero. Ma qualche volta, idee azzardate possono diventare realtà. Questa sfida apparentemente impossibile fu resa possibile attraverso gli sforzi combinati dei migliori ingegneri e geofisici del Paese. Dentro al ghiacciaio, la temperatura è di norma intorno agli 0°.
Dopo il giro in motoslitta e dopo aver esplorato la grotta di ghiaccio torneremo nel mondo civilizzato, al piccolo paese di Húsafell. Dopo una giornata piena di avventure potrai tuffarti nella piscina geotermale o rilassarti in una vasca di acqua calda. Un giorno davvero memorabile!
DETTAGLI PER IL TOUR DENTRO E SOPRA AL GHIACCIAIO
Prezzi e disponibilità: Vedi la finestra di prenotazione a destra.
Bambini 6-11 anni 50% di sconto.
Disponibile tutto l'anno (a seconda delle condizioni meteo).
Numero minimo: 2 persone
Limite di età: 6 anni per la parte in motoslitta.
Porta con te: Vestiti a seconda delle condizioni meteo. In Islanda è sempre consigliabile vestire caldi e impermeabile. Il tempo può cambiare molto rapidamente, quindi aspettati l'inaspettato! Porta con te giacca e pantaloni impermeabili, cappello o cappuccio e guanti. Sono consigliate le scarpe da trekking. Consigliamo caldamente di portare anche un costume da bagno per poter usufruire della piscina geotermale al termine del tour.
Audioguida sul bus: porta le tue cuffie. Altrimenti puoi acquistarne da noi
Durata: 10-11 hours
IL PREZZO COMPRENDE
Guida locale esperta
1 ora di giro in motoslitta
Equipaggiamento necessario per il giro in motoslitta (elmetto, guanti, tuta da neve)
Circa un'ora di tour guidato nella grotta di ghiaccio
Ingresso alla grotta di ghiaccio e alla piscina di Húsafell
Audioguida disponibile in diverse lingue.
Reykajvik Terminal
The starting point for Reykjavik Sightseeing Tours. Reykjavik Terminal, Skógarhlíð 10, 105 Reykjavik.
• Tours depart from the Reykjavik Terminal located at Skógarhlíð 10. Please be sure to arrive 15 minutes prior to departure along with a printed or digital copy of your ticket/voucher. 
• If you have booked a hotel pickup with Smartbus™, please be at your chosen pickup location 30 minutes before the departure of the tour. Look for the Green Smartbus™ which will be outside your accommodation at within the 30 minutes of pickup.

Húsafell
Húsafell is the small base camp the Into the Glacier, which is the company that built the ice cave in Langjökull.
At Húsafell, the Mountaineers of Iceland will be taking you up to the glacier with one of their massive off-road vehicles. Once you reach their base camp at the edge of the glacier, you will get outfitted with all the gear you need for snowmobiling. Snowmobiling on the glacier is the ultimate way to explore the vast icy wonderland on your way to the entrance of the Ice Cave. After a 30-45 minute ride you will reach the entrance of the Ice cave. Here the Into the Glacier team will take you in to the beautiful ice cavern to discuss the formation of glacier and the creation of the ice cave itself.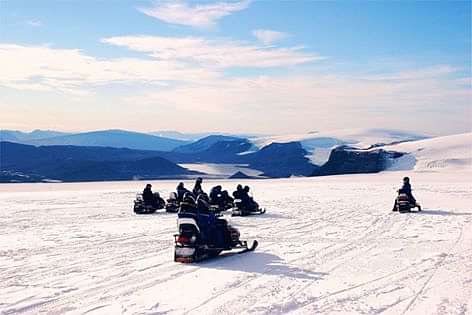 Ice Cave at Langjökull
The entrance to the Ice Cave is atop the Langjökull glacier.
After getting snowmobiling up to the entrance to the glacier, you will enter the cave and descend down into wonders of Iceland's second largest glacier. The Ice Cave is about 500m (550 yards) long and you will be spending the next 45-60 minutes walking through cave and learning about the movements and formations of glacier. The Cave is lite up along the whole way and may be slippery, but not to worry, you will get crampons to better grip the icy floor.

Hraunfossar and Barnafoss
The unique Hraunfossar (lava waterfalls) and Barnafoss waterfalls will be the next destinations.
After a short lunch at Húsafell, we will head to these two waterfalls, a site which is not to be missed. Crystal clear water emerges from the volcanic rock lava field and falls down into Hvitá (white river), a beautiful turquoise glacial river steaming from the Langjökull glacier. Although these two waterfalls cannot compete with Gullfoss for size, their beauty and uniqueness is sure not to disappoint. This will be the last stop before returning to Reykjavik.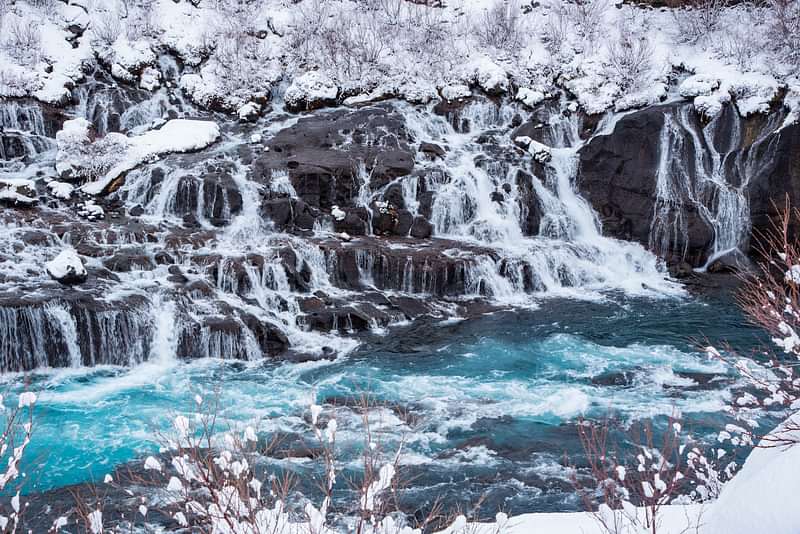 What's included
What's excluded
What do I need to bring
Important information
kr
39,990
11 Hours , Moderate