CIRCOLO D'ORO & AURORA BOREALE
Che giornata! Prima il celeberrimo Circolo d'Oro, che include tre delle più mirabolanti meraviglie naturali d'Islanda, permettendoti di ammirare alcuni dei paesaggi più pittoreschi del Paese, poi una caccia emozionante alla misteriosa aurora boreale, sul far della
DURATION 10,5 Hours
Very easy
Electronic voucher
Pickup available
Book online and get instant reservation confirmation
Description
LE MERAVIGLIE NATURALI PIÙ POPOLARI D'ISLANDA TUTTE IN UN SOLO GIORNO.
Il tour del Circolo d'Oro è nella mattinata, il che ci lascia dalle 3 alle 6 ore libere prima di iniziare il tour dell'Aurora boreale. Questo intervallo è l'opportunità perfetta per una cena o per seguire il nostro tour Cin-cin Reykjavík nella capitale.
Il tour del Circolo d'Oro è l'occasione per visitare tre dei punti più iconici del Paese: il Parco Nazionale Þingvellir, dove le colossali zolle tettoniche di America e Eurasia si stanno allontanando, le sorgenti calde di Geysir, dove getti spettacolari di acqua bollente vengono sparati verso il cielo, e la gloriosa cascata di Gullfoss, dove un imponente fiume glaciale precipita per 32 metri per due livelli in uno stretto canyon con un tuonante fragore.
Al calare della notte, partiremo per scoprire le magiche ed elusiveAurore Boreali. Ovviamente, il successo della gita dipenderà dalle condizioni atmosferiche e dall'attività solare, e non dimenticare che le aurore sono visibili solo nei mesi invernali.
DETTAGLI DEL TOUR PER CIRCOLO D'ORO & AURORA BOREALE
Prezzi e disponibilità: controlla la finestra per la prenotazione sulla destra.
Disponibilità: l'aurora boreale è visibile solo nei mesi invernali.
Sconto del 50% per adolescenti tra i 12 e i 15 anni, gratis per bambini fino a 11 anni.
Numero minimo: nessun numero minimo di partecipanti.
Limite di età: nessun limite di età
Porta con te: Vestiti a seconda delle condizioni meteo. In Islanda è sempre consigliabile vestire caldi e impermeabile. Il tempo può cambiare molto rapidamente, quindi aspettati l'inaspettato! Porta con te giacca e pantaloni impermeabili, cappello o cappuccio e guanti. Sono consigliate le scarpe da trekking
IL TOUR INCLUDE
Guida locale esperta
Accesso alle attrazioni
Wi-fi e caricatore USB per ogni posto a sedere
Audioguida disponibile in diverse lingue
Reykjavík Terminal
The starting point for Reykjavik Sightseeing Tours. Reykjavik Terminal, Skógarhlíð 10, 105 Reykjavik.
• Tours depart from the Reykjavik Terminal located at Skógarhlíð 10. Please be sure to arrive 15 minutes prior to departure along with a printed or digital copy of your ticket/voucher. 
• If you have booked a hotel pickup with Smartbus, please be at your chosen pickup location 30 minutes before the departure of the tour. Look for the Green Smartbus which will be outside your accommodation at within the 30 minutes of pickup.

Þingvellir National park
UNESCO world heritage site and the birthplace of the oldest existing parliament in the world. It is also here that the tectonic plates of America and Europe drift apart and the rift valley is clearly visible on the shores of Iceland´s biggest lake.
Geysir Hot Springs
The home of the original geyser and Iceland´s most iconic natural site. There the ground shakes and super heated water erupts into the sky from the famous Strokkur geyser every few minutes.
Gullfoss Waterfall
A powerful and inspiring place. There the glacier water thunders down 32 meters in three steps and into a narrow canyon with an breathtaking roar and grandeur.
Gullfoss is a waterfall located in the canyon of Hvítá river in southwest Iceland. Gullfoss is one of the most popular tourist attractions in Iceland. The wide Hvítá rushes southward in three steps into a narrow canyon with a breathtaking roar and grandeur.

Northern Lights Hunt
In the evening after returning to Reykjavik, you will head out into the night to look for the elusive aurora borealis.
After a day of touring around Iceland's most popular sites, you will join us on a hunt for the northern lights. Our knowledgeable northern lights guides will be happy to share stories and information about this ever elusive phenomenon.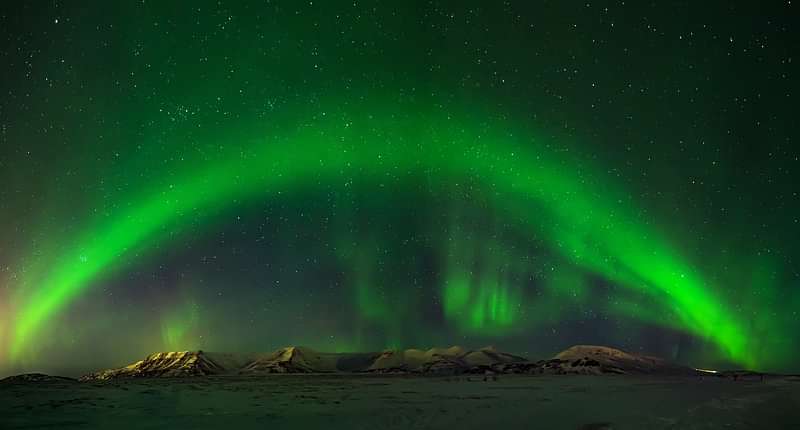 What's included
What's excluded
What do I need to bring
Important information
Audio Language
English
French
German
Italian
Spanish, Castilian
Dutch, Flemish
Finnish
Korean
Japanese
Chinese
kr
15,490
10,5 Hours , Very easy