LE GOLDEN CIRCLE ET LES AURORES BORÉALES
Quelle journée ! Faire d'abord le célèbre circuit du Golden Circle, qui vous permettrat de voir 3 des merveilles naturelles de l'Islande les plus impressionnantes et traversez les paysages les plus pittoresques. Et quand la nuit tombe, nous irons chasser les aurores boréales, magiques et mystérieuses.
DURATION 10,5 Hours
Very easy
Electronic voucher
Pickup available
Book online and get instant reservation confirmation
Description
LES DEUX ATTRACTIONS NATURELLES LES PLUS POPULAIRES D'ISLANDE EN UNE SEULE JOURNÉE
Le circuit du golden circle  est dans la matinée, ce qui donne un intervalle de 3 à 6 heures avant  de prendre la route pour le circuit des aurores boréales. Cet intervalle donne l'occasion parfaite d'aller dîner en ville ou de participer à notre circuit « Célébrons Reykjavik »dans la capitale.
Dans le Golden circle nous visitons  trois sites emblématiques, véritables trésors naturels : le parc national de Thingvellir, où les plaques tectoniques de l'Amérique et de l'Europe se séparent, le jaillissement du geyser qui projette vers le ciel une eau en ébullition, et les chutes spectaculaires de Gullfoss, où une rivière glaciaire se précipite dans des gorges après une chute de 32 mètres. Quand la nuit tombe, nous partons à la chasse aux aurores boréales, magiques et insaisissables. Bien sûr, cela dépend du temps, cette aventure est liée à une météo et à des conditions de visibilité favorables. Gardons cela à l'esprit. Et n'oubliez pas que les aurores ne sont visibles que durant les mois d'hiver.
DESCRIPTIF DU CIRCUIT GOLDEN CIRCLE ET CIRCUIT DES AURORES BORÉALES
Prix et accessibilité: Consultez l'encadré à droite pour réserver. Notez que les aurores boréales ne sont visibles que durant les mois d'hiver. Adolescents de 12 à 15 ans, réduction de 50%. Gratuit pour les moins de 11 ans
Min: Pas de participation minimum.
Âge minimum: Pas d'âge minimum.
Amenez avec vous: Des vêtements adaptés au temps. Il est prudent en islande, de porter des habits chauds et imperméables. Les changements de temps sont brusques, et il faut s'attendre à l'inattendu. Amenez une veste et des pentalons imperméables, un couvre-chef et des gants. De solides chaussures de plein air sont recommandées.
Durée: Environ  10 heures, comprenant un arrêt de 30mn minimum à Geysir et aux sources chaudes, aux chutes de  Gullfoss et au parc National de Thingvellir. Le circuit aurores boréales dure environ 3 heures.
CE QUI EST COMPRIS
Guide local qualifié
Admission sur les sites
WiFi gratuit et chargeur usb sous chaque siège
Radio guide dans le bus avec un large choix de langues
Reykjavík Terminal
The starting point for Reykjavik Sightseeing Tours. Reykjavik Terminal, Skógarhlíð 10, 105 Reykjavik.
• Tours depart from the Reykjavik Terminal located at Skógarhlíð 10. Please be sure to arrive 15 minutes prior to departure along with a printed or digital copy of your ticket/voucher. 
• If you have booked a hotel pickup with Smartbus, please be at your chosen pickup location 30 minutes before the departure of the tour. Look for the Green Smartbus which will be outside your accommodation at within the 30 minutes of pickup.

Þingvellir National park
UNESCO world heritage site and the birthplace of the oldest existing parliament in the world. It is also here that the tectonic plates of America and Europe drift apart and the rift valley is clearly visible on the shores of Iceland´s biggest lake.
Geysir Hot Springs
The home of the original geyser and Iceland´s most iconic natural site. There the ground shakes and super heated water erupts into the sky from the famous Strokkur geyser every few minutes.
Gullfoss Waterfall
A powerful and inspiring place. There the glacier water thunders down 32 meters in three steps and into a narrow canyon with an breathtaking roar and grandeur.
Gullfoss is a waterfall located in the canyon of Hvítá river in southwest Iceland. Gullfoss is one of the most popular tourist attractions in Iceland. The wide Hvítá rushes southward in three steps into a narrow canyon with a breathtaking roar and grandeur.

Northern Lights Hunt
In the evening after returning to Reykjavik, you will head out into the night to look for the elusive aurora borealis.
After a day of touring around Iceland's most popular sites, you will join us on a hunt for the northern lights. Our knowledgeable northern lights guides will be happy to share stories and information about this ever elusive phenomenon.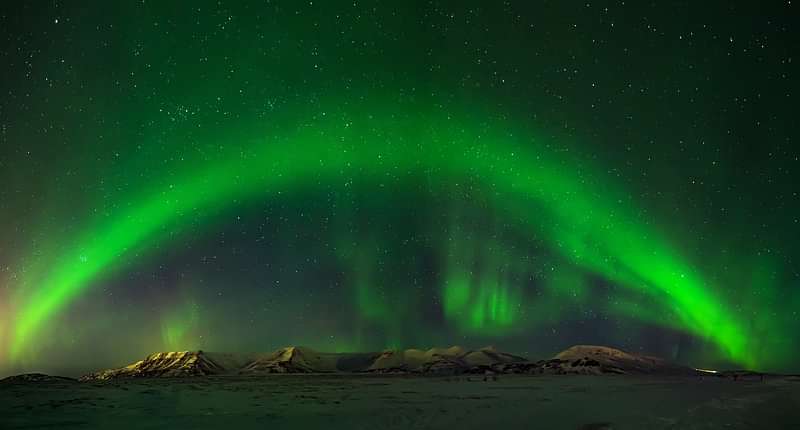 What's included
What's excluded
What do I need to bring
Important information
Audio Language
English
French
German
Italian
Spanish, Castilian
Dutch, Flemish
Finnish
Korean
Japanese
Chinese
kr
15,490
10,5 Hours , Very easy