GOLDEN CIRCLE ET GLACIER
Observez le geyser jaillissant et les sources chaudes, faites l'expérience des chutes de Gullfoss, et allez , à Thingvellir,sur les pas des anciens vikings en descendant dans les gorges de lave où le continent américain et l'Eurasie se séparent. Montez ensuite à bord d'un Super Truck qui vous mènera vers les hautes terres recouvertes de glaciers. Vous roulerez sur un des plus grands glaciers du monde dans un circuit sur glace à couper le souffle!
DURATION 11,5 Hours
Very easy
Electronic voucher
Pickup available
Book online and get instant reservation confirmation
Description
2 DESTINATIONS DU TOP 5 EN UNE SEULE EXCURSION
Le circuit commence par une visite du Parc National de Thingvellir, inscrit au patrimoine mondial de l'Unesco. C'est le lieu de naissance du plus ancient parlement encore en activité. C'est là également que lesgrandes plaques tectoniques des continents américains et eurasiatiques se séparent brutalement. Il en résulte une dorsale visible au bord du plus grand lac d'Islande.
L'arrêt suivant nous amène à Geysir et aux sources chaudes. C'est ici que ce trouve le geyser qui a donné son nom au phénomène. C'est l'une des attractions touristiques les plus photographiées au monde. Ici la terre tremble et une eau à très haute température jaiilit vers le cielde la base du geyser Strokkur à quelques minutes d'intervalles.
Nous nous arrêtons ensuite pour marcher tranquillement en direction des chutes de Gullfoss. La rivière glaciaire Hvítá, dévalle de 32 mètres en 2 étapes avant de se ruer  dans une gorge étroite en grondant.
Là où les hautes terres du centre commencent avec sa natureintacte qui rappelle la naissance de la terre, vous monterez à bord de nos "Super Trucks". Ces engins adaptés au sol peuvent rouler sur un terrain très accidenté et sur la neige grâce à leurs énormes pneus. Rouler jusqu'au camp de base aux pieds du glacier Langjökull  vous fera vivre une expérience des hautes terres arctiques unique et le circuit sur glace qui suit est une aventure méritant d'être vécue une fois dans sa vie.
Se mouvoir sur des neiges éternelles sur l'un des plus grands glaciers du monde en circuit guidé, explorer le dernier espace vierge en Europe et même dans le monde.
C'est un de nos circuits préférés et le classique d'une journée.
DESCRIPTIF DU CLASSIQUE GOLDEN CIRCLE ET GLACIERS
Prix et accessibilité: Consultez l'encadré à droite pour réserver. Disponibilité toute l'année (en fonction du temps)
Min: 2 participants minimum.
Âge minimum: 6 ans.
Amenez avec vous: Des vêtements adaptés au temps. Il est prudent en islande, de porter des habits chauds et imperméables. Les changements de temps sont brusques, et il faut s'attendre à l'inattendu. Amenez une veste et des pentalons imperméables, un couvre-chef et des gants. De solides chaussures de plein air sont recommandées.
Auto-guide dans le bus: Amenez vos écouteurs. Ils sont sinon disponibles à bord du car pour la somme de 1000 couronnes.
Voyagez malin: Prenier l'option "conduite individuelle" sur le motoneige pour passer plus de temps sur le glacier.
Durée: Environ de 10 heures
CE QUI EST COMPRIS
Guide local qualifié
Admission sur les sites
Conduite en motoneige
Tout l'équipement nécessaire à la conduite en motoneige
Reykjavík Terminal
The starting point for Reykjavik Sightseeing Tours. Reykjavik Terminal, Skógarhlíð 10, 105 Reykjavik.
• Tours depart from the Reykjavik Terminal located at Skógarhlíð 10. Please be sure to arrive 15 minutes prior to departure along with a printed or digital copy of your ticket/voucher. 
• If you have booked a hotel pickup with Smartbus™, please be at your chosen pickup location 30 minutes before the departure of the tour. Look for the Green Smartbus™ which will be outside your accommodation at within the 30 minutes of pickup.

Þingvellir National Park
The first stop along the Gold Circle features a stunning views over the rift valley. A UNESCO heritage site with beautiful geographical features and a rich political history.
Located on the northern shores of Þingvallavatn (Iceland's largest lake), Þingvellir (anglicized as 'thingvellir') is the national pride of Iceland and our first National Park. It is, for one, a key location in Icelandic history as the oldest existing parliament in the world first assembled there in 930 AD. For this reason, Þingvellir has been designated a UNESCO World Heritage Site and is, therefore, a protected national park due to its unique geology and natural features. From the viewing area, the Almannagjá canyon between two tectonic plates can be seen, a visual representation of continental drift.
As the first stop along the tour, you will have an opportunity to walk through the park and use the restroom if needed.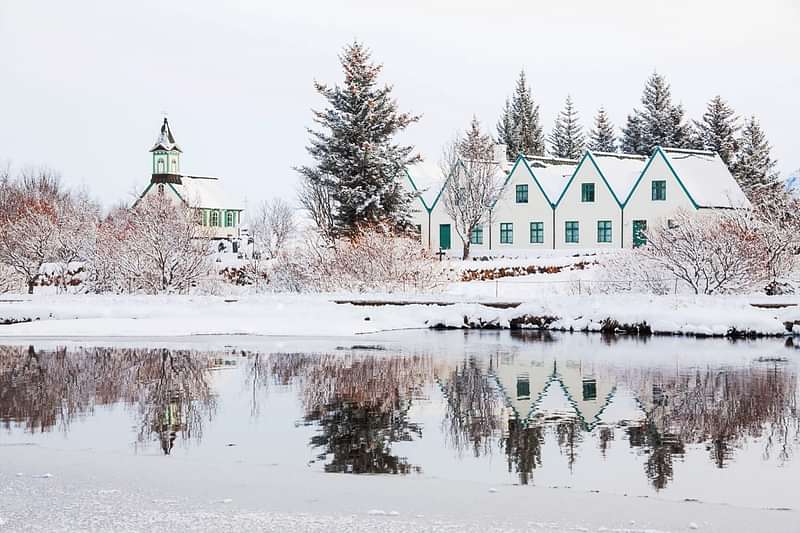 Geysir Hot Springs
The most iconic Iceland natural site, the Geysir hot springs are home to the original erupting geyser.
A favorite stop along the Golden Circle is the highly active Geysir Hot Spring Area with boiling mud pits and the lively Strokkur which spouts water 30 meters (100 ft) into the air every few minutes.The area became active more than 1000 years ago and comprises more than a dozen hot hot spring holes. Although one can only see steam emerging from the surface of Geysir these days, its name was adopted to represent spouting hot springs all over the world.
Along the tour, the newly opened Geysir Center offers guests and travelers a chance to use the restroom and to catch some refreshments as well as lunch.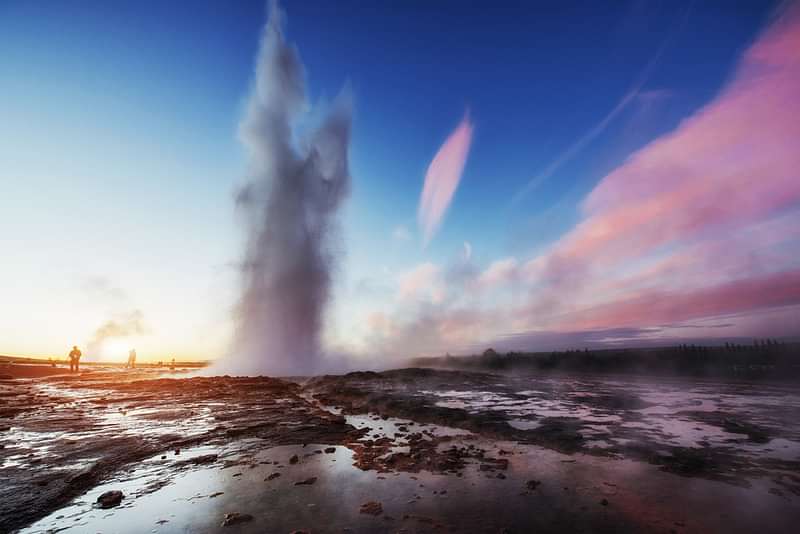 Snowmobile Tour
Next we kick the action into higher gear to get even closer to Iceland's nature and go for a snowmobiling tour on Langjökull, Iceland's second largest glacier.
After arriving at Gullfoss, you will be driven up to Langjökull glacier by the Mountaineers of Iceland in their large off-road vehicle. Upon arriving at their base camp, you will be fully outfitted receive the appropriate equipment, such as helmets, overalls, overshoes, gloves and a hat so that you can fully enjoy the snowmobile ride on the vast wintery snow-scape. 
After the nearly 3.5 hours snowmobiling tour and you head back to Gullfoss Waterfall where you will then have plenty of time to walk down and enjoy the views of one of Iceland's largest waterfalls.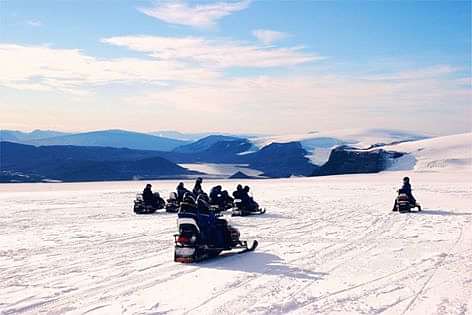 Gullfoss Waterfall
A powerful and inspiring place. There the glacier water thunders down 32 meters in three steps and into a narrow canyon with an breathtaking roar and grandeur.
As one of the most popular attractions in all of Iceland, Gullfoss is a waterfall located in the canyon of Hvítá river in the southwest of the country. The beautiful Hvítá river rushes southward in three steps into a narrow canyon with a breathtaking roar and grandeur. Furthermore, on clear days the magnificent Langjökull glacier, Iceland's second largest glacier, can be seen in the distance. 

Guests and Travelers may use the restroom and purchase food and refreshments at this location as well.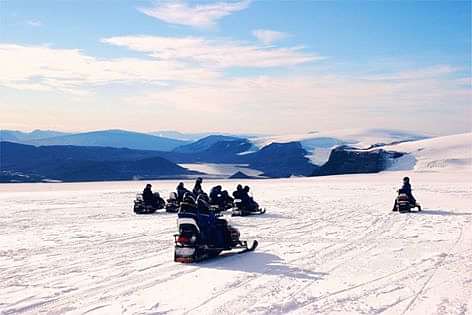 What's included
What's excluded
What do I need to bring
Important information
Audio Language
English
Chinese
Japanese
Korean
French
German
Spanish, Castilian
Italian
Dutch, Flemish
Finnish
kr
34,990
11,5 Hours , Very easy