AU-DESSOUS ET AU-DESSUS DU GLACIER
Une aventure véritablement surprenante. D'abord vous traversez les immenses étendues neigeuses d'un glacier en moroneige. Vous descendez ensuite profondément sous la calotte glaciaire et explorez le monde souterrain dans une grotte créée par l'homme.
Duration: 11 Hours
Moderate
Electronic voucher
Pickup available
Book online and get instant reservation confirmation
Description
PROMENEZ-VOUS EN MOTONEIGE SUR UN GLACIER, PUIS EXPLOREZ UNE GROTTE!
Nous partons de Reykjavik en direction de Húsafell dans le Borgarfjördur. Nous entreprendrons alors l'ascension de la calotte glaciaire du Langjökull. Nous commencerons notre randonnée enmotoneige à Jaki, à l'Ouest du glacier. Apres avoir endossé des vêtements adaptés et mis nos casques, nous écoutons les conseils de notre guide. Nous sommes prêts alors à nous lancer à l'assaut du glacier, espace immense, et nous nous émerveillons d'un environnement incroyable.
Après cette randonnée, nous descendrons littéralement dans une  magnifique grotte créée par l'homme sous la calotte glaciaire. Votre guide expert vous amènera dans un voyage fantastique dans l univers de la glace au cœur même du glacier.
Ce n'est que récemment que les hommes ont découvert ce que cachait la surface du glacier. Mais quelquefois les idées les plus téméraires deviennent réalité. Ce qui semblait infaisable a été réalisé grâce à l'effort conjugué d'ingénieurs de haut niveau  et de géophysiciens. La température, à l'intérieur du glacier, est d'environ 0 degré celcius (ou 32 degrés fahrenheit)
Après la randonnée en motoneige et la visite de la grotte de glace, nous retournons à la civilisation au petit village de Húsafell. Après une journée d'émotions surprenante, l'heure est à la relaxation dans la piscine thermale ou dans le bain de vapeur. Une journée inoubliable!
DESCRIPTIF DU CIRCUIT CÔTE SUD ET AURORES BORÉALES
Prix et accessibilité: Consultez l'encadré à droite pour réserver. Enfants de 6 à 11 ans: 50% de réduction. Disponible toute l'année en fonction du temps
Min: 2 participants.
Âge minimum: 6 ans pour les motoneiges.
Amenez avec vous: Des vêtements adaptés au temps. Il est prudent en islande, de porter des habits chauds et imperméables. Les changements de temps sont brusques, et il faut s'attendre à l'inattendu. Amenez une veste et des pentalons imperméables, un couvre-chef et des gants. De solides chaussures de plein air sont recommandées.
Audio-guide dans le car: Amenez vos écouteurs. Possibilité d'en louer sur place pour 1000 couronnes.
Durée: Environ  10-11 heures
CE QUI EST COMPRIS
Guide local expérimenté
Une heure en motoneige
Tout l'équipement nécessaire (casque, gants, combinaison pour les motoneiges)
Une heure de visite guidée environ dans la grotte de glace
Accès à la grotte de glace et à la piscine d'Húsafell.
Radio guide dans le bus avec un large choix de langues
Reykajvik Terminal
The starting point for Reykjavik Sightseeing Tours. Reykjavik Terminal, Skógarhlíð 10, 105 Reykjavik.
• Tours depart from the Reykjavik Terminal located at Skógarhlíð 10. Please be sure to arrive 15 minutes prior to departure along with a printed or digital copy of your ticket/voucher. 
• If you have booked a hotel pickup with Smartbus™, please be at your chosen pickup location 30 minutes before the departure of the tour. Look for the Green Smartbus™ which will be outside your accommodation at within the 30 minutes of pickup.

Húsafell
Húsafell is the small base camp the Into the Glacier, which is the company that built the ice cave in Langjökull.
At Húsafell, the Mountaineers of Iceland will be taking you up to the glacier with one of their massive off-road vehicles. Once you reach their base camp at the edge of the glacier, you will get outfitted with all the gear you need for snowmobiling. Snowmobiling on the glacier is the ultimate way to explore the vast icy wonderland on your way to the entrance of the Ice Cave. After a 30-45 minute ride you will reach the entrance of the Ice cave. Here the Into the Glacier team will take you in to the beautiful ice cavern to discuss the formation of glacier and the creation of the ice cave itself.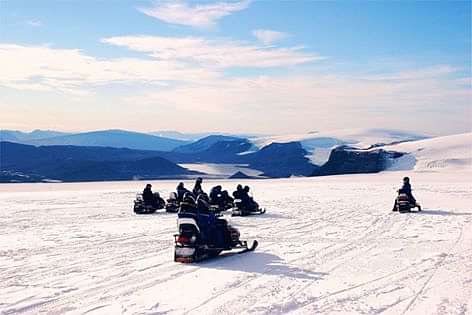 Ice Cave at Langjökull
The entrance to the Ice Cave is atop the Langjökull glacier.
After getting snowmobiling up to the entrance to the glacier, you will enter the cave and descend down into wonders of Iceland's second largest glacier. The Ice Cave is about 500m (550 yards) long and you will be spending the next 45-60 minutes walking through cave and learning about the movements and formations of glacier. The Cave is lite up along the whole way and may be slippery, but not to worry, you will get crampons to better grip the icy floor.

Hraunfossar and Barnafoss
The unique Hraunfossar (lava waterfalls) and Barnafoss waterfalls will be the next destinations.
After a short lunch at Húsafell, we will head to these two waterfalls, a site which is not to be missed. Crystal clear water emerges from the volcanic rock lava field and falls down into Hvitá (white river), a beautiful turquoise glacial river steaming from the Langjökull glacier. Although these two waterfalls cannot compete with Gullfoss for size, their beauty and uniqueness is sure not to disappoint. This will be the last stop before returning to Reykjavik.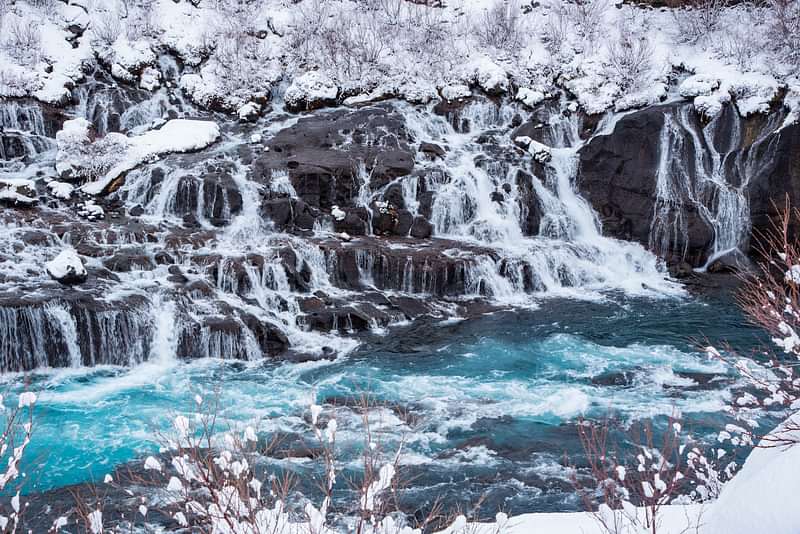 What's included
What's excluded
What do I need to bring
Important information
kr
39,990
11 Hours , Moderate