KULTAINEN KIERROS & REVONTULIKIERROS
Mikä päivä! Koe ensin Islannin kuuluisa Kultainen kierros, jonka aikana näet maan tunnetuimmat luonnonnähtävyydet ja ajat läpi kuvauksellisten maisemien. Yön lähestyessä lähdemme metsästämään taianomaisia ja mysteerisiä revontulia.
DURATION 10,5 Hours
Very easy
Electronic voucher
Pickup available
Book online and get instant reservation confirmation
Description
ISLANNIN SUOSITUIMMAT LUONNONIHMEET YHDESSÄ PÄIVÄSSÄ
Aamulla Kultainen kierros, jonka jälkeen retki jatkuu 3–6 tunnin kuluttua Revontulikierroksella. Tauon aikana on hyvä mahdollisuus käydä illallisella tai vaikka osallistua Kippis Reykjavik -kierroksellemme.
Kultaisella kierroksella käydään katsomassa Islannin tunnetuimpia luonnonnähtävyyksiä: Þingvellirin kansallispuisto, missä Pohjois-Amerikan ja Euraasian mannerlaatat erkanevat toisistaan, purkautuva geysir, joka suihkii kuumaa vettä ja vesihöyryä korkealle ilmaan, sekä spektaakkelimainen Gullfossin vesiputous, joka syöksee voimakkaan jäätikköjoen vesiä 32 metriä syvään rotkoon. Pimeyden laskettua ja yön lähestyessä lähdetään metsästämään taianomaisiataivaalle ilmestyviä revontulia. On tietysti hyvä muistaa, että revontulet ovat luonnonilmiö, joiden näkyminen taivaalla riippuu sääolosuhteista. Revontulia voi nähdä ainoastaan talviaikaan.
LISÄTIETOJA KULTAISESTA KIERROKSESTA JA REVONTULIKIERROKSESTA
Hinta & saatavuus: Katso oikeainpuoleista varausikkunaa. Huom!: Revontulia voi nähdä vain talviaikaan. 12–15-vuotiaat lapset 50 %:n alennus; 0–11-vuotiaat lapset maksutta.
Minimimäärä: Ei minimiosallistujamäärää.
Ikäraja: Ei ikärajaa.
Ota mukaan: Pukeudu sään mukaisesti. Islannissa kannattaa aina pukeutua lämpimästi ja käyttää sateenkestäviä vaatteita. Sää muuttuu nopeasti, eli odota odottamatonta. Ota mukaan sadevaatteet, päähine ja hanskat. Mukaan on hyvä ottaa myös tukevat ulkoilukengät.
Kesto: Kokonaismatka-aika on noin 10 tuntia, ja se sisältää puolen tunnin pysähdykset geysirillä, Gullfossin vesiputouksella ja Þingvellirin kansallispuistossa sekä noin kolmen tunnin mittaisen Revontulikierroksen.
HINTAAN SISÄLTYY
Asiantunteva paikallisopas
Nähtävyyspaikkojen pääsymaksut
WiFi ja usb-laturi
Bussin ääniopas eri kielivaihtoehdoilla
Reykjavík Terminal
The starting point for Reykjavik Sightseeing Tours. Reykjavik Terminal, Skógarhlíð 10, 105 Reykjavik.
• Tours depart from the Reykjavik Terminal located at Skógarhlíð 10. Please be sure to arrive 15 minutes prior to departure along with a printed or digital copy of your ticket/voucher. 
• If you have booked a hotel pickup with Smartbus, please be at your chosen pickup location 30 minutes before the departure of the tour. Look for the Green Smartbus which will be outside your accommodation at within the 30 minutes of pickup.

Þingvellir National park
UNESCO world heritage site and the birthplace of the oldest existing parliament in the world. It is also here that the tectonic plates of America and Europe drift apart and the rift valley is clearly visible on the shores of Iceland´s biggest lake.
Geysir Hot Springs
The home of the original geyser and Iceland´s most iconic natural site. There the ground shakes and super heated water erupts into the sky from the famous Strokkur geyser every few minutes.
Gullfoss Waterfall
A powerful and inspiring place. There the glacier water thunders down 32 meters in three steps and into a narrow canyon with an breathtaking roar and grandeur.
Gullfoss is a waterfall located in the canyon of Hvítá river in southwest Iceland. Gullfoss is one of the most popular tourist attractions in Iceland. The wide Hvítá rushes southward in three steps into a narrow canyon with a breathtaking roar and grandeur.

Northern Lights Hunt
In the evening after returning to Reykjavik, you will head out into the night to look for the elusive aurora borealis.
After a day of touring around Iceland's most popular sites, you will join us on a hunt for the northern lights. Our knowledgeable northern lights guides will be happy to share stories and information about this ever elusive phenomenon.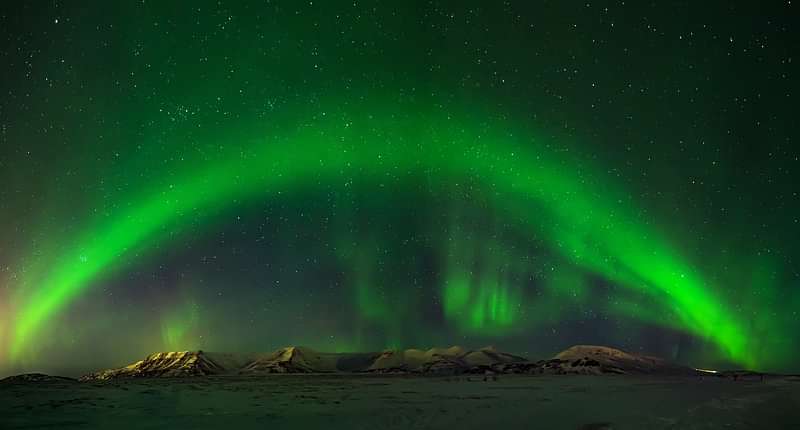 What's included
What's excluded
What do I need to bring
Important information
Audio Language
English
French
German
Italian
Spanish, Castilian
Dutch, Flemish
Finnish
Korean
Japanese
Chinese
kr
15,490
10,5 Hours , Very easy