JÄÄTIKÖN PÄÄLLÄ JA SISÄLLÄ – RETKI
Kerrassaan mainio seikkailu. Ensin moottorikelkkailet lumierämaassa islantilaisella jäätiköllä. Sen jälkeen laskeudut pinnalta kohti syvyyksiä, tutkimaan jäätikön sisään kaivettua jäätikkötunnelia.
DURATION 11 Hours
Moderate
Electronic voucher
Pickup available
Book online and get instant reservation confirmation
Description
ENSIN MOOTTORIKELKKAILEMAAN JÄÄTIKÖLLE JA SITTEN JÄÄLUOLAAN!
Lähdemme Reykjavíkista kohti Húsafellia, joka sijaitsee Borgarfjörðurissa. Sieltä starttaamme matkamme Langjökullin jäätikölle. Aloitamme moottorikelkkaretken Jakin leiristä, jäätikön länsipuolelta. Kun olemme pukeutuneet asianmukaisiin vaatteisiinja vetäneet päähän kypärän, kuuntelemme oppaamme antamia turvallisuusohjeita. Matkamme alkaa kelkkaillen läpi lumisen ja jäisen joutomaan ja jäätikön uskomattoman kauniiden maisemien.
Moottorikelkkailun jälkeen kävelemme kirjaimellisesti alas jäätikköön, jäätikössä olevaan ihmisen tekemään jäätunneliin. Erikoiskoulutettu oppaasi vie sinut tälle fantastiselle matkallejäiseen alamaailmaan, syvälle jäätikön sisään.
Siitä ei ole kauaakaan aikaa, kun Langjökullin jäätunneli oli pelkkä idea. Joskus rohkeat ideat käyvät toteen. Alun perin varsin mahdottomalta tuntunut jäätikkötunneliprojekti onnistui, kun maamme parhaimmat insinöörit ja geofyysikot yhdistivät voimansa. Jäätikön sisässä lämpötila on nollassa.
Moottorikelkka-ajelun ja jäätikkötunneliretken jälkeen palaamme jälleen asutuksen pariin, pikkuruiseen Húsafellin kylään. Tapahtumarikkaan päivän jälkeen kelpaa rentoutua kylän lämpimässä uima-altaassa ja kuumavesialtaassa. Tämä on päivä, joka ei hevin unohdu!
LISÄTIETOJA JÄÄTIKÖN PÄÄLLÄ JA SISÄLLÄ - RETKESTÄ
Hinta & saatavuus: Katso oikeainpuoleista varausikkunaa. 6–11-vuotiaat lapset 50 %:n alennus.
Minimimäärä: 2 henkilöä.
Ikäraja: Moottorikelkkasafarin osalta 6 vuotta.
Ota mukaan: Pukeudu sään mukaisesti. Islannissa kannattaa aina pukeutua lämpimästi ja käyttää sateenkestäviä vaatteita. Sää muuttuu nopeasti, eli odota odottamatonta. Ota mukaan sadevaatteet, päähine ja hanskat. Mukaan on hyvä ottaa myös tukevat ulkoilukengät. Pakkaan laukkuun myös uimapuku ja pyyhe päivän lopussa olevaa rentouttavaa uimalavisiittiä varten.
Ääniopas bussissa: Ota mukaan omat kuulokkeesi.
Kesto: 10-11 tuntia
HINTAAN SISÄLTYY
Asiantunteva paikallisopas
1 h opastettu moottorikelkkasafari
Kaikki moottorikelkkailussa tarvittavat varusteet (kypärä, hanskat ja lämmin toppapuku)
1 h opastettu retki jäätikön sisään
Sisäänpääsy jäätikkötunneliin ja Húsafellin uimalaan
Bussin ääniopas eri kielivaihtoehdolla
Reykajvik Terminal
The starting point for Reykjavik Sightseeing Tours. Reykjavik Terminal, Skógarhlíð 10, 105 Reykjavik.
• Tours depart from the Reykjavik Terminal located at Skógarhlíð 10. Please be sure to arrive 15 minutes prior to departure along with a printed or digital copy of your ticket/voucher. 
• If you have booked a hotel pickup with Smartbus™, please be at your chosen pickup location 30 minutes before the departure of the tour. Look for the Green Smartbus™ which will be outside your accommodation at within the 30 minutes of pickup.

Húsafell
Húsafell is the small base camp the Into the Glacier, which is the company that built the ice cave in Langjökull.
At Húsafell, the Mountaineers of Iceland will be taking you up to the glacier with one of their massive off-road vehicles. Once you reach their base camp at the edge of the glacier, you will get outfitted with all the gear you need for snowmobiling. Snowmobiling on the glacier is the ultimate way to explore the vast icy wonderland on your way to the entrance of the Ice Cave. After a 30-45 minute ride you will reach the entrance of the Ice cave. Here the Into the Glacier team will take you in to the beautiful ice cavern to discuss the formation of glacier and the creation of the ice cave itself.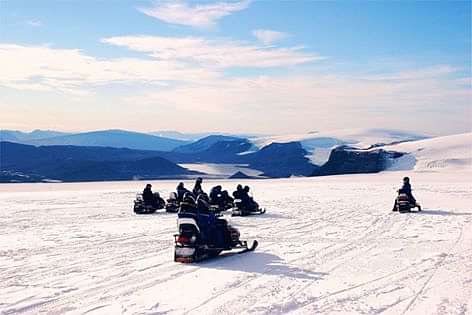 Ice Cave at Langjökull
The entrance to the Ice Cave is atop the Langjökull glacier.
After getting snowmobiling up to the entrance to the glacier, you will enter the cave and descend down into wonders of Iceland's second largest glacier. The Ice Cave is about 500m (550 yards) long and you will be spending the next 45-60 minutes walking through cave and learning about the movements and formations of glacier. The Cave is lite up along the whole way and may be slippery, but not to worry, you will get crampons to better grip the icy floor.

Hraunfossar and Barnafoss
The unique Hraunfossar (lava waterfalls) and Barnafoss waterfalls will be the next destinations.
After a short lunch at Húsafell, we will head to these two waterfalls, a site which is not to be missed. Crystal clear water emerges from the volcanic rock lava field and falls down into Hvitá (white river), a beautiful turquoise glacial river steaming from the Langjökull glacier. Although these two waterfalls cannot compete with Gullfoss for size, their beauty and uniqueness is sure not to disappoint. This will be the last stop before returning to Reykjavik.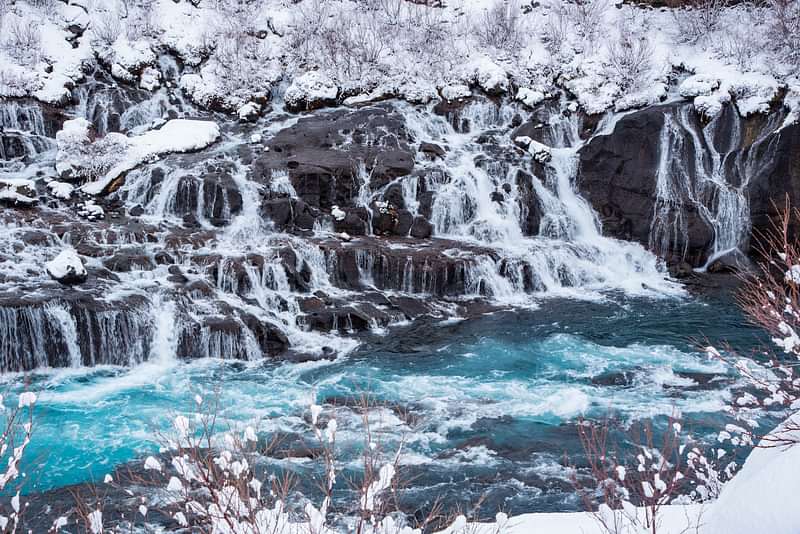 What's included
What's excluded
What do I need to bring
Important information
kr
39,990
11 Hours , Moderate