JÄÄLUOLA – KLASSIKKORETKI
Jääluola-klassikkoretki on mahtava tilaisuus nähdä Langjökullin jäätikkö ja tutkia sitä myös sisältä päin. Jäätikön sisään laskeutuminen ja läheisten laavapeltojen, jäätikkömaisemien ja kauniiden vesiputousten tutkiminen on tilaisuus, johon on tartuttava kerran elämässä.
DURATION 11 Hours
Easy
Electronic voucher
Pickup available
Book online and get instant reservation confirmation
Description
NÄE JÄÄTIKKÖ. SEISO JÄÄTIKÖN PÄÄLLÄ. MENE JÄÄTIKÖN SISÄÄN!
Lähdemme aamulla aikaisin Reykjavíkin kaupungista, jotta pääsemme näkemään Langjökullin jäätikön heti aamun ensimmäisinä tunteina. Langjökull on kooltaan 953 neliökilometriä, kokonsa puolesta se on siis Islannin toiseksi suurin jäätikkö.
Retkellä huomaat nopeasti, että Islannissa kaikki on mahdollista – ennen kuin huomaatkaan seisot jo valtavan jäätikön päällä valmiina laskeutumaan jäätikön sisään tutkiaksesi sen pinnan alaista jäämaailmaa.
Jäätikkötunnelin suuaukolle matkustetaan suurella eritysvarustellulla jäätikkörekalla. Jäätikön sisään tehty tunnelisijaitsee korkealla jäätiköllä, kaukana kaikesta – siis aivan Islannin sydämessä. Retken aikana opas kertoo, millaisia vaikutuksia ilmaston lämpenemisellä on jäätiköihin.
Oppaasi vie sinut mahtavalle seikkailulle syvälle jäätikön sisään, missä voit nähdä kaunista, sinisen sävyissä leiskuvaa jäätä. Jäätikkö on jatkuvassa liikkeessä ja jäätikön sisällä tunnelissa nämä jäätikön liikkeet onkin helppo nähdä.
Siitä ei ole kauaakaan aikaa, kun Langjökullin jäätikön alla oleva tunneli oli pelkkä idea. Joskus rohkeat ideat käyvät toteen. Alun perin varsin mahdottomalta tuntunut jäätikkötunneliprojekti onnistui, kun maamme parhaimmat insinöörit ja geofyysikotyhdistivät voimansa. Jäätikön sisässä lämpötila on nollassa.
Kun olemme päässeet jäätikön sisältä takaisin pinnalle, käymme jälleen mukavan lämpimän jäätikkörekan kyytiin. Syömme lounasta mukavassa Hotel Húsafellissä ja jatkamme sen jälkeen kierrostamme Borgarfjörðurissa. Näemme Hraunfossarin, eli laavavesiputoukset, jossa vesi suodattuu yli kilometrin matkan paksun laavaseinämän läpi.
LISÄTIETOJA JÄÄLUOLA - KLASSIKKORETKESTÄ
Hinta & saatavuus: Katso oikeainpuoleista varausikkunaa.
Saatavilla vuoden ympäri (säävaraus).
12–15-vuotiaat lapset 50 %:n alennus; 0–11-vuotiaat lapset maksutta.
Minimimäärä: Ei minimiosallistujamäärää.
Ikäraja: Ei ikärajaa
Ota mukaan: Pukeudu sään mukaisesti. Islannissa kannattaa aina pukeutua lämpimästi ja käyttää sateenkestäviä vaatteita. Sää muuttuu nopeasti, eli odota odottamatonta. Ota mukaan sadevaatteet, päähine ja hanskat. Mukaan on hyvä ottaa myös tukevat ulkoilukengät.
Ääniopas bussissa: Ota mukaan omat kuulokkeesi.
Kesto: 10-11 tuntia
HINTAAN SISÄLTYY
1 h opastettu retki jäätikön sisään ja tarvittavat turvavarusteet
Asiantunteva paikallisopas
Bussin ääniopas eri kielivaihtoehdoilla
Jäätikkökuljetus Langjökullin jäätiköllä erityisvarustellulla jäätikköajoneuvolla
Reykjavík Terminal
The starting point for Reykjavik Sightseeing Tours. Reykjavik Terminal, Skógarhlíð 10, 105 Reykjavik.
• Tours depart from the Reykjavik Terminal located at Skógarhlíð 10. Please be sure to arrive 15 minutes prior to departure along with a printed or digital copy of your ticket/voucher. 
• If you have booked a hotel pickup with Smartbus™, please be at your chosen pickup location 30 minutes before the departure of the tour. Look for the Green Smartbus™ which will be outside your accommodation at within the 30 minutes of pickup.

Húsafell
Húsafell is the small base camp the Into the Glacier, which is the company that built the ice cave in Langjökull.
At Húsafell, the Into the Glacier team will be taking you up and into the ice cave with one of their massive off-road vehicles. These were previously NATO missile launchers which have been repurposed as transport vehicles. The Into the Glacier team also has one-piece waterproof suites which you can borrow for the duration of the ice cave tour.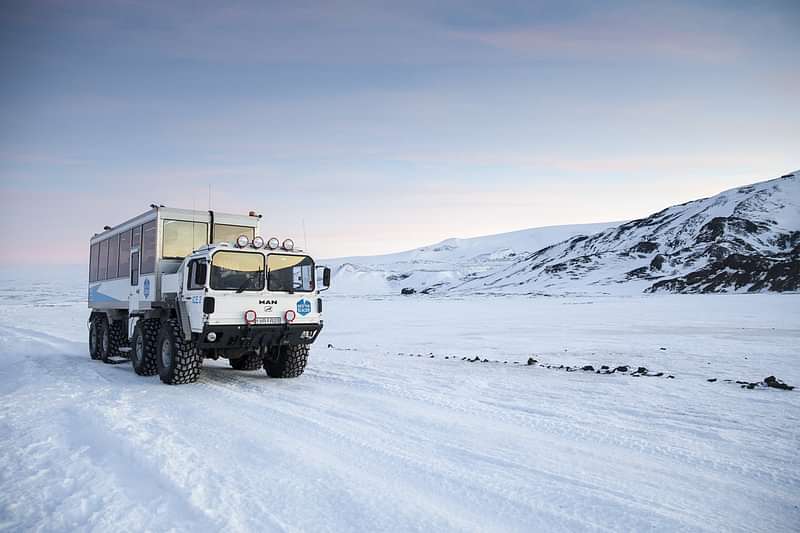 Ice Cave at Langjökull
The entrance to the Ice Cave is atop the Langjökull glacier.
After getting into one of the large off-road vehicles necessary for driving on the snow and ice of the glacier, you will head up to the entrance of the Ice Cave. This is a short 35-45 minute ride to the top of the glacier, from which you will descend into the ice cave to witness the wonders of Iceland's second largest glacier from the inside.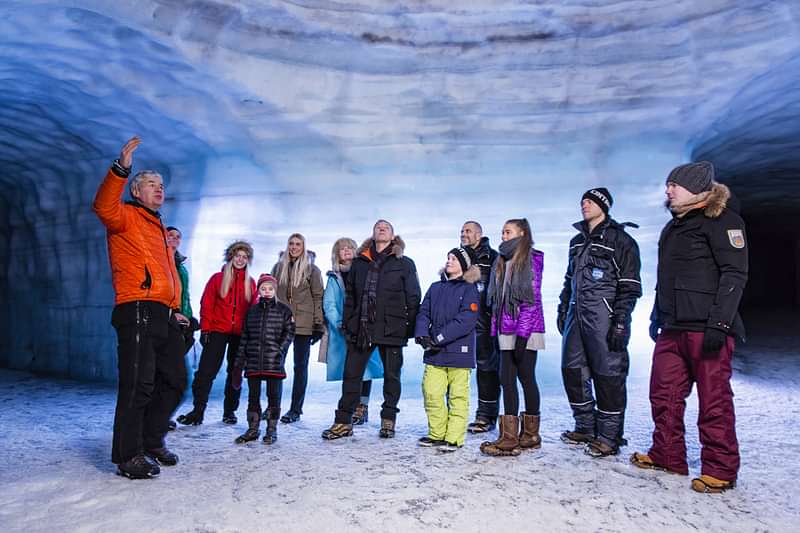 Hraunfossar and Barnafoss
The unique Hraunfossar (lava waterfalls) and Barnafoss waterfalls will be the next destinations.
After a short lunch at Húsafell, we will head to these two waterfalls, a site which is not to be missed. Crystal clear water emerges from the volcanic rock lava field and falls down into Hvitá (white river), a beautiful turquoise glacial river steaming from the Langjökull glacier. Although these two waterfalls cannot compete with Gullfoss for size, their beauty and uniqueness is sure not to disappoint. This will be the last stop before returning to Reykjavik.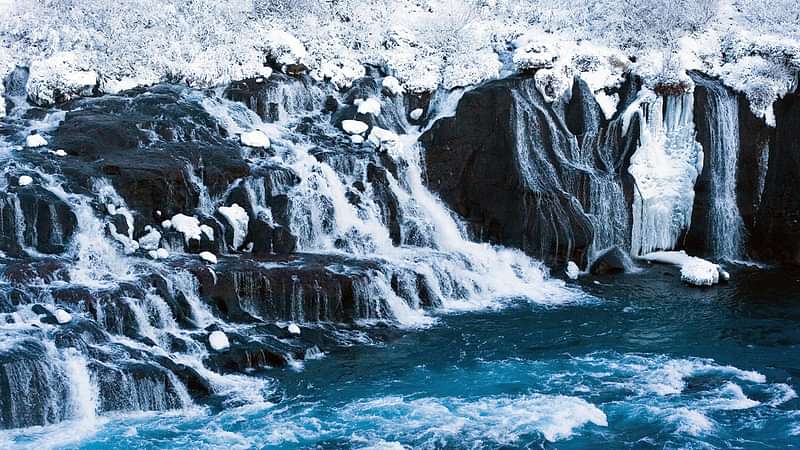 What's included
What's excluded
What do I need to bring
Important information
kr
29,990
11 Hours , Easy