ETELÄRANNIKKO – JA JÄÄTIKKÖKIERROS
Etelärannikko- ja jäätikkökierros vie seikkailuun mahtaviin maisemiin. Missään muualla maailmassa et voi saman päivän aikana vaeltaa ensin jäätiköllä ja sen jälkeen kävellä 60 metriä korkean vesiputouksen takaa.
DURATION 11 Hours
Easy
Electronic voucher
Pickup available
Book online and get instant reservation confirmation
Description
KÄVELE JÄÄTIKÖLLÄ JA KULJE VESIPUTOUKSEN TAKAA!
Vieraile Islannin etelärannikolla ja lähde jäätikkövaellukselle ja sen jälkeen suuntaa upeille Skógafossin and Seljalandsfossin vesiputouksille. Tämä on yksi eniten aktiviteetteja sisältävistä Reykjavíkin päiväretkistämme.
Ensimmäinen pysähdyspaikkamme on karun kaunis Sólheimajökullin jäätikkö. Sólheimajökull on osa suurta Mýrdalsjökullin jäätikköä, jonka alla lepää suurenmoinen ja vähän pelättykin Katlan tulivuori. Jäätikkökävelyn aikana pääset näkemään upeita halkeamia ja railoja ja tutkimaan jäätä sertifioidun jäätikköoppaan johdolla. Vaelluksen ajaksi saat kenkiin kiinnitettävät, jäätikkövaellukseen soveltuvat jääpiikit.
Seuraava kohde on mahtava Skógafossin vesiputous. Jos menet tarpeeksi lähelle putousta, saat kasvoillesi reilusti vesisuihketta. Putouksen päälle voi kävellä tukevia rappusia (527 askelmaa) pitkin. Vesiputouksen päältä noin 60 metrin korkeudesta on mahtavat maisemat Atlantille.
Päivän viimeinen pysähdyspaikka on Seljalandsfossin vesiputous. Se on yksi Islannin kuuluisimpia luonnonnähtävyyksiä ja sitä pääsee katsomaan oikein läheltä: vesiputouksen takaa voi näet kulkea.
Matka näiden upeiden luonnonnähtävyyksien luokse vie läpi vehreiden viljelysmaiden ja pienten kylien. Alue on tunnettu viikinkihistoriastaan ja Eyjafjallajökullin ja Heklan tulivuorista. Kirkkaalla säällä voit jopa Vestmannasaarille, jossa purkautui 1970-luvulla islantilaisille paljon harmia aiheuttanut tulivuori. 
LISÄTIETOJA ETELÄRANNIKKO - JA JÄÄTIKKÖKIERROKSESTA
Hinta & saatavuus: Katso oikeainpuoleista varausikkunaa.
Minimimäärä: Ei minimiosallistujamäärää.
Ikäraja: Kenkiin kiinnitettäviä jääpiikkien takia kengänkoon täytyy olla vähintään 35.
Ota mukaan: Pukeudu sään mukaisesti. Islannissa kannattaa aina pukeutua lämpimästi ja käyttää sateenkestäviä vaatteita. Sää muuttuu nopeasti, eli odota odottamatonta. Ota mukaan sadevaatteet, päähine ja hanskat. Mukaan on hyvä ottaa myös tukevat ulkoilukengät.
Ääniopas bussissa: Ota mukaan omat kuulokkeesi.
HINTAAN SISÄLTYY
Bussin ääniopas 10 eri kielivaihtoehdolla
Asiantunteva opas ja kuljettaja
Kokenut jäätikköopas
Paikallistuntemus
Käynti etelärannikon suosituimmissa kohteissa (Sólheimajökull, Skógafoss ja Seljalandsfoss)
Reykjavík Terminal
The starting point for Reykjavik Sightseeing Tours. Reykjavik Terminal, Skógarhlíð 10, 105 Reykjavik.
• Tours depart from the Reykjavik Terminal located at Skógarhlíð 10. Please be sure to arrive 15 minutes prior to departure along with a printed or digital copy of your ticket/voucher. 
• If you have booked a hotel pickup with Smartbus™, please be at your chosen pickup location 30 minutes before the departure of the tour. Look for the Green Smartbus™ which will be outside your accommodation at within the 30 minutes of pickup.

Sólheimajökull Glacier
Sólheimajökull Glacier is the photographers delight.
The Solheim Glacier is a magnificent and humbling site to behold, it is a glacial tongue extension of the Myrdalsjökull glacier. When we arrive there, you will be outfitted by the Icelandic Mountain Guides with all the necessary equipment for hiking and exploring the cracks and crevasses of the glacier.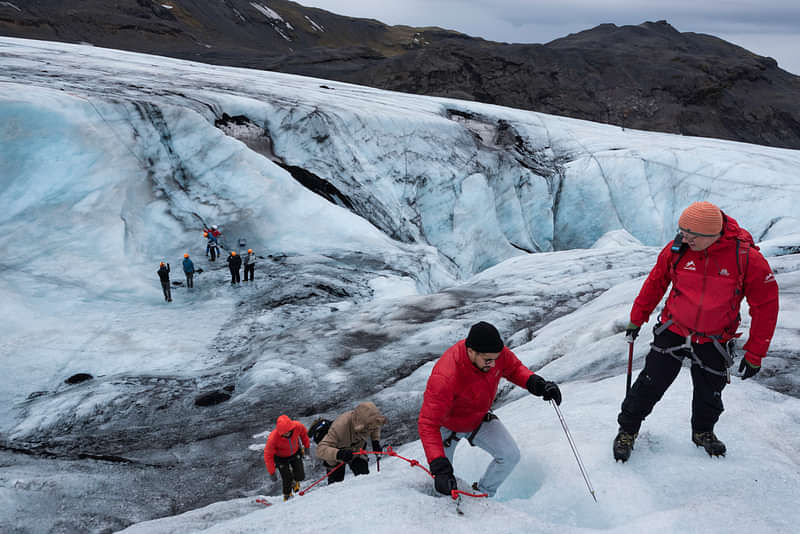 Skógafoss Waterfall
The powerful Skógafoss waterfall where a short walk up a flight of stairs will reveal one of Iceland´s most scenic views, glaciers, volcanoes and black sand beaches.
Along the return trip to Reykjavik, we will stop at the powerful 65 meter tall Skógafoss Waterfall where a short walk up a flight of steps will reveal one of Iceland´s most scenic views of glaciers, volcanoes and black sandy beaches. With viewpoints both above and directly next to the waterfall, photographers will have plenty of chances to capture that unique shot.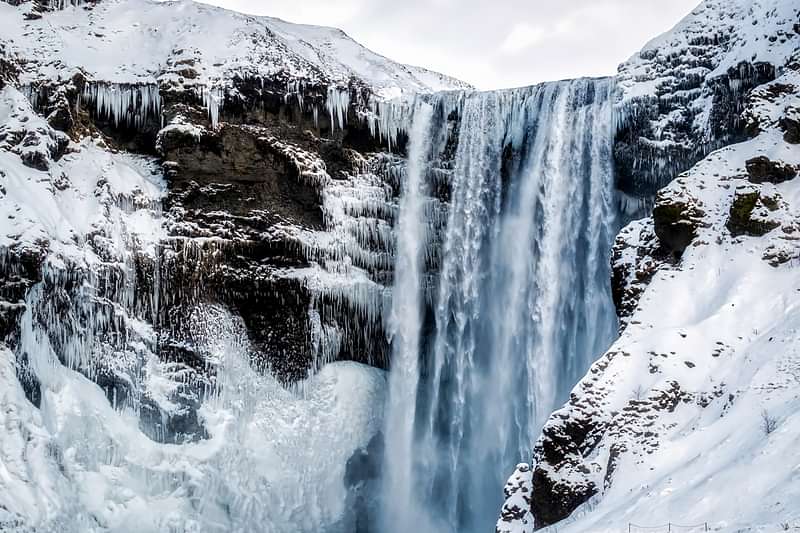 Seljalandsfoss
Seljalandsfoss waterfall, famous for the hidden pathway behind and around it.
The Seljalandsfoss waterfall is for many guests the highlight of this trip, as you can walk along this waterfall offering a completely unique perspectives! From here we will spend about 1.5 hours in the coach returning to Reykjavik.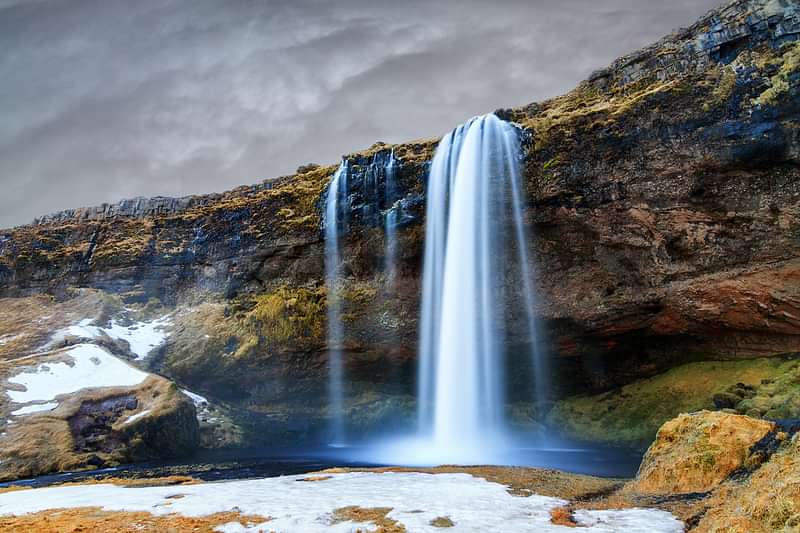 Reynisfjara Black Sand Beach
This one of the most famous and most visited sites in all of Iceland. Marvel at the unique volcanic black sand beach of Reyisfjara with rising basalt columns, a large basalt stone cave which has been battered by heavy oceanic waves.
There is a cafe located at Reynisfjara where you can buy some snack or use the restrooms if needed.
What's included
What's excluded
What do I need to bring
kr
24,990
11 Hours , Easy