DENTRO Y ENCIMA DEL GLACIAR
Una aventura realmente increíble. Primero viajas en moto de nieve por los vastos páramos nevados de un glaciar islandés para después descender bajo la superficie de hielo y explorar el inframundo congelado a través de un tunel creado por la mano del hombre.
DURATION 11 Hours
Moderate
Electronic voucher
Pickup available
Book online and get instant reservation confirmation
Description
¡VIAJA EN MOTO DE NIEVE SOBRE UN GLACIAR Y DESPUÉS EXPLORA LA CUEVA DE HIELO!
Partimos de Reykjavík hacia Húsafell en Borgarfjörður. Desde ahí empezamos nuestro ascenso al casquete de hielo de  Langjökull. Empezamos nuestro viaje en moto de nieve  en la capa base enJaki, en el lado oeste del glaciar. Después de ponernos la ropa necesaria y los cascos, escuchamos las instrucciones de seguridad que nos da nuestro guía; ya estamos listos para para conducir a  través de la extensa nada cubierta de nieve del glaciar y maravillarnos ante el increíble entorno.
Después del viaje en moto de nieve, descendemos en el sentido literal de la palabra hacia una magnífica cueva de hielo hecha por el hombre situada bajo la capa de hielo. Tu guía experto te acompañará en este fantástico viaje al inframundo helado en lo más profundo del glaciar.
Hasta hace poco lo que se encuentra bajo la superficie de Langjökull era un misterio. Pero a veces las  ideas más audacesse hacen realidad. Esta hazaña aparentemente imposible se hizo realidad gracias al esfuerzo y la colaboración de los mejores ingenieros y geofísicos del país.  Dentro del glaciar la temperatura ronda normalmente los cero grados Celsius o 32 Fahrenheit.
Tras el viaje en moto de nieve y haber explorado la cueva de hielo regresamos de vuelta a la civilización, o lo que es lo mismo, al pequeño pueblo de Húsafell.  Después de un día de increíbles aventuras puedes sumergirte en la piscina termal o relajarte en el jacuzzi. ¡Un día inolvidable!
INFORMACIÓN PRÁCTICA SOBRE EL TOUR DENTRO Y ENCIMA DEL GLACIAR
Precio y disponibilidad: Ver pestaña de reservas a la derecha. Niños 6-11 años 50% de descuento. Disponible todo el año (dependiendo de las condiciones meteorológicas).
Mín.: 2 pasajeros
Límite de edad: 6 años, para el viaje en moto de nieve.
Qué llevar: Vestirse de acuerdo al clima. En Islandia  siempre es recomendable llevar ropa abrigada e impermeable. Los cambios de clima pueden ser repentinos así que es mejor estar preparado. Tráete una chaqueta y pantalones impermeables, gorro y guantes. Se recomienda llevar también zapatos de montaña.
Audioguía en el autobús: No te olvides de los auriculares pero si no te los traes te los vendemos.
Duración: 10-11 horas
QUÉ ESTÁ INCLUÍDO
Guía local experto
1 hora de viaje en moto de nieve
Todo el equipo necesario para el viaje en moto de nieve (casco, guantes, traje de nieve)
Aproximadamente 1 hora de tour guiado en la cueva de hielo
Entrada a la cueva de hielo y a la piscina de Húsafell
Audioguía en el bus  con posibilidad de escoger el idioma
Reykajvik Terminal
The starting point for Reykjavik Sightseeing Tours. Reykjavik Terminal, Skógarhlíð 10, 105 Reykjavik.
• Tours depart from the Reykjavik Terminal located at Skógarhlíð 10. Please be sure to arrive 15 minutes prior to departure along with a printed or digital copy of your ticket/voucher. 
• If you have booked a hotel pickup with Smartbus™, please be at your chosen pickup location 30 minutes before the departure of the tour. Look for the Green Smartbus™ which will be outside your accommodation at within the 30 minutes of pickup.

Húsafell
Húsafell is the small base camp the Into the Glacier, which is the company that built the ice cave in Langjökull.
At Húsafell, the Mountaineers of Iceland will be taking you up to the glacier with one of their massive off-road vehicles. Once you reach their base camp at the edge of the glacier, you will get outfitted with all the gear you need for snowmobiling. Snowmobiling on the glacier is the ultimate way to explore the vast icy wonderland on your way to the entrance of the Ice Cave. After a 30-45 minute ride you will reach the entrance of the Ice cave. Here the Into the Glacier team will take you in to the beautiful ice cavern to discuss the formation of glacier and the creation of the ice cave itself.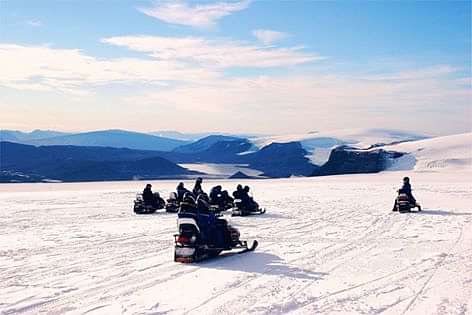 Ice Cave at Langjökull
The entrance to the Ice Cave is atop the Langjökull glacier.
After getting snowmobiling up to the entrance to the glacier, you will enter the cave and descend down into wonders of Iceland's second largest glacier. The Ice Cave is about 500m (550 yards) long and you will be spending the next 45-60 minutes walking through cave and learning about the movements and formations of glacier. The Cave is lite up along the whole way and may be slippery, but not to worry, you will get crampons to better grip the icy floor.

Hraunfossar and Barnafoss
The unique Hraunfossar (lava waterfalls) and Barnafoss waterfalls will be the next destinations.
After a short lunch at Húsafell, we will head to these two waterfalls, a site which is not to be missed. Crystal clear water emerges from the volcanic rock lava field and falls down into Hvitá (white river), a beautiful turquoise glacial river steaming from the Langjökull glacier. Although these two waterfalls cannot compete with Gullfoss for size, their beauty and uniqueness is sure not to disappoint. This will be the last stop before returning to Reykjavik.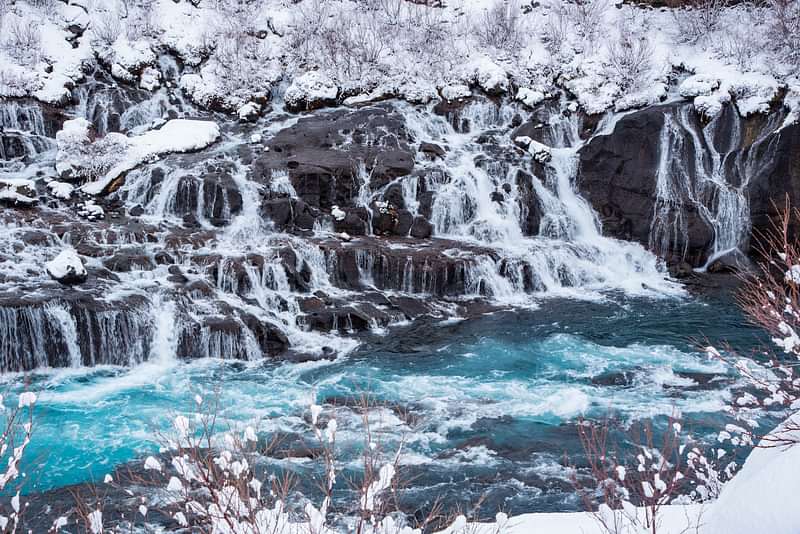 What's included
What's excluded
What do I need to bring
Important information
kr
39,990
11 Hours , Moderate