CÍRCULO DORADO Y AURORAS BOREALES
¡Vaya día increíble! Primero realiza el tour del Círculo dorado que incluye la visita a tres de las maravillas naturales más emblemáticas de Islandia y recorre uno de los paisajes más pintorescos del país. Después, cuando anochece, salimos en búsqueda de las mágicas y misteriosas auroras boreales.
DURATION 10,5 Hours
Very easy
Electronic voucher
Pickup available
Book online and get instant reservation confirmation
Description
LAS MARAVILLAS NATURALES DE ISLANDIA MÁS FAMOSAS EN UN DÍA
El tour del Círculo dorado es por la mañana, lo que permite un intervalo de 3 a 6 horas antes de ir a la excursión de las auroras boreales. Ese intervalo supone la oportunidad perfecta para cenar algo o hacer nuestro tour Un brindis en Reykjavík. Durante la excursión del Círculo dorado se visitan los tres tesoros naturales del país más emblemáticos: el Parque nacional de Þingvellir, donde las placas tectónicas de América y Eurasia se separaron; el géiser en  erupción  que lanza  agua y vapor  hacia el cielo y la espectacular cascada de Gullfoss donde un río glaciar truena en un cañón durante una caída de 32 metros. Al anochecer nos vamos a la caza de las mágicas y huidizas auroras boreales.
Evidentemente nuestra salida dependerá enormemente de las condiciones meteorológicas y la visibilidad, así que debes tener esto en cuenta;  y no te olvides de que las auroras solo son visibles durante los meses de invierno.
INFORMACIÓN PRÁCTICA SOBRE EL TOUR CÍRCULO DORADO Y AURORAS BOREALES
Precio y disponibilidad: Ver pestaña de reservas a la derecha
Nota: Las auroras boreales solo pueden verse durante los meses de invierno
Niños de 0-11 años gratis y de 12-15 50% descuento
Mín.: No se requiere un número mínimo de participantes.
Límite de edad: Sin límite de edad
Qué llevar: Vestirse de acuerdo al clima. En Islandia  siempre es recomendable llevar ropa abrigada e impermeable. Los cambios de clima pueden ser repentinos así que es mejor estar preparado. Tráete una chaqueta y pantalones impermeables, gorro y guantes. Se recomienda llevar también zapatos de montaña.
Audioguía en el autobús: No te olvides de los auriculares pero si no te los traes te los vendemos.
Duración:  El tiempo total del viaje es aproximadamente de 10 horas, incluyendo una parada de un mínimo de 30 minutos en los siguientes puntos: manantiales y géiser en Geysir, cascada de Gullfoss y Parque nacional de Þingvellir  y 3 horas para el tour de las auroras boreales.
QUÉ ESTÁ INCLUIDO
Guía local experto
Entrada a los lugares de interés turístico
Wi-fi gratis y cargador usb en cada asiento
Audioguía en el bus  con posibilidad de escoger el idioma
Reykjavík Terminal
The starting point for Reykjavik Sightseeing Tours. Reykjavik Terminal, Skógarhlíð 10, 105 Reykjavik.
• Tours depart from the Reykjavik Terminal located at Skógarhlíð 10. Please be sure to arrive 15 minutes prior to departure along with a printed or digital copy of your ticket/voucher. 
• If you have booked a hotel pickup with Smartbus, please be at your chosen pickup location 30 minutes before the departure of the tour. Look for the Green Smartbus which will be outside your accommodation at within the 30 minutes of pickup.

Þingvellir National park
UNESCO world heritage site and the birthplace of the oldest existing parliament in the world. It is also here that the tectonic plates of America and Europe drift apart and the rift valley is clearly visible on the shores of Iceland´s biggest lake.
Geysir Hot Springs
The home of the original geyser and Iceland´s most iconic natural site. There the ground shakes and super heated water erupts into the sky from the famous Strokkur geyser every few minutes.
Gullfoss Waterfall
A powerful and inspiring place. There the glacier water thunders down 32 meters in three steps and into a narrow canyon with an breathtaking roar and grandeur.
Gullfoss is a waterfall located in the canyon of Hvítá river in southwest Iceland. Gullfoss is one of the most popular tourist attractions in Iceland. The wide Hvítá rushes southward in three steps into a narrow canyon with a breathtaking roar and grandeur.

Northern Lights Hunt
In the evening after returning to Reykjavik, you will head out into the night to look for the elusive aurora borealis.
After a day of touring around Iceland's most popular sites, you will join us on a hunt for the northern lights. Our knowledgeable northern lights guides will be happy to share stories and information about this ever elusive phenomenon.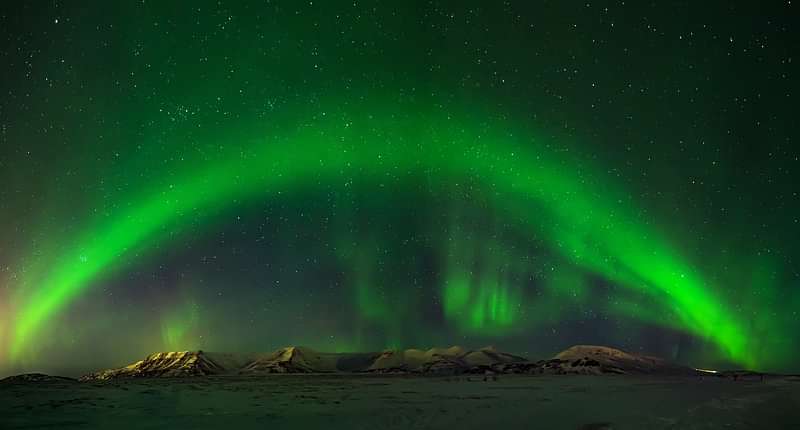 What's included
What's excluded
What do I need to bring
Important information
Audio Language
English
French
German
Italian
Spanish, Castilian
Dutch, Flemish
Finnish
Korean
Japanese
Chinese
kr
15,490
10,5 Hours , Very easy