REISE IN DIE GLETSCHERWELT
Ein mit Sicherheit unglaubliches Abenteuer. Zuerst unternehmen Sie eine Fahrt durch die gewaltige und eisige Einöde des Gletschers. Danach begeben Sie sich tief unter die Oberfläche der Gletscherkappe und erforschen eine fantastische Eishöhle.
Duration: 11 Hours
Moderate
Electronic voucher
Pickup available
Book online and get instant reservation confirmation
Description
MACHEN SIE EINE SCHNEEMOBILTOUR AUF EINEM GLETSCHER UND ERFORSCHEN SIE DANACH EINE EISHÖHLE
Unsere Fahrt führt Sie von Reykjavík nach Húsafell im Tal des Fordes Borgarfjörður. Von dort beginnen wir unseren Anstieg auf die Eiskappe des Gletschers Langjökull. Wir starten unsere Schneemobilfahrt von der Basisstation Jaki aus, die sich auf der westlichen Seite des Gletschers befindet. Nachdem Sie mit Ihrer notwenigen Kleidung ausgerüstet sind und Ihren Helm bekommen haben, werden wir uns die Sicherheitsinstruktionen der Reiseleitung anhören. Danach sind wir zur Fahrt durch die gewaltige Einöde des Gletschers, bestehend aus Schnee und Eis, bereit und bestaunen die fantastische Umgebung.
Nach der Schneemobiltour steigen wir, so unglaublich es auch klingen mag, hinab in eine großartige von Menschenhand gemachte Eishöhle, die sich unter der Gletscherkappe befindet. Ihre professionelle Reiseleitung wird sie auf Ihrer fantastischen Reise in die eisigen Tiefen des Gletschers begleiten.
Was sich unter dem Gletscher Langjökull verbirgt, war bis vor kurzem noch ein Mysterium. Aber manchmal wird aus gewagten IdeenWirklichkeit. Dieses scheinbar unmögliche Vorhaben wurde durch die vereinten Bemühungen der besten Ingenieure und Geophysiker Islands möglich gemacht. Innerhalb des Gletschers liegt die Temperatur in der Regel bei 0 Grad Celsius oder 32 Fahrenheit.
Nach der Schneemobilfahrt und der Erkundung der Eishöhle finden wir unseren Weg zurück in die Zivilisation, bzw. in den kleinen Ort Húsafell. Nach diesen unglaublichen Abenteuern, können Sie ein Bad im thermalen Schwimmbad genießen oder im Hot Pot entspannen. Mit Sicherheit ist es ein Tag, der Ihnen in Erinnerung bleiben wird!
DETAILS ZUR REISE IN DIE GLETSCHERWELT
Preis und Verfügbarkeit: Beachten Sie dazu das Buchungsfenster zu Ihrer Rechten.
Kinder von 6-11 Jahren Jahren bekommen 50% Ermäßigung.
Ganzjährig verfügbar (wetterabhänging).
Mindestteilnehmerzahl: 2 Teilnehmer.
Altersbegrenzung: Für die Fahrt auf dem Schneemobil ist ein Mindestalter von 6 Jahren erforderlich.
Ausrüstung: Kleiden Sie sich dem Wetter entsprechend. In Island empfiehlt es sich immer warme und wasserfeste Kleidung zu tragen. Das Wetter kann sich sehr plötzlich ändern, daher sollten Sie auf alles gefasst sein. Es ist immer ratsam, eine wasserfeste Jacke und Hose mitzunehmen sowie eine Kopfbedeckung und Handschuhe. Gute wandertaugliche Schuhe sind empfehlenswert.
Audio-Guide im Bus: Bringen Sie Ihre eigenen Kopfhörer mit.Ansonsten können Sie bei uns Ohrhörer für 500 isländische Kronen erwerben.
Ausflugdauer: Ca. 10-11 Stunden.
INKLUDIERTE LEISTUNGEN
Qualifizierte örtliche Reiseleitung
1 Stunde Schneemobilfahrt
Notwenige Ausrüstung (Helm, Handschuhe, Schneeanzug)
1 Stunde geführte Eishöhlentour
Eintritt in Eishöhle und Schwimmbad
Audio Guide im Bus in verschiedenen Sprachen
Reykajvik Terminal
The starting point for Reykjavik Sightseeing Tours. Reykjavik Terminal, Skógarhlíð 10, 105 Reykjavik.
• Tours depart from the Reykjavik Terminal located at Skógarhlíð 10. Please be sure to arrive 15 minutes prior to departure along with a printed or digital copy of your ticket/voucher. 
• If you have booked a hotel pickup with Smartbus™, please be at your chosen pickup location 30 minutes before the departure of the tour. Look for the Green Smartbus™ which will be outside your accommodation at within the 30 minutes of pickup.

Húsafell
Húsafell is the small base camp the Into the Glacier, which is the company that built the ice cave in Langjökull.
At Húsafell, the Mountaineers of Iceland will be taking you up to the glacier with one of their massive off-road vehicles. Once you reach their base camp at the edge of the glacier, you will get outfitted with all the gear you need for snowmobiling. Snowmobiling on the glacier is the ultimate way to explore the vast icy wonderland on your way to the entrance of the Ice Cave. After a 30-45 minute ride you will reach the entrance of the Ice cave. Here the Into the Glacier team will take you in to the beautiful ice cavern to discuss the formation of glacier and the creation of the ice cave itself.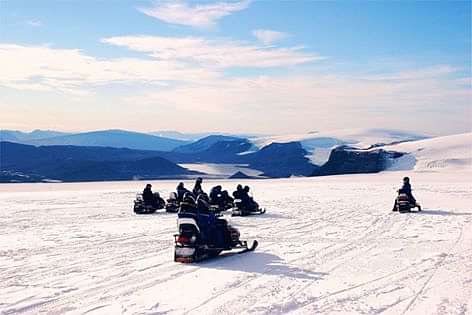 Ice Cave at Langjökull
The entrance to the Ice Cave is atop the Langjökull glacier.
After getting snowmobiling up to the entrance to the glacier, you will enter the cave and descend down into wonders of Iceland's second largest glacier. The Ice Cave is about 500m (550 yards) long and you will be spending the next 45-60 minutes walking through cave and learning about the movements and formations of glacier. The Cave is lite up along the whole way and may be slippery, but not to worry, you will get crampons to better grip the icy floor.

Hraunfossar and Barnafoss
The unique Hraunfossar (lava waterfalls) and Barnafoss waterfalls will be the next destinations.
After a short lunch at Húsafell, we will head to these two waterfalls, a site which is not to be missed. Crystal clear water emerges from the volcanic rock lava field and falls down into Hvitá (white river), a beautiful turquoise glacial river steaming from the Langjökull glacier. Although these two waterfalls cannot compete with Gullfoss for size, their beauty and uniqueness is sure not to disappoint. This will be the last stop before returning to Reykjavik.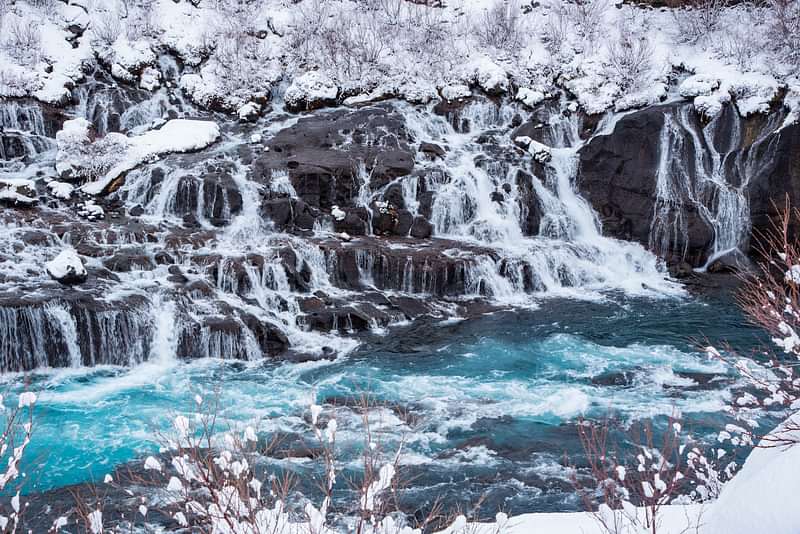 What's included
What's excluded
What do I need to bring
Important information
kr
39,990
11 Hours , Moderate