DER GOLDENE KREIS UND DIE NORDLICHTERFAHRT
Was für ein Tag! Beginnen Sie den Tag mit unserem beliebten Ausflug, dem Goldenen Kreis, der Sie durch einige der malersichesten Landschaften Islands zu drei der schönsten Naturwunder Islands bringt. Sobald dann die Dämmerung einsetzt, machen wir uns auf die Jagd nach den magischen und geheimnisvollen Nordlichern.
DURATION 10,5 Hours
Very easy
Electronic voucher
Pickup available
Book online and get instant reservation confirmation
Description
ISLANDS BELIEBTESTE NATURWUNDER IN EINEM TAG
Der Goldene Kreis wird morgens gefahren, wodurch Sie eine 3-6 stündige Verschnaufpause bekommen, bevor wir zur Nordlichterfahrt aufbrechen. Dies bietet Ihnen eine gute Möglichkeit in Reykjavík zu Abend zu essen oder unsere Tour Ein Prosit auf Reykjavík zu buchen.
Der Goldene Kreis ist ein Ausflug, der Sie zu den drei markantesten Naturschönheiten Islands bringt: Nationalpark Þingvellir, wo die amerikanische und eurasische Kontinentalplattenauseinanderdriften. Der aktive Geysir, der Wasser und Dampf himmelwärts schickt und den beeindruckenden Wasserfall Gulllfoss, wo sie einen Gletscherfluss über 32 m in eine Schlucht tosen sehen. Sobald die Dämmerung einsetzt, werden wir uns auf die Jagd nach den magischen und schwer zu erhaschenden Nordlichtern machen. Bitte beachten Sie, dass es natürlich immer auf die Wettervorhersage und die Sichtverhältnisse ankommt, ob wir uns auf den Weg machen oder nicht. Und vergessen Sie nicht, dass man die Aurora Borealis nur in den Wintermonaten sehen kann.
DETAILS ZUM GOLDENEN KREIS UND DER NORDLICHTERFAHRT
Preis und Verfügbarkeit: Beachten Sie dazu das Buchungsfenster zu Ihrer Rechten.
Bitte beachten: Nordlichter können nur während der Wintermonate gesehen werden.
Teenager von 12-15 Jahren bekommen 50% Ermäßigung und Kinder von 0-11 Jahren sind kostenfrei.
Ganzjährig verfügbar.
Mindestteilnehmerzahl: Keine Mindestteilnehmerzahl erforderlich.
Altersbegrenzung: Keine Altersbegrenzung.
Ausrüstung: Kleiden Sie sich dem Wetter entsprechend. In Island empfiehlt es sich immer warme und wasserfeste Kleidung zu tragen. Das Wetter kann sich sehr plötzlich ändern, daher sollten Sie auf alles gefasst sein. Es ist immer ratsam, eine wasserfeste Jacke und Hose mitzunehmen sowie eine Kopfbedeckung und Handschuhe. Gute wandertaugliche Schuhe sind empfehlenswert.
Ausflugsdauer: Insgesamt ca. 10 Stunden, inkludiert sind ein Aufenthalt von mindestens jeweils 30 Minuten im Geysirgebiet, am Wasserfall Gullfoss sowie eine ca. drei stündige Nordlicherfahrt.
INKLUDIERTE LEISTUNGEN
Qualifizierte örtliche Reiseleitung
Eintritt zu den Sehenswürdigkeiten
Kostenfreies Wifi und USB Ladegerät an jedem Sitz
Audio Guide im Bus in verschiedenen Sprachen
Reykjavík Terminal
The starting point for Reykjavik Sightseeing Tours. Reykjavik Terminal, Skógarhlíð 10, 105 Reykjavik.
• Tours depart from the Reykjavik Terminal located at Skógarhlíð 10. Please be sure to arrive 15 minutes prior to departure along with a printed or digital copy of your ticket/voucher. 
• If you have booked a hotel pickup with Smartbus, please be at your chosen pickup location 30 minutes before the departure of the tour. Look for the Green Smartbus which will be outside your accommodation at within the 30 minutes of pickup.

Þingvellir National park
UNESCO world heritage site and the birthplace of the oldest existing parliament in the world. It is also here that the tectonic plates of America and Europe drift apart and the rift valley is clearly visible on the shores of Iceland´s biggest lake.
Geysir Hot Springs
The home of the original geyser and Iceland´s most iconic natural site. There the ground shakes and super heated water erupts into the sky from the famous Strokkur geyser every few minutes.
Gullfoss Waterfall
A powerful and inspiring place. There the glacier water thunders down 32 meters in three steps and into a narrow canyon with an breathtaking roar and grandeur.
Gullfoss is a waterfall located in the canyon of Hvítá river in southwest Iceland. Gullfoss is one of the most popular tourist attractions in Iceland. The wide Hvítá rushes southward in three steps into a narrow canyon with a breathtaking roar and grandeur.

Northern Lights Hunt
In the evening after returning to Reykjavik, you will head out into the night to look for the elusive aurora borealis.
After a day of touring around Iceland's most popular sites, you will join us on a hunt for the northern lights. Our knowledgeable northern lights guides will be happy to share stories and information about this ever elusive phenomenon.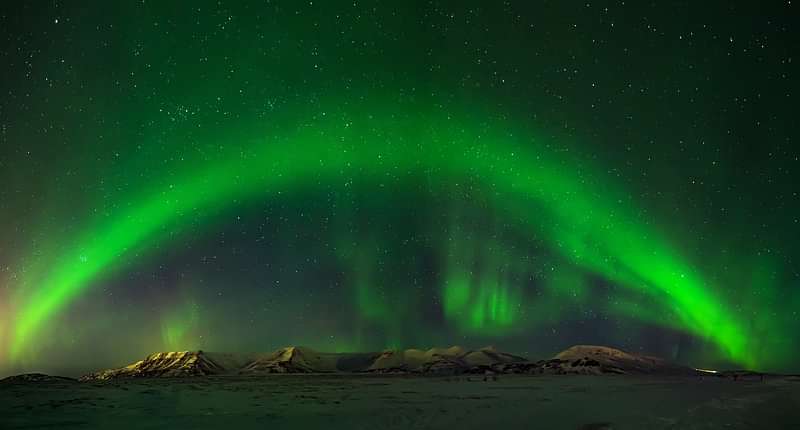 What's included
What's excluded
What do I need to bring
Important information
Audio Language
English
French
German
Italian
Spanish, Castilian
Dutch, Flemish
Finnish
Korean
Japanese
Chinese
kr
15,490
10,5 Hours , Very easy